The Best On-Ear / Over-Ear Headphones to Buy
Best On-Ear Headphones
0
Beats Solo3 On-Ear Headphones
Why Beats Solo3 On-Ear Headphones? Best Overall
Beats have a reputation for being a bit overpriced for the sound quality, but the Beats Solo3 finally deliver a product worthy of the hefty price tag. The star of the show is the high quality Bluetooth functionality, which outperforms all other wireless headphones on the market.
Design and Features
They use Class 1 Bluetooth to sync up with multiple devices in the area and have a range of over 30 feet, making them perfect for the gym or working around the house, where you can walk around without worrying about disconnecting. A 40-hour battery life and comfortable on-ear cups mean you can listen all day. If you run out of charge, plug them in for five minutes and you will have three hours of playback. Finally, fine-tune acoustics offer an immersive experience that delivers on-point bass without any coloration of the mids. Choose one of eight sleek designs for the classic Beats style. And you want the exact sleek design but with studio level noise-canceling feature, then Beats Studio3 Wireless Noise Canceling Over-Ear Headphones play as an amazing alternative.
0
KEF M500 On-Ear Headphones
Why KEF M500? Best Overall
With premium build quality, superb sound and maximum comfort for your ears, the KEF M500 are one of the best pairs of on-ear headphones on the market right now.
Design and Features
They feature a unique multi-directional Smart Hinge that connects the lightweight aluminum frame to the supple leather earpads. The pads rest easy on your ears, yet maintain a firm seal that results in an enjoyable listening experience even for a full day of work. A tangle-free cable and flight adapter round out the package. The highs are crisp and lows are deep and rich, with a large soundstage that makes you feel like you are listening in a recording studio. The headphones are made with a 1.4-inch neodymium driver that delivers hi-fi sound, while copper-clad aluminum coils perfect acoustic clarity.
0
Bang & Olufsen Beoplay H4
Why Bang & Olufsen Beoplay H4? Best Luxury Feel
For those who want a pair of headphones that look and feel as luxurious as they sound, the Beoplay H4 headphones from luxury audio manufacturer Bang & Olufsen will satisfy your desire. Designed with clean lines and pure materials, these headphones sport a lightweight cosmopolitan design blending leather, aluminum and steel. From the soft lambskin leather headband to the memory foam ear cushions, to the durable braided textiles covering the cords, this pair of headphones looks and feels better than any other pair on this list.
Design and Features
The sound also delivers for the price tag, with a frequency range of 20-22,000 and Bang & Olufsen Signature Sound offering a perfectly balanced bass and treble with a clear midrange and a wide soundstage. Bluetooth 4.2 pairs easily with your devices, while intuitive on-device controls allow you to seamlessly select your sound without missing a beat. Want the noise canceling feature with the same style? Then choose the Beoplay H9i Wireless Over-Ear version.
0
Skullcandy Grind Bluetooth On-Ear Headphones
Why Skullcandy Grind Bluetooth? Best Budget
Lightweight and comfortable, Skullcandy's Grind Bluetooth on-ear headphones are the absolute best option in the budget category. Built from premium materials, the plush on-ear pillows ensure the Skulls are enjoyable for hours of uninterrupted listening. The metal headband is covered in a soft leather that won't slip or adjust on its own. The headphones' audio is top notch thanks to 40mm drivers. Utilizing Skullcandy's Supreme Sound technology, music of all types sounds remarkable. Crisp mids and highs are matched with an adequately deep bass ensuring no music genre is left out in the cold. Controls for play/pause, answer and end calls, as well as skipping tracks are found on the left earcup.
Design and Features
The headphones deliver 12 hours of battery life, but should you exhaust that, the included AUX 3.5mm cord with microphone connects to any device. Charging up the battery from zero to full requires just under 2.5 hours. The on-ear design won't match the same noise cancellation as over-ear, but they block out most external sounds. The headphones are available in an array of colors including black and chrome, beige and teal, and blue. If you want even cheaper versions, then the SkullCandy Uproar On-Ear are popular choices. And if you like comfort touch of over ear muffs from this affordable brand, then choose Skullcandy Hesh 2 Over-Ear.
0
Libratone Q Adapt Headphones
Why Libratone Q Adapt? Best for Noise Cancellation
Experience the sound of silence with the amazing noise-canceling technology on this pair of Libratone headphones. Perfect for busy city streets and quiet library study sessions, four levels of noise control offer an amazing way to experience sound at the level you feel comfortable.
Design and Features
CityMix adjustable noise cancelation goes from passthrough, when you need to be able to hear the world around you, to immersive silence when you need to lose yourself in your music without any background noise. The technology matches the frequency of your music with the frequencies of the outside world, making for the perfect listening experience. Take advantage of this noise-canceling technology and the included microphone to make calls anywhere without worrying about hearing the other end. The headphones are also wireless, using Bluetooth to pair your devices for 20+ listening hours. Experience a full range of sound, with deeper bass than most wireless headphones, but still delivering full midrange and lively treble. The premium build looks and feels luxurious, while on-ear controls make for easy use.
0
AUSDOM AH2 Wireless Bluetooth Headphones
Why AUSDOM AH2 Wireless? Best Budget Bluetooth 4.0 + EDR
Bluetooth technology is no longer the new kid on the block, so you no longer have to shell out for top-end equipment to get wireless capabilities. This pair of AH2 on-ear headphones from Ausdom separates itself from other budget options, thanks to super comfortable leather padded soft ear cushions, a pressure-relieving stretch headband and surprisingly good audio performance. The best-in-class sound for wireless headphones comes from 40mm drivers with full frequency response for deep bass and extended treble. This high-fidelity headset sports Bluetooth V4.0 and includes a built-in microphone for making calls or playing online games. Expect about 20 hours of battery life and a relatively short recharge time of two to three hours.
0
Pyle PGPHONE80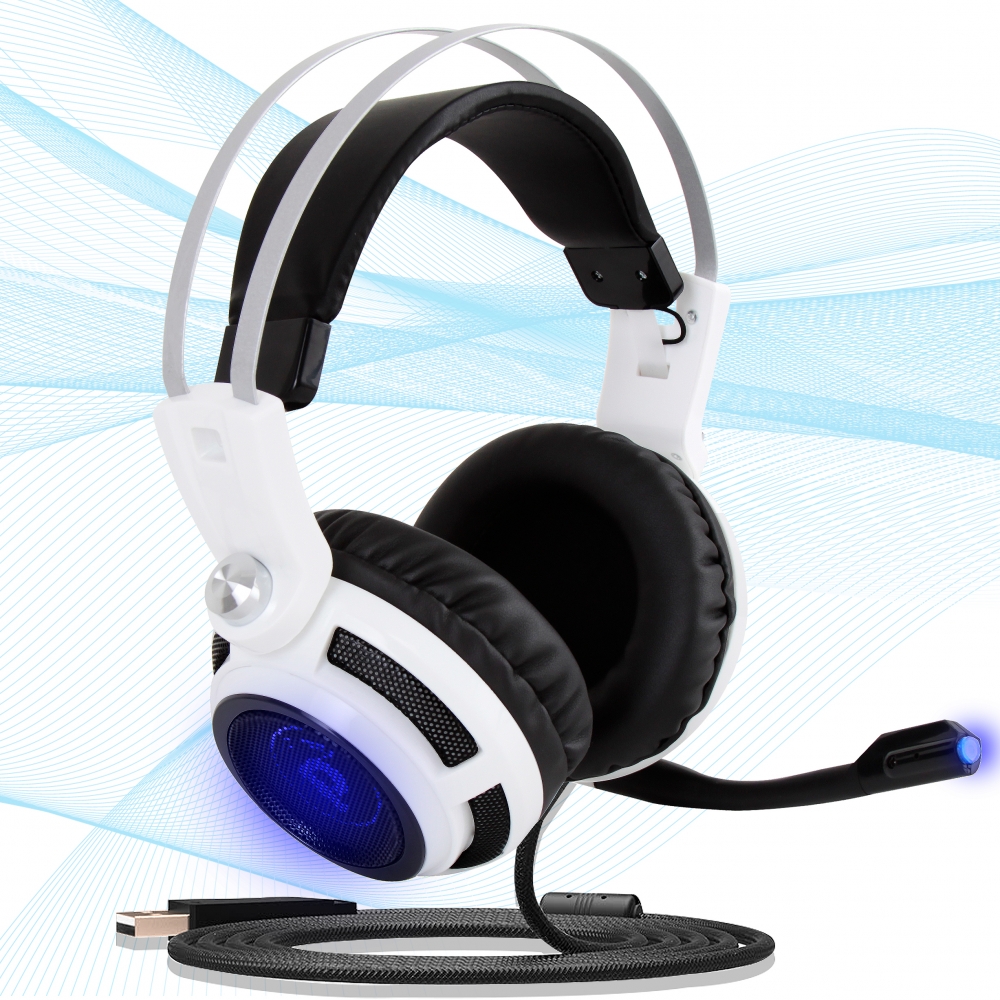 Why Pyle PGPHONE80? Best Budget For Gaming
A gaming headset should have impeccable audio for crucial communications and a comfortable fit that won't distract you from the competition. Plye's PGPHONE80 accomplishes both of those at a value price, winning accolades from the gaming community. Its stylish design blends white aluminum with a comfortable adaptive band that is a perfect fit for every head size. Cerulean blue accents illuminate the mic and ear cups.
Design and Features
Expect great sound from 7.1 Virtual Surround Sound and 3D Aural Information help you hone in on every detail, giving you an edge over the competition. On-ear bass vibration provides a more engrossing experience for games and music, while convenient buttons help you make adjustments on the fly.
0
Microsoft Surface Headphones
Why Microsoft Surface? Best Design
Microsoft is offering some truly unique features with their new Surface headphones. They have an appealingly minimalistic design with a sleek, monochrome look that matches the rest of the Surface line. Plus, at only 0.64 pounds, they won't weigh you down like some other on-ear options. But the real standout feature here is the rotatable dial on the earcup that controls the level of noise cancellation. You can turn it one way to increase the amount of noise cancelation, or twist it the other way to let in more ambient sound. Tap the ear cup to call up Cortana (it seamlessly connects with Surface devices) or the smart assistant of your choice.
Design and Features
The sound quality seems to be right in the middle of the pack — the headphones offer loudness levels up to 112dB with pretty solid-looking 40mm drivers. That will also cover a frequency spectrum from 20Hz to 20kHz, so it has all of your lows and highs covered. You'll get up to 15 hours of music playback on a single charge (it can fully charge in just two hours using a USB-C connection). At $350, these headphones fall squarely in the "premium" category, but they'll include a sturdy case and a one-year warranty along with those unique design features.
0
Best Over-Ear Headphones
0
Sennheiser HD 599 Headphones
Why Sennheiser HD 599? Best Overall for Wired
Universally regarded as the best wired headphones around, the Sennheiser HD 599 is a superb combination of style and sound. With a name that's synonymous with quality, the HD 599 is also beautifully designed, offering satin textured ear cushions for extra comfort even after hours of wear. Making them even more comfortable is the exceptional padding around the headband. They are leather wrapped for quality and, from a design standpoint alone, these headphones are worth every penny.
Design and Features
Fortunately, there's more to the Sennheiser HD 599's than looks. The audio is just as good, if not better than their design. Premium components are expected with all Sennheiser headphones, and the 599 does not disappoint. Running proprietary tech, they deliver a solid low end, awesome mids, and richly-detailed highs. The bass straddles the line perfectly between not too much and not too little. As a wired headphone, you also never need to worry about battery life — just plug them in and start listening.
0
Sony WH1000XM3 Wireless Headphones
Why Sony WH1000XM3? Best Overall for Wireless
The Sony WH1000XM3 may be the last wireless over-the-ear headphones you'll ever need to buy. The ergonomic design ensures that you can wear these headphones for hours in total comfort — a slim profile reduces pressure on the ears, as does the overall lightweight build quality. The headband was also built to properly fit the arch of the head and add some additional padding. And they're made for long-term wear: these headphones have a 30-hour battery life and can run wirelessly for up to five hours after just 10 minutes of charging. That's great news for travelers.
Design and Features
Speaking of traveling and loud places, the Sony's noise-canceling capability is, in a word, exceptional. Knocking out sound from planes to trains to automobiles, they can even reduce the volume of your chatty cubicle mate. All of this is key considering the sound quality will make you want to use the Sony's again and again. With 40mm drivers and hi-res audio capability, these headphones can make any kind of music sound great.
0
Mpow 059 Bluetooth Headphones Over Ear Headphones
0
Why Mpow 059 Bluetooth? Best Budget
The High-fidelity stereo sound benefits from the 40mm neodymium driver, CSR chip, and the around-ear cushion design which provide a well-closed and immersed enviroment for your ears, Just lose yourself in the music! And it is passive noise isolating, NOT active noise cancellation(ANC), it can't cancel the noise completely but it won't drain the battery and damage the sound. The closed-back design provides immersive Hi-Fi sound with CSR chip and 40mm driver together, it is better than ANC in term of sounds quality. Therefore, this model has such as good value in terms of its affordable price.
Design and Features
The FMLOVES' 40mm drivers mean bass lovers will find a rich sound with good mids, lows, and highs. The balanced audio works all the way up to the maximum volume, where distortion is non-existent. The ergonomic design makes these headphones comfortable for wearing during long listening sessions. The adjustable headband is lightweight for fitted comfort. Battery update to 20-hr music time/ talking time in a single charge for wireless mode. A 10-minute charge gives 2 hours of play when battery is low. And you can also use it as a wired headphone with the provided audio cable so the headphones will never power off. The Microphone only works in the wireless mode. Mpow Bluetooth headphones provide a quick and stable connection with your Bluetooth enabled devices like cell phones, tablets, pc, TVs within 33 feet, with a high-quality built-in microphone for hands-free calls. Depending on your head/ear size/shape, it may be a little tight(feels like "on ear") for someone to wear which is designed to avoid sound leakage. In case of that and to get both audio and wearing comfort, please take off the headphone every 1-2 hrs to get your ears relax and protect them from muggy environment in use.
0
JBL E55BT Wireless Headphones
Why JBL E55BT Wireless? Best Budget for Wireless
Finding a pair of great-sounding wireless headphones that don't cost a fortune isn't easy, but the JBL E55BT is a rare exception. Offering a warm and balanced sound that feels more premium than the price tag, JBL hit a homerun with this headphone. The 50mm dynamic drivers add a wide range of frequency response with terrific clarity. Low and high sounds are detailed and crisp. Mids hit just the right amount of response without sounding unnatural. Bass isn't terribly deep but it's more than satisfactory. Everything from metal to movie soundtracks sounds great.
Design and Features
Good sound isn't the only aspect worth bragging about. Sound isolation is good enough to reduce plenty of ambient noise. Only when compared to a higher-end pair will you really notice a difference. The plastic build quality helps keep the price low, but they do squeak a bit while moving as a result. The fabric headband is comfortable even if it provides a minimal amount of padding. Weight is ergonomically distributed around the headphone so no one point of the head ever feels heavy.
0
Bose QuietComfort 35 Series II
Why Bose QuietComfort 35 Series II? Best Noise-Canceling
If you are looking for the best noise-cancelation on the market, then the Bose QuietComfort 35 Series II are the headphones for you. Bose has long been the market leader in noise-cancelation technology and these don't disappoint. Available in black or silver, the design is minimal yet comfortable. All of the controls are housed on the earcups, where you will be able to manage calls, access the Alexa virtual assistant, and adjust the level of noise cancellation. The headphones will last on wireless for 20 hours, while the built-in microphone (with built-in noise-rejecting technology) allows you to take calls when you are paired with a phone.
Design and Features
As far as noise-cancellation goes, expect the loud rattle of a plane or crowded train to disappear when in use. Bose has also upped their game in the audio department, using a volume-optimized EQ for consistent and balanced performance that takes outside elements into account. Plus, the fact that they're Alexa-enabled allow you to voice-control your music and get answers to questions as you would with any virtual assistant.
0
Beyerdynamic Amiron Stereo Headphones
Why Beyerdynamic Amiron Stereo Headphones? Best Sound Quality
If you value sound over everything, the Beyerdynamic Amiron wireless headphones should be your first choice. Before even getting to sound, it's important to highlight how comfortable the Amiron headphones are — the earcups are covered in a blend of polyester and "micro-velour" for softness. There's no question these can be worn for hours on end without a single complaint. Beyerdynamic doesn't offer specifics on battery life other than to say it's more than 30 hours with a single charge.
Design and Features
While the comfort and battery are nice features, nothing beats the Beyerdynamic sound. Inside each ear cup are 45mm drivers that are incredible. The company's "legendary" Tesla technology immerses you into the audio with deep bass, rich highs, and natural mids. For creating a more personalized sound, Amiron owners can download the company's MIY app that allows you to create your "personal hearing profile" and tweak the sound to your preference. No matter what profile you create, feel free to crank up the volume on these headphones. They'll come through loud and clear no matter what.
0
Plantronics BackBeat FIT 500 Sport Headphones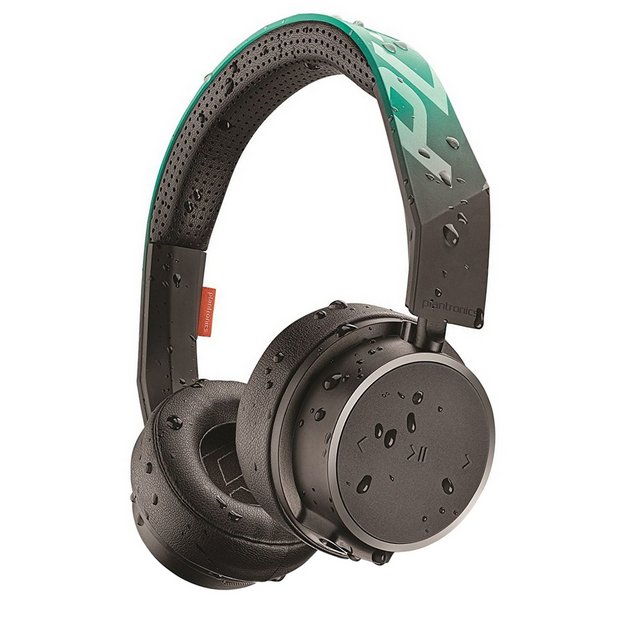 Why Plantronics BackBeat FIT 500? Best for Working Out
Over-the-ear headphones aren't always a first choice for working out, but that's only because fitness fans haven't tried the Plantronics BackBeat FIT 500. Designed with fitness in mind, the memory foam headband and ear cups are ideal for working out. The lightweight design makes them optimal for activity as they can be worn all day. Their sound isolation is an added bonus since you can drown out the world around you. They also include military grade nano-coating for sweat and moisture protection, which differentiates them from the rest of the over-the-ear headphone category.
Design and Features
Don't think for a moment that because these are designed for fitness the audio is an afterthought. Plantronics made sure of its quality with 40mm drivers and advanced acoustic technology that makes for a rich sound. As a wireless headset, there's the option of connecting up to two devices simultaneously with eight total connections. It's perfect for fitness fans who might use a second device other than a phone to workout and track fitness gains. You can also take phone calls using the in-line mic, which also gives you access to Siri, Google Now or Cortana.
0
Bowers & Wilkins P9 Signature HiFi Headphones
Why Bowers & Wilkins P9 Signature HiFi? Best Design
Over the course of more than 50 years, Bowers & Wilkins has been a leader in the audio field. Their P9 signature HiFi wired headphones are no exception. Standing out from the more traditional black headphones, the P9 opts for a unique retro brown style that's very 1970s. The good news is it works and feels as good as it looks. The leather on the ear cups and headband is comfortable and looks luxe. The rest of the headset consists of an aluminum design that's both sturdy and stylish. It also adds the benefit of reducing vibrations that could affect the audio experience.
Design and Features
Inside each ear cup rests 40mm drivers, each angled slightly inwards for a more natural listening experience. Once you place the headphones on your head and turn on the sound, you'll find a superb level of detail. Bass never overwhelms while highs, lows, and mids all sound very natural. If there's one thing the P9 could add to make it the perfect headphone, it would be active noise cancellation. However, as an over-the-ear headphone, most ambient noise is naturally reduced.
0
Focal Elegia Reference Headphones
Why Focal Elegia Reference? Best Splurge
While it's not your typical high-end headphone, Focal's Elegia is a hidden gem in its price range. As a closed-back headphone — a rarity in the premium market —Focal has set the bar for audio quality. It allows the wearer a little more privacy than an open-back headphone so you won't distract your neighbor with your music. The secondary benefit of a closed-back design is the boosted noise isolation, which limits ambient noise from the world around you. It's true that closed-back can get hotter than open-back over lengthy listening, but that's really not a factor with the Focal.
Design and Features
This headphone, which is manufactured in France, has extremely comfortable leather wrapping all over it. The headband is soft and comfortable as are the suede-like microfiber ear cups. They're not too heavy thanks to an aluminum frame, and the design does a great job of hiding the 40mm angled drivers. Across the board, for highs, lows and mids, Focal pushes out a richly detailed sound. Bass is as good as you would expect, hitting the sweet spot of just enough without being overwhelming.
0
FMLOVES Noise Canceling Headphones
0
Why FMLOVES Noise Canceling? Best Budget
Don't worry if you're not familiar with the brand name — the FMLOVES noise-canceling headphones are an example of budget excellence. Eliminating up to 85% of ambient background noise, the FMLOVES headphones are ideal for anywhere that's a little too noisy. Designed to reduce low-frequency noises, they can also make video games sound more realistic. Once activated, active noise cancellation lasts for around 15-20 hours but takes only 20 minutes to fully recharge. The on/off switch on the power cord, combined with an in-line mic, allow you to take calls directly from your headphones.
Design and Features
The FMLOVES' 40mm drivers mean bass lovers will find a rich sound with good mids, lows, and highs. The balanced audio works all the way up to the maximum volume, where distortion is non-existent. The ergonomic design makes these headphones comfortable for wearing during long listening sessions. The adjustable headband is lightweight for fitted comfort.