The Best Wireless Headphones to Buy
Apple Airpods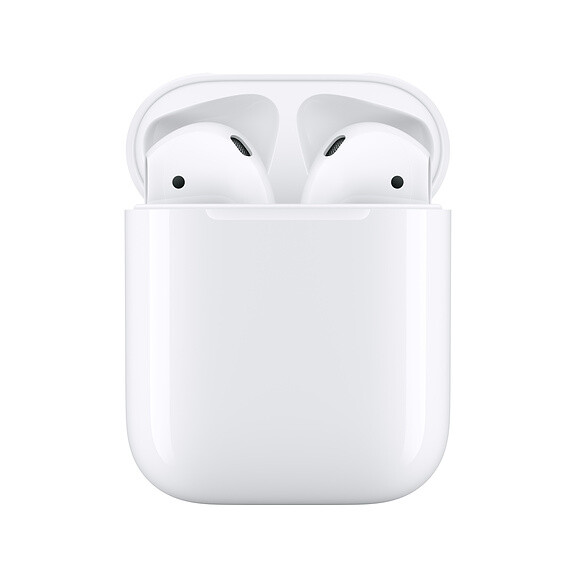 Why Apple Airpods? Most Popular for Applers
It's hard to find a better pair of truly wireless earbuds for iOS and other Apple devices than Apple's own AirPods. Yes, they're a bit pricey (though alternatives like Bose's SoundSport Free cost even more), they're not super high-end on audio quality, and they only work fully with Apple's own W1-chip devices, but the easy pairing feature alone is worth the price of admission. They last a long time, too, with a five-hour per headphone charge, which extends to more than 24 hours of listening time — or 11 hours of talk time — thanks to the clever little charging case. This dental floss-sized pack holds your AirPods in it with a satisfying magnetic click, and can be charged with the same Lightning cable you use to charge your iPhone.
Design and Features
Pairing with a W1 chip-enabled device like your iPhone, iPad, or Apple Watch is a breeze and will truly spoil you for any other way of doing things. Using them is great, too. A quick tap on the right earbud will start and stop music and answer phone calls and taking one AirPod out of your ear will pause whatever audio source you were listening to. It resumes right away when you replace the earbud. While some users report not liking the fit or overall look of AirPods, the lightweight design, super portable form, and perfectly acceptable sound quality make these a perfect choice for anyone using an iOS device.
0
Bose QuietComfort 35 (Series II) Wireless Headphones
Why Bose QuietComfort 35 (Series II) Wireless? Best Overall
While the QC35 headphones were a top contender for our favorite noise-canceling headphones, they ultimately won us over for their extreme comfort. Starring large, oval ear cups and a headband that are both plumped with padding, even extended listening sessions feel comfortable. As far as noise-canceling goes, Bose is the gold standard. The QC35 has built microphones inside and outside the ear cups to sense unwanted noise and, using its new digital equalizing system, will balance sound accordingly.
Design and Features
This wireless pair has a battery life rated at an impressive 20 hours, but Bose has moved away from AAAs to a rechargeable battery mechanism, which makes it impossible to swap in new, standard batteries should yours die in the middle of your listening session. Thankfully, the QC35 can be used with a wire, so it's easy to just plug in and continue listening. It's worth noting that the sound quality is also slightly better when using it as a wired headphone, but it's still top of its class when it comes to wireless Bluetooth sound.
Interested in reading more reviews? Take a look at our selection of the best Bose headphones.
0
Jabra Elite / Active 65t True Wireless Earbuds

Why Jabra Elite / Active 65t? Best In-Ear Control
Apple might have the majority of the public's attention when it comes to in-ear wireless headphones, but Jabra's Elite 65t might just edge them out when it comes to performance. They're truly wireless — no wires to tangle or drape across your neck — which makes them attractive to those who want an AirPod-style experience without the price tag. In addition, the Jabra Elite 65t has the added advantage of noise cancellation circuitry and a custom fit system. This makes them even more attractive to those who are looking for a better sound and fit.
Design and Features
The Jabra Elite 65ts are sweatproof and dustproof, as well, making them a perfect set of earbuds to take with you when exercising, and they come with different sized ear covers to get them to stay in many different sized ears. Jabra's HearThrough mode gives you an adjustable slider to let some ambient noise through when you're out and about, which is essential for safety. Jabra's Elite 65t has another advantage over Apple's offering: you can connect these to more than just iOS devices (including Android and your Mac or PC), though the iOS connection is a standard Bluetooth one, not the AirPod's fancy quick connect. Still, with the extra fit and size customization — not to mention the adjustable noise cancellation — Jabra has the better feature set here.
0
Sony WH1000XM3 Noise Cancelling Headphones
Why Sony WH1000XM3? Best Noise Cancelling
Honestly, we were hard-pressed to find just one category to fit the Sony WH1000XM3, but ultimately decided on Best Battery. These headphones deliver 30 hours of playback on a single charge, which is currently the longest battery life offered. You can certainly find other products that promise 30 hours, but the trade-off is that these batteries typically require several hours to recharge. Not so with the Sony wireless headphones, which offer quick-charging capabilities: even a ten-minute charge can provide up to five hours of use.
Design and Features
The Sony WH1000XM3 was also in the running for Best Noise Canceling, Best Sound Quality, and Best for Travel/Best Design. In addition to its battery power, the Sony WH1000XM3 boasts superior sound, effective noise-cancellation, and an ergonomic design that fits securely and comfortably, for all-day wear. The over-ear speakers contain 40mm Hi-Res Audio drivers that are capable of reproducing a frequency range of up to 40kHz. They also feature 32bit audio signal processing and a low signal-to-noise ratio, which translates into exceptional sound quality.
Finally, we have to briefly touch on design. Sony has upgraded the WH1000XM3 headphones to accommodate long-term use. The ear cups are secure yet lightweight and the headband is much slimmer, reducing the overall bulk and alleviating pressure on the ears.
0
Jaybird X4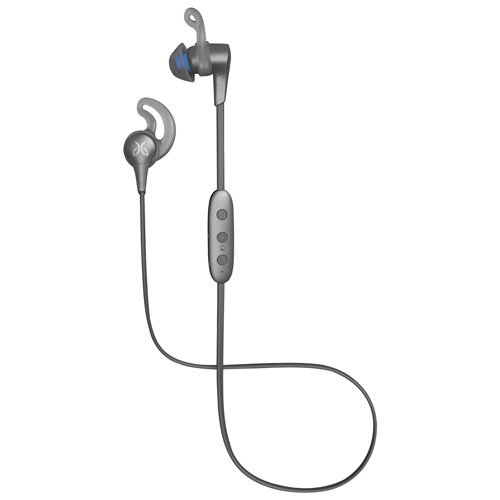 Why Jaybird X4? Best for Exercise
If you're in the market for wireless headphones that can withstand your toughest workouts — while staying in your ear the whole time — you won't find anything better than the Jaybird X4.
With significant updates from Jaybird's previous X3 model, the X4 is built for heavy exercise. The earbuds are IXP7 waterproof and sweatproof, so they'll have no problem dealing with a sweaty workout or inclement weather. (But it's important to note that they're not meant for swimming.) These earbuds give you eight hours of listening per charge with a convenient fast-charging feature: If you plug them in for just 10 minutes, you can get an hour of playback time.
Design and Features
You also don't have to worry about the X4 earbuds falling out of your ears. The earbuds have several ways to customize fit, including different-sized silicone and foam tips and fins along with a "Speed Cinch" that lets you tighten or loosen the cable hanging around your neck. You also have the option to drape the cable either under or over your ear, depending on your preference.
For sound buffs, the free Jaybird app lets you customize the EQ of your audio, producing a sound profile based on what you like to listen to. With the added waterproofing and improved fit customization, the X4 is one of the best exercise earbuds you can get.
0
B&O PLAY by Bang & Olufsen Beoplay H4 Wireless Headphones
Why B&O PLAY by Bang & Olufsen Beoplay H4? Best Sound Quality
Perhaps the most important feature for any audiophile on the market for wireless headphones is sound quality and these Bang & Olufsen headphones don't disappoint. They house 40mm electro-dynamic drivers that produce a deeply rich and balanced sound with high clarity and crisp mids. They have an option to be used as wired headphones, but when used over Bluetooth, we're pleased to say the sound quality holds up. The battery life impresses, too, promising a respectable 19 hours of playtime per charge.
Design and Features
Bang & Olufsen is renowned for its design details and the H4 certainly upholds the reputation. Sleek yet sturdy, they are made of metal with lambskin leather on the headband and feature memory foam earpads. While they don't have active noise cancellation, you'll find they block out sound very effectively anyway.
The H4 is rather basic version of H series, you can get additional features from other models. Beoplay H7 (On Ear) is with microphone; Beoplay H8i (Over Ear) is super lightweight; Beoplay H9i (Over Ear) is with advanced noise canceling feature.
0
Jabra MOVE Style Edition Wireless
Why Jabra MOVE Wireless? Best Durability
Jabra MOVE Wireless on-ear headphones are the best all-round option on the wireless headphone market. They only weigh about a pound and are a relatively low cost option yet deliver excellent sound in a thoughtful, energetic design. The headphones (particularly the red and cobalt designs) stand out from the crowd and the look is both bold and minimalist.
Design and Features
The lightweight stainless steel headband is adjustable for comfort and is covered in a dirt-resistant fabric for durability. Earcups are matt-textured plastic and you'll find a power switch that doubles as the Bluetooth discovery switch on the right earcup. On the left earcup, there is a 3.5" input, so should your battery run dry you can plug in to your device with a standard connector. You'll also find a multifunction button that allows you to play and pause your audio from the headset. You can expect up to eight hours of constant usage and 12 days of standby time.
Another reason we choose the Jabra MOVE Wireless as our top pick is the sound performance – it's crisp and balanced. Across bass, mids and highs, the earcup speakers perform their job admirably, and the MOVE headphones' sound is right up there with the best wireless ones despite their relatively low price. It has a 29 Ohm speaker impedance and a speaker max input power of 80mW. Depending on your use case, you might find their lack of noise insulation annoying, and constant use can tend to wear down the leather earpads, but at this price point Jabra MOVE Wireless headphones are hard to beat.
.0
Creative Sound Blaster Jam
Why Creative Sound Blaster Jam? Best Budget
A pair of Bluetooth headphones under $50 that actually sound good? Yes, it's possible. The Creative Sound Blaster Jam headphones come from the company better known for making computer sound cards, but they're punching way above their weight here.
Considering the price, there are some concessions here (the build quality is noticeably cheaper and the headphones don't fold for travel). Earcup padding is minimal, but does the job – if you're used to thick pads then you'll need to look elsewhere, and the look is a little '90s (but don't trends come back every 20 years?). However, Creative Sound Blaster Jam headphones are nice and light – just 8.8 oz.
Design and Features
Both Bluetooth 4.1 and NFC are supported, and you'll get a range of around 30 feet, which is pretty standard for wireless Bluetooth headphones. You'll get up to 12 hours of use between charges, thanks to the 3.7 V 200mAh lithium ion battery inside, and it can be charged through a USB cable (a one-meter cable is provided). There's no 3.5" input at all, so you'll need to ensure to keep your battery charged.
Sound quality is pretty good, and is powered by 32 mm NeoDymium drivers. The bass is helped immensely when you engage the bass boost switch and mids are nice, although there will be some muddying if you push the volume up. At the high-end, the treble is crisp.
Although these headphones don't excel in any one area, they get a passing grade for everything, and at such a low price for wireless Bluetooth headphones, they're an extremely good value.
0
Microsoft Surface Headphones
Best Microsoft Surface Headphones? Best Design
The new Surface Headphones fold in amazing noise-canceling tech with some interesting and unique features. One of the earcups is actually a twistable controller — most likely modeled after the Surface Dial accessory that accompanies the Surface Studio — that lets you adjust the amount of ambient noise you can hear. If you want to focus and block out all distractions, you can turn it all the way up and block out all external sound. And if you're in public and need to be aware of your surroundings, then you can let in more ambient noise.
Design and Features
The construction is similar to the rest of the Surface line: sleek, sturdy, and lightweight (in this case, only 0.64 pounds). The memory-foam-style ear cups seem pretty comfortable, and the sound quality should serve most users — it delivers decibel levels up to 112 dB and a frequency spectrum covering the entire human hearing range from 20Hz to 20kHz. It's designed to pair well with Surface products and integrates nicely with Microsoft Cortana, but you can use these with most smart assistants like Siri and Google Assitant, too.
The Surface headphones can connect via Bluetooth or with the included aux cable (if your batteries run out). They have a pretty premium price tag, but the features could be worth it for some users.
Check out our other reviews of the best noise-canceling headphones on the market today.
0
Bose SoundSport Free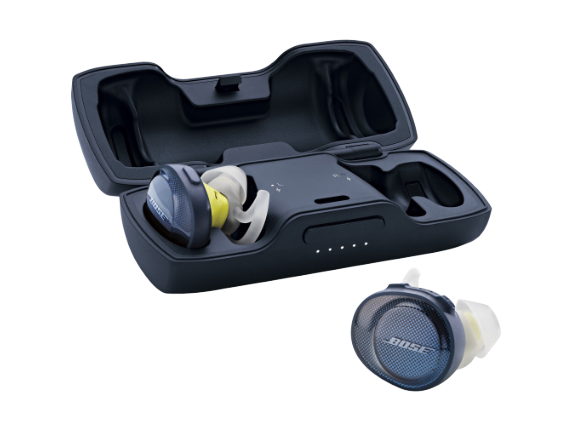 Why Bose SoundSport Free? Best for Android
You can't really talk about truly wireless earbuds without mentioning Apple's AirPods, for sure, but they aren't the only option in town. That's a good thing, too, as most major mobile phone makers have dumped the headphone jack as well. Luckily, there's a solid option for Android users (AirPods don't work with non-Apple devices) in the form of Bose's SoundSport Free earbuds.
Design and Features
Bose knows how to make headphones sound great, and the SoundSport Free is no exception. They've got a fantastic, comfortable fit and they're sweat-resistant for all the workout activities you're going to want to do while wearing them. The little plastic fins that stick up on each earbud are great ways to keep the SoundSport devices in your ears, especially since they are a bit bulkier than Apple's sleek white AirPods. Thankfully, you'll be able to locate them if they do get lost using the Bose Connect app to "Find My Buds." The app also makes pairing a bit easier than standard ways of connecting Bluetooth devices, and Bose's SoundSport Free has volume, pause, and skip controls right on the earbuds themselves. Many customers say that sound quality is even better than AirPods, which makes them a perfect rival and a worthwhile buy.
0
SteelSeries Arctis 7 (2019 Edition)
Why SteelSeries Arctis 7? Best for Gaming
SteelSeries has a long history of making solid, quality peripherals for the demands of professional video gamers. Their headphones are just as quality, making the Arctis 7 headset a great choice for a wide variety of gamers, pro and otherwise. They're super comfortable, with a suspension-style headband that never puts too much pressure on the top of your skull, and soft, pillowy, breathable over-the-ear cups that let you keep them on for those long Fortnite sessions. Better yet, the Arctis 7 has a 24-hour battery life, so you can charge while you sleep and never worry about them running out of battery while you're playing.
Design and Features
The Arctis 7's design also features a retractable microphone perfect for in-game chatting (you can easily tuck it away when you're just listening to music or watching videos). The headphones connect wirelessly to PC, Mac, PS4 and VR devices, and can be wired to work with Xbox One and Switch consoles, too. If you use them with your PC, you'll be able to adjust the surround sound options from there as well. The 2019 edition features 360-degree surround sound and S1 drivers that offer high-end, distortion-free audio so you can better hear your enemies approaching. The Arctis 7 will please anyone who plays a wide variety of games across console and PC.
0
Sennheiser RS 185 RF Wireless
Why Sennheiser RS 185 RF Wireless? Best for TV
If you're looking to watch a blockbuster or play a video game at high volume without disturbing others (like roommates or parents), you're going to need a really good pair of wireless headphones. These Sennheiser RS 185s offer low-latency, high-reliability connection to the set-top box that you'll connect to your television and headphones. Low latency means you won't notice any lag between what you see on TV and what you hear in your headphones, while a reliable connection will make sure you're not taken out of the immersive entertainment by static or sound stutters.
Design and Features
The Sennheiser RS 185s are made specifically for home theater fans, and they use radio frequencies instead of Bluetooth to give you better range, super low latency, and uncompressed sound. They'll only work with the included transmitter, though, so don't plan on using them for any other purpose. Sennheiser makes them open-backed, which ensures a comfortable fit to go along with the great sound, but they can leak audio, which might disturb anyone too close to you while you're using them. Still, the RS 185s deliver high-quality audio up to 100 feet from the transmitter and get up to 18 hours of battery life on one charge.
0
Sony MDRRF995RK Wireless RF (Radio Frequency)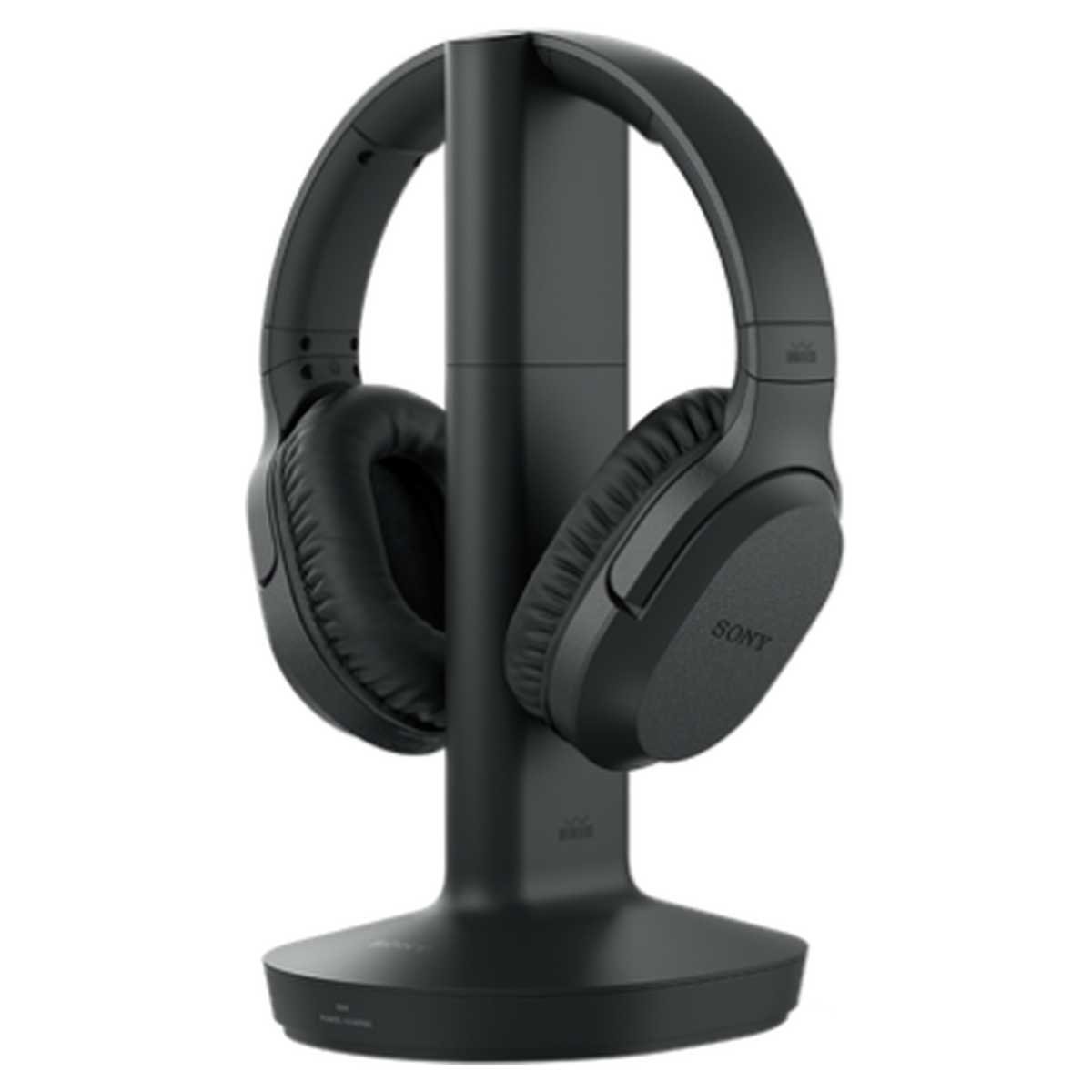 Why Sony MDRRF995RK Wireless RF? Best for TV
Immerse yourself in your favorite shows without disturbing others around you with the Sony MDRRF995RK wireless radio frequency headphone kit. This kit includes seven items: Sony MDR-RF995R wireless radio frequency headphones, a transmitter base station, stereo connector cable, rechargeable Sony battery, AC adapter power supply, operating manual and an ultra-gentle cleaning cloth.
Design and Features
These closed-ear headphones provide noise-reducing technology that keeps your audio free of distortion with a range of up to 150 feet. The 1.57-inch driver unit delivers a wide-frequency range for improved clarity and the unit includes built-in automatic tuning for high-quality transmission. The rechargeable battery gives you 20 hours of listening time on a single charge. Plus, this unit is easy to use; simply connect the transmitter dock to your display with the included cable and the headphones automatically sync to the dock, so you can start listening faster.
0
Mpow 059 Bluetooth Headphones
Why Mpow 059 Bluetooth Headphones? Best Budget
If you are looking for affordable headphones that still boast plenty of bonus features, take a look at the Mpow 059 Bluetooth headphones. With great sound and easy-to-use technology, they provide a lot of bang for your buck. These headphones utilize passive noise-isolating technology; though it doesn't cancel out noise completely, it also doesn't drain the battery or affect the sound of what you are listening to on TV. The closed-back design provides detailed hi-fi sound delivered by the 40mm driver. Memory-protein ear cushions provide a comfortable, skin-like texture that feels good even after hours of use (who doesn't love weekend movie marathons?), and the adjustable, padded headband allows you to find the right fit for you.
Design and Features
You can get up to 20 hours of listening time on a full charge while using the headphones in wireless mode (and switch to wired mode if have you to). In wireless mode, you can also use the built-in microphone to take and place hands-free calls from the couch. The Bluetooth connection makes it easy to connect to your television or other Bluetooth-enabled devices within a 33-foot radius of your headphones.
0
Avantree Bluetooth Headphones
Why Avantree Bluetooth Headphones? Best Value
With the Avantree Bluetooth Headphones, precision-engineered 40mm stereo drivers provide powerful audio ensuring an immersive listening experience. Weighing only 6.34 ounces, these headphones are ultralight and non-constricting, and the swiveling ear cups, adjustable headband and soft earpads combine to create a comfortable custom fit.
Design and Features
On the move? Simply fold up these compact headphones, slip them into the handy included carry pouch and pack them away for commuting or travel. In Bluetooth mode, the rechargeable battery provides up to 20 hours of play time, but if you run out of battery at an inconvenient time simply plug in using the included audio cable and the 3.5mm AUX mode. Reduce lag when used with any fast stream low-latency Bluetooth transmitter so you can enjoy real-time television, music or games without disturbing others and while hearing your audio in perfect clarity.
0
Beats Studio3 Wireless Headphones
Why Beats Studio3 Wireless Headphones? Best Design / Travel
Everyone likes to pick on Beats headphones, most notably after their Apple acquisition. Still, the Beats Studio3 Wireless headphones can't be beat for price, sound, noise cancellation, or portability. While some reviewers note that the headphones don't fold flat like other models, they do fold up into a little football-sized shape to fit into the included hard case, an attractive option to slip into a carry-on bag. They pair with Apple devices with ease thanks to the W1 chip, but can also be used as wireless headphones with any other Bluetooth-capable smartphones or other gadgets. You can take phone calls easily and reviewers say that the sound quality is great for video conferencing as well.
Design and Features
The latest Beats Studio3 model has upped the noise cancellation game, offering more auto-adjustments thanks to the addition of in-ear microphones to monitor the changes in sound if you wear glasses or have a lot of hair. While there are more expensive models out there with perhaps better sound or noise cancellation, the attractive price of the Beats keeps them atop our list.
0