The Best Wireless Gaming Mouse To Buy in 2019
Wireless mouse After years of development, technology continues to improve, but is the current product fully versatile? My personal experience is that even if the price of the four-digit flagship model will have various problems in use, the advancement of technology is always accompanied by various imperfections. So this article will introduce some of the top wireless mice I am using. Introduce their advantages and possible problems.
0
Logitech G903 Wireless Gaming Mouse
As a Logitech wireless flagship mouse, the G903 wireless gaming mouse is unquestionable. It equips with pmw3366 engine to optimize 2.4Hz transmission speed. The appearance adopts symmetrical design, suitable for pinch and grip, support wired/wireless dual-mode design, and battery life. Built-in 750mAH lithium battery, full power continues for 32 hours, compared to the previous wireless flagship mouse G700s battery life. G903 with its own POWERPLAY wireless charging mouse pad use, can achieve uninterrupted power performance.
However, objectively speaking, the G903 is an intuitive upgrade of the previous generation G900. It is wireless charging and 10g adjustable weight (fixing 10g for a coin size), so there is no need to upgrade the G900 to G903. After all, continuous navigation Nothing to improve. Unless you want to match POWERPLAY, the meaning of forced upgrade is very small. However, the Logitech G900 will be sent back with the G903 from after-sale, which is good news. The G903 feels qualified in my opinion. I don't agree with how much the grip feels. But as a symmetrical mouse is OK, in addition to a mouse used for a long time, the user will slowly get used to his shell structure.
Therefore, the G903 is in combination with the wireless charging mouse pad (POWERPLAY). For a 30-hour battery, plus the frequent use of users, the meaning of wireless charging is still there. However, if the battery life can last for 100 hours, the user's own refresh rate is low, the use time is short, and RGB is not like. And the area of the POWERPLAY is not enough, then the meaning of wireless charging is very weak. Wireless adaptation has done through the receiver, which only provides charging. If you think the adapter is farther away from the mouse, connect it to the original mouse power cable – Logitech provides this feature.
0
Logitech GPRO Wireless Gaming Mouse
125 × 63.5 × 40mm size, 80g weight, positioning the flagship lightweight wireless mouse. The Logitech G Pro wireless mouse, although literally a wireless version of the Logitech G Pro, is actually a far cry. It equips with a new generation of HERO sensors that support up to 16000 DPI and 400 IPS. At the same time, it reduces the power consumption of the sensor and brings up to 60 hours of battery life for the mouse, which is doubled compared with G903.
Support LIGHTSPEED wireless transmission technology, adapt to POWERPLAY wireless charging technology, and locate the flagship configuration. Logitech G Pro wireless mouse has been controversial since its launch. It has a bland appearance, but it has a friendly price comparable to that of the G903. Innocent in price, with precise size, built-in battery, but the weight is controlled at 80g. This can be one of the most preferred solutions for the pursuit of lightweight design.
The shape of the mouse is simple, with symmetrical design and a slender figure. The mouse side button is in detachable design with metal spring tension system, magnetically mounted. The left and right buttons are independent, with Omron 50 million clicks strength each. The G Pro supports Logitech Lightspeed wireless connection technology. The delay time reduces to 1ms, and connection efficiency is extremely high. However, if you don't plan to purchase a PowerPlay wireless charging mouse pad, G Pro Wireless's price/performance ratio will be greatly reduced. And it is very expensive. If you prefer a cheaper solution, the wired model of GPro is a very good alternative with the same competitive power.
0
Logitech G502 Wireless Gaming Mouse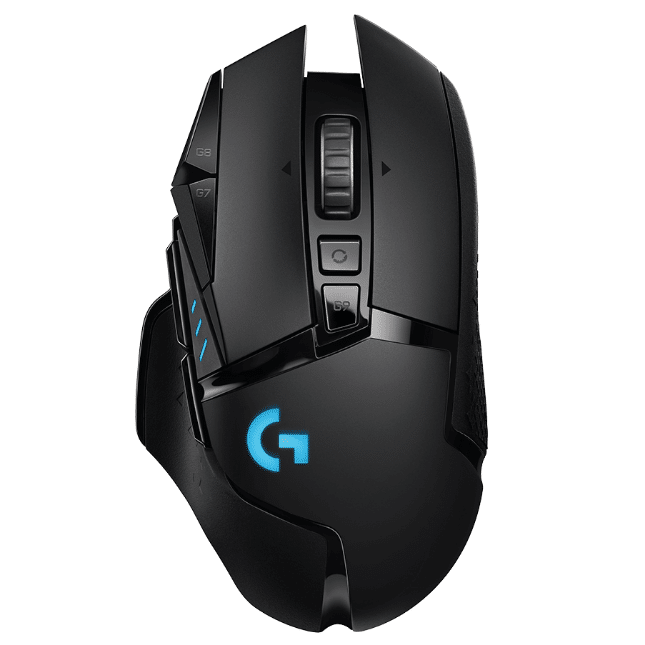 In May, 2019, Logitech never let down our expectations of the wireless trend. G502, as one of the most iconic gaming mouses in recent years, has come out an even hard-to-resist new model. The new wireless version of G502 has come out with luxurious existence of HERO 16K DPI and LIGHTSPEED features, which is covered with a precious price position. It is gonna be a big WOW to all the G502 lovers. And of course, it is gonna be a pricey splurge to them.
The Logitech G502 mouse, equipped with HERO engine from the last PMW3366 sensor, supporting up to 16000 DPI, 400 IPS, and 50G for very accurate and smooth movement. The mouse has amazing features such as Omron 50 micro-motion, 11 programmable buttons, built-in three sets of onboard memory, support for drive adjustment, and RGB lighting effects. The new added LIGHTSPEED feature offers it moves rapidly and accurately under wireless existence. The G502's biggest feature is surface calibration, which allows users to adjust sensor parameters for different mouse pads for optimal compatibility. In other respects, the five 3.6-gram weights, four-way rollers, and dual-mode speed rollers are pioneering features brought by Logitech, making G502 as one iconic balance gaming mouse for all the kinds of games.
0
Razer Mamba Elite Chroma Wired/Wireless Gaming Mouse
This is a very mature mouse. As the strongest flagship of Razer, the Mamba Super Edition bears the role of pulling up the brand. Why is the Mamba 5G Super Edition is separate from the charging mouse like the Logitech G903? It is because of the mouse pad. Unlike Logitech POWERPLAY, it simply provides charging. If there is no super flame god, then the super Mamba can only be used as a wired mouse. If you don't have a mouse pad when you are out, it is not a wireless mouse. Does it sound very helpless?
And because it doesn't have a battery, it relies on a mouse pad to power it in wireless mode. If the mouse is suspended in the middle or if 1/3 of the volume is outside the mouse pad, the mouse will be powered off. It takes 3-6 seconds to reconnect the pointer. At that time, the game has been lost. Advantages: With the current full range of peripherals, the whole family barrels are self-made. Light weight feels good. Disadvantages: If you want to use wireless mode, you must bring a mouse pad. Without a battery, it will cause disconnection and affect game performance. The Super Flames's receiver is located directly above, often to the front of the mouse.
The mouse is lifted and partially out of the mouse pad area will power down. The consequences of power outage are very helpless. The shape of the Razer Viper wireless gaming mouse adopts a symmetrical design, suitable for pinching or gripping. In terms of performance, the wireless module is N52832, the main control NXP LPC11U68J, up to 16000DPI precision, built-in 800mAh lithium battery, while turning on the lighting effect It can achieve 24-hour battery life and supports wired/wireless dual-mode design. It is very pricey. If you have a limited budget, the wired best-seller Mamba, which is cheaper than the wireless model, is an alternative.
0
SteelSeries 650 Wireless Gaming Mouse
Sairui's Rival 650 Wireless Mouse features Quantum Wireless 1ms perfect performance, light-speed charging, and the most accurate game sensor ever! The wired version of Rival 600, which was introduced before, has more than 650 wireless functions. In fact, the Rival 600 was very good. It has a slender figure and a micro-right hand ergonomics. This part is a bit like my love G502, so I Personally, I really like the two Rival 600/650.
I can freely adjust the weight of the center of gravity. The eight zones can be set freely by the PRISMSync. The biggest mouse focus is of course the dual sensor. The TrueMove 3, which is highly rated by FPS players, is ultra-precise, ultra-stable, ultra-low latency, with four elements to become the best e-sports sensor – true 1:1 trajectory, ultra-low latency, advanced jitter reduction and Custom SROM/firmware with increased sensor accuracy timing. There is also a secondary sensor – depth-sensing linear optics to detect the dangling distance to reach the world's shortest and most accurate dangling distance (that is, the height of the rat is acted upon by another sensor), providing a dangling distance LIFT OFF DETECTION is 0.5-2mm.
The height of the rat is highly accurate. It is really important to change the screen and face the enemy face-to-face. These are not necessary to re-target when the mouse is turned back. Meet the real high-end FPS players' gestures, and can understand the mouse function when fighting fiercely! You can play 10+ hours with 15 minutes of fast charging! Fully charged with more than 24 hours of battery life! The weight of the mouse can range from 121g to 153g, not light!
0
ASUS ROG Gladius II Wireless Gaming Mouse
AUSU ROG Gladius II is really great to launch the wireless version now. This ASUS ROG Gladius is definitely the key to the history of ASUS E-sports. It has almost perfect design, its first classic IE3.0 artifact family right hand ergonomic style, hot swap micro switch, separate wire, classic IE3.0 mouse shape.
Comes with the classic IE3.0 original birthday system OMRON micro-motion, remove the main body to change the micro-motion without removing the screw hole of the mouse foot sticker. The gratifying ROG GLADIUS II Wirless Wireless Edition is not only available in wired/wireless dual mode, but also in 2.4GHz/Bluetooth wireless connection mode. Low Power Bluetooth (BLE) is conceivable that the endurance is stronger, which can facilitate general paperwork or laptop users to take out the door.
Bluetooth endurance has a battery life of up to 25 hours with RGB lighting enabled and up to 57 hours with RGB lighting turned off. When the 2.4GHz RF USB receiver is connected, the ROG Gladius II Wireless provides ultra-fast 1000Hz polling frequency and Frequency-Hopping Spread Spectrum (FHSS), which eliminates interference and provides the same speed as your operation. Fast race-level response speed. With RGB lighting enabled, battery life can be up to 24 hours; up to 36 hours with RGB lighting turned off. This is why the gods and ghosts are equipped with a wire. The laptop can be used by users to use Bluetooth as a work. When using 2.4G or wiring, the game can achieve faster and more stable connection quality.
0
MSI GM70 Wireless Gaming Mouse
MSI is a new star in the field of peripherals. The GM70 is also the first wireless gaming mouse of its family. The shape adopts the right-hand ergonomic design and supports the replacement of the upper cover and the flank. The performance uses the original 3360 engine, 12000DPI, and can be interpolated. The way is DPI up to 18000DPI, supporting wired / wireless dual-mode design. It seems there is a strong board design style. What are the characteristics of this style? The material is sufficient, the aluminum alloy case, the very high mold precision and so on. A lot of things that are considered to be good, and then weigh a lot more than the G903.
In addition, apart from the weight of 128g, the GM70 has no other disadvantages (occasionally dropping frames? Wireless mice will happen more or less). Of course, no RGB charging stand is not as good as Mamba 5G (but Mamba 5G sensor is a problem), can you pull back a city to see the richness of Mystic Light hardware – that is, the solidity of your faith.
The MSI GM70 can replace the upper cover and the left and right flank. This is a bit of a feeling of the Orobo snake. I only have it, but the latter has a poorer bite accuracy. MSI GM70 is absolutely impeccable in terms of mold accuracy. The GM70's 3000Hz refresh rate in wired mode is a record that I know is unbroken (the popular peak is 1000Hz), which is also in line with OC's philosophy.
While the wireless gaming mouse brings us the freedom of wireless experience, the battery life can be described as a short board, while Logitech and Razer phased out the mouse pad of wireless charging technology, from another level, the mouse is reached. Infinite endurance is also a solution to solve the wireless mouse battery life, I believe that the short board of the wireless mouse can be better compensated.
0
Corsair Ironclaw Wireless FPS/MOBA Gaming Mouse
Why Corsair Ironclaw? Best Versatility
The features of this mouse are more like in between of FPS mouses and MOBA mouses. It has very fast connection technology while there are many programmable buttons of the thumb side for multiple uses. With size of 130 x 80 x 45 cm and weight of 131g, the Corsair Ironclaw Gaming Mouse has three modes of connection: hyper-fast, sub-1ms Slipstream Corsair Wireless technology, low-latency Bluetooth, or USB wired. The contoured shape that's sculpted specifically for palm-grips and larger hands can give you comfort when it counts. As for the sensor, the custom PixArt PMW3391 native 18, 000 DPI optical sensor with 1 DPI resolution steps for ultra-accurate tracking and accuracy. Also, ten fully programmable buttons are around to customize the way you play, with powerful macros and key Remaps to give you an in-game advantage. Ultra-durable Omron switches rated for more than 50 million clicks.
Design and Features
The Corsair ironclaw RGB wireless gaming mouse combines an ultra-accurate native 18, 000 DPI optical sensor with a durable contoured shape that's ideal for larger hands and palm grips. Easily connect to your PC via hyper-fast, sub-1ms Slipstream Corsair wireless technology, Bluetooth or USB wired connection, with up to 50 hours of battery life. Powerful Corsair CUE software allows you to precisely tune sensitivity in 1 DPI steps, customize the ten programmable buttons with macros or remaps, and synchronize your mouse's three-zone RGB lighting with all your icue-compatible Corsair Devices. With the freedom of wireless and The customizable precision you need to take your game play higher, take victory in hand with the Corsair ironclaw RGB wireless.
0
Logitech G703 Wireless Gaming Mouse
Why Logitech G703?
The Logitech G703 is also a wireless gaming mouse that also supports Logitech's latest LIGHTSPEED technology. It supports wired and wireless dual mode and has better wireless low latency performance. Of course, it also supports wireless charging. It needs to be used together with the G POWERPLAY mouse pad. It is not compatible with the current QI products, and it cannot charge the mobile phone. The mouse uses a symmetric layout. The product supports 1680 color RGB light effects. The measurements are 124mm × 68mm × 43mm and weighs 107g.
Design and Features
If you prefer a heavier mouse, you can add 10g detachable weights for your preferences. The "PMW3366" optical sensor has range of 200-12000DPI, and ultra-durable Omron micro-motion. The data/charging cable is 1.83 meters long and the wireless connection uses 2.4GHz. In addition to supporting POWERCORE wireless charging, they also have LIGHTSPEED technology with 1ms low latency and better wireless performance. The G703 lasts for 24 hours in the default light, for up to 32 hours without exposure improving comfort for long periods of use and achieving faster response times.
0
Roccat Leadr Wireless Gaming Mouse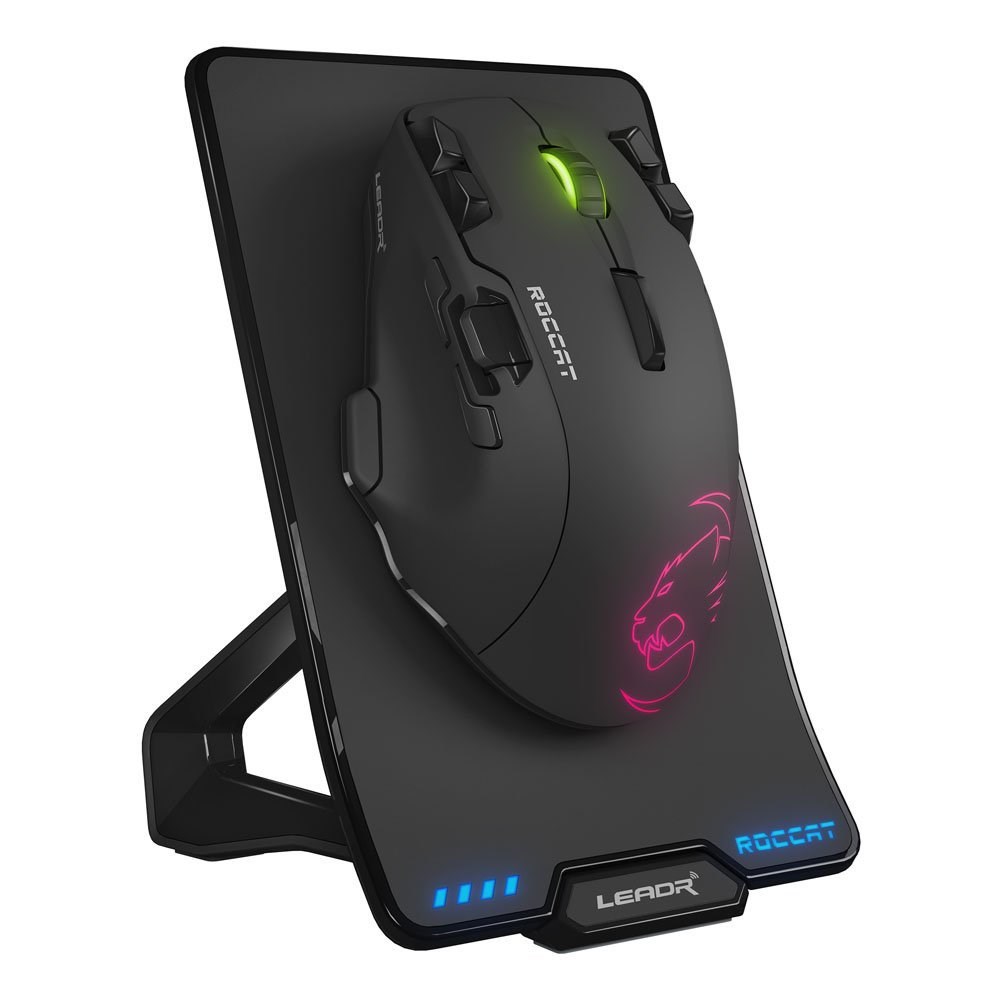 The ice leopard lead is actually a wireless titanium shark leopard. Its grip is already recognizable by many players. The leadr is the weight of 128g. According to my experience, as long as you can adapt to this weight, then you can challenge Asus Sparta. The wall-mounted charging stand is a perfect song in a wireless mouse. At least Mamba's base is far less than it. Sometimes you are not worried about wireless charging, purely because the charging method is not cool enough.
Leadr wireless RGB gaming mouse and the Kanga e-sports mouse pad, Leadr is actually a wired and wireless dual-mode product, providing almost no delay and high performance through innovative 2.4G wireless technology. The optical engine uses Pixart Owl-Eye optical sensor with a sensitivity of up to 12000 DPI. It can switch in five segments through the DPI button. Each value adjusts by software. The return rate is up to 1000Hz.
The ice leopard mouse has always been excellent in the surface coating. On this point, G903 and Super Mamba should stand back. In actual use, you can feel the full feel and delicate touch. The EASY-SHIFT+ technology is also an appreciated feature. It provides the most abundant button functions for players. It equips with ROCCAT SWARM software to provide the most intuitive and user-friendly operation interface. Before the launch of the Thundercloud Thundercloud 3.0, the ice leopard driver did hang the thunder. Cloud 2.0, this degree subverts my impression of its niche. Multiple custom buttons are perfect for the office crowd – but to be honest, its side-key design is not as good as the SteelSeries Rival 500, but it's also a usable one.
0
CORSAIR Dark Core SE Wireless Gaming Mouse
The pirate ship DARK CORE wireless dual-mode Qi charging mouse, with this MM1000 mouse pad that can provide Qi charging is trendy. The wireless technology is getting better, it can achieve low interference, 1ms without delay technology, finally opened another big era for e-sports. The mouse-receiving mouse-Dark Core RGB SE that has been heard by the players, and the MM1000 Qi mouse pad with the Qi charging system on the mouse pad. You should know that they don't need to be tied together. Use, your original iPhoneX Qi board can also help the mouse to charge, and this MM10000 can also charge your mobile phone.
The Dark Core RGB SE has/wireless mouse is available in wired or wireless dual mode (2.4G or Bluetooth switchable). The shape of the mouse is very popular. The whole body is arranged with a multi-button style that does not affect the feel. It is very special but very practical and feels good. There are 9 buttons that can be customized, and the mouse can be switched. File and DPI.
Of course, the main one is the 1 GHz 2.4 GHz wireless connection, so I tried it completely without delay, built-in 50 million OMRON micro switch, 16000 DPI optical sensor. The MM1000 Qi charging mouse pad is quite convenient, the phone can be charged on the mouse pad, the Qi mouse is also OK, and there is an additional Qi charging module head – MicroUSB, Type-C, Lightning, almost all actions The device can support. The hard mouse pad is a bit wider than the normal mouse pad, so despite the right charging area, the mouse movement area is still very wide.
0
In all fairness, I personally prefer the wireless mouse, but even the flagship model on the market is not completely flawless. Technology upgrades products, products serve us, I often encounter such problems in personal experience, in fact, more than one line can eliminate a lot of bad things, but who makes us so persistent about wireless technology.