The Best Heavyweight Gaming Mouses To Buy of 2019
Since the launch of the Logitech G502 mouse, with its good hardware configuration, it has been ranked first in the sales list. However, in this review, the weight of the G502 only ranks at fourth. This list is only based on the weight of "heroes", for you to take stock of the six "martial arts".
0
Weighs about 178.5g|ROG Spatha Wireless Gaming Mouse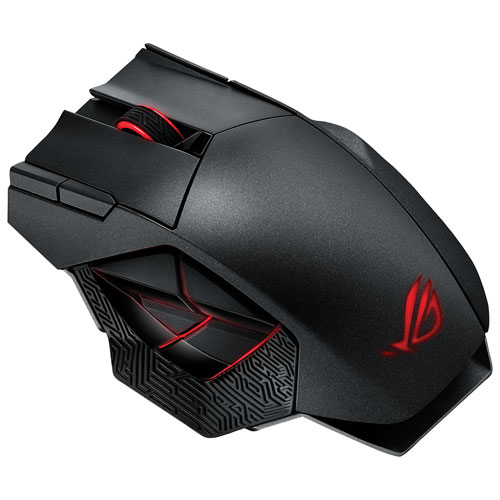 ROG Sparta Mouse sizes of 137 × 89 × 45mm. The huge body, with a magnesium alloy base, plus a built-in battery for wireless power, has weight of 178.5g. When the logo light is on, it feels more powerful.
ROG Player Country Spatha Spartan mouse, equipped with Avago flagship A9800 sensor, up to 8200DPI, 150IPS, 30G acceleration. It changes with micro-motion design, built-in for Omron D2FC-F-7N (20M) micro-motion and comes with Nissan Omron D2F-01F micro-motion. Support wireless and wired dual-mode connection, the refresh rate is 1000Hz in 2.4G wireless state, and the refresh rate is up to 2000Hz in wired state. With 6 custom buttons and adjustable RGB lighting effects, with driver and onboard memory, players can replace the device.
0
Weighs about 145g|Mad Catz R.A.T.8+ mouse
So what is the actual situation of Mad Catz The R.A.T.9? The answer is really heavy. The metal frame matches an aluminum base plate, and several metal knobs visible. The weight of the nude mouse has reached about 150g. Plus, as a wireless mouse, it requires a battery implanted, unfortunately, the specially customized rectangular battery has no way to go. The manufacturer is very caring (?) to prepare counterweights for the players, plus different models of palm rests and wings. The top case rounds off to about 200g! Since it has been discontinued, it is now difficult for players to experience this heavy touch. Therefore, an acceptable alternative is Mad Catz R.A.T.8+.
Mad Catz R.A.T.8+ mouse with PMW3389 sensor, up to 16000DPI, 50G acceleration. Use D2FC-F-7N Omron white point fretting with tens of thousands of secondary life. Supports 1000Hz transmission rate in wireless state only through 2.4G wireless connection. Equipped with 11 programmable buttons, the palm rest, wings and counterweights are modular in design and have high playability.
0
Weight about 145g|Alienware Alien AW958 Elite Edition Mouse
Alienware Alien AW958 Elite Edition Mouse, large size mouse, and aluminum material cover, laid the foundation for its weight. In the case of hollowing out the tail, the player can get an easy experience of 120g. With the addition of four 5g counterweights and a rear counterweight slot, players can enjoy a full 146g full-featured heaviness. Because only wired connections are supported, the actual experience may be even heavier.
Alienware Alien AW958 Elite version Mouse, equipped with PMW3360 sensor, supports up to 12000DPI, 250IPS, 50G acceleration and using Omron 50M micro-motion. The outer wing, palm rest and counterweight can be adjusted and replaced. With multi-button outer wings, you can have up to 13 custom buttons. And RGB strips at the spine line to support drive adjustment.
0
Weighs about 139g|Logitech G502 HERO Gaming Mouse
The Logitech Logitech G502 mouse measures 131 x 77 x 38mm and weighs approximately 121g. The counterweight is of course necessary for the martial arts players. The total weight of the five 3.6g weights reach to 139g.
The Logitech G502 mouse, equipped with HERO engine from the last PMW3366 sensor, supporting up to 16000 DPI, 400 IPS, and 50G for very accurate and smooth movement. The mouse has amazing features such as Omron 50 micro-motion, 11 programmable buttons, built-in three sets of onboard memory, support for drive adjustment, and RGB lighting effects. The G502's biggest feature is surface calibration, which allows users to adjust sensor parameters for different mouse pads for optimal compatibility. In other respects, the five 3.6-gram weights, four-way rollers, and dual-mode speed rollers are pioneering features brought by Logitech, making G502 as one iconic balance gaming mouse for all the kinds of games.
In May, 2019, Logitech never let down our expectations of wireless trend. The new wireless version of G502 has come out with luxurious existence of HERO 16K DPI and LIGHTSPEED features, which is covered with a precious price position.
0
Weighs About 131g | Corsair Ironclaw Wireless FPS/MOBA Gaming Mouse
Why Corsair Ironclaw? Best Versatility
The features of this mouse are more like in between of FPS mouses and MOBA mouses. It has very fast connection technology while there are many programmable buttons of the thumb side for multiple uses. With size of 130 x 80 x 45 cm and weight of 131g, the Corsair Ironclaw Gaming Mouse has three modes of connection: hyper-fast, sub-1ms Slipstream Corsair Wireless technology, low-latency Bluetooth, or USB wired. The contoured shape that's sculpted specifically for palm-grips and larger hands can give you comfort when it counts. As for the sensor, the custom PixArt PMW3391 native 18, 000 DPI optical sensor with 1 DPI resolution steps for ultra-accurate tracking and accuracy. Also, ten fully programmable buttons are around to customize the way you play, with powerful macros and key Remaps to give you an in-game advantage. Ultra-durable Omron switches rated for more than 50 million clicks. 
Design and Features
The Corsair ironclaw RGB wireless gaming mouse combines an ultra-accurate native 18, 000 DPI optical sensor with a durable contoured shape that's ideal for larger hands and palm grips. Easily connect to your PC via hyper-fast, sub-1ms Slipstream Corsair wireless technology, Bluetooth or USB wired connection, with up to 50 hours of battery life. Powerful Corsair CUE software allows you to precisely tune sensitivity in 1 DPI steps, customize the ten programmable buttons with macros or remaps, and synchronize your mouse's three-zone RGB lighting with all your icue-compatible Corsair Devices. With the freedom of wireless and The customizable precision you need to take your game play higher, take victory in hand with the Corsair ironclaw RGB wireless. 
0
Weight about 136g|Logitech G603 Gaming Mouse
Logitech Logitech G603 mouse, size 124 × 68 × 43mm, medium model mouse, only mouse weight about 88.9g. As a wireless mouse powered by AA batteries, a battery uses normally and weighs about 112.3g. By adding two batteries, you can guarantee the battery life and the weight is about 136g.
The Logitech Logitech G603 mouse, powered by Logitech's next-generation HERO sensor, supports up to 12,000 DPI and 400 IPS and using Omron D2FC-F-7N (20M) micro-motion. It has only 2.4G or Bluetooth wireless connection. In 2.4G connection mode, LIGHTSPEED technology adds to support the maximum 1000Hz reporting rate. In Bluetooth mode, the highest reporting rate is 188 Hz. With 6 programmable buttons, no RGB lighting effect(to save power), support for drive adjustment.
0
Weighs about 135g | SteelSeries Rival 710 Gaming Mouse
Designed for right-handed players, this gaming mouse has two left and right standard buttons separated by a mouse wheel. This wheel can also be used as the third clickable button. The Rival 700 product page lists a maximum CPI of 16000 and a tracking speed of 300 inches for players to modify and adjust the sensitivity of the mouse. However, the PMW3360DM-T2QU optical sensor used in the mouse has a maximum CPI of 12,000 and a tracking speed of 250 inches/second. Unfortunately, we don't have a laser sensor at hand to test it. The mouse measurement of 124.8 x 76 x 42mm and asymmetrical design for big hand players to fully grasp. The total weight is 135g.
Optical mice use red or infrared LEDs to illuminate the surface for tracking, while laser mice rely on vertical cavity surface emitting lasers (VCSELs) to illuminate the surface for better sensitivity, and can be used for rough surfaces such as sofa cushions. Of course, most mice nowadays utilize optical sensors because people actually prefer stability rather than the disrupting sensitivity of hand trivial shakes. In general, the Rival 710 is one of the best gaming mice we've seen for a long time. It's an accurate and reliable product, even without the design of tactile feedback and replaceable components. And the OLED and vibration features are so much fun. The only regret is that there is no version of the left-handed player.
0
Weighs about 128g|SteelSeries 650 Gaming Mouse
0
Rival 600/650 mouse shows the great work of Denish gaming devices manufacturer. The weights are matched with a variety of features, and the touch is delicate. The 8-zone lights deliver much more color customization. The mouse measurement of 131 x 69 x 43mm, and asymmetrical design for big hand players to fully grasp. Eight 4 gram weights help players to more accurately adjust their preference, The total weight configures between 96 and 128 grams as you like.
Rival 650 integrates two sensors, the TureMove3 and the height-tracking sensors, providing 12,000 CPI, with lower tracking feedback latency than the normal 400 or 800 CPI. Integrated 32-bit ARM master, onboard memory can store CPI, buttons, programming and lighting system. It also ensures that mouse floating/dropping does not cause a large area deviation. The skin-like coating surface, in addition to the roller and tail LOGO with RGB backlight, also integrates two light bars at the top to support full custom and synchronized lighting effects.
0
At present, the gaming mouse currently, in fact, mostly maintains the weight at about 100 grams. More than 130g is not common. Gaming companies are also gradually realizing that a too heavy mouse may affect the normal use of the player and begin to pursue lightweight design. The G502, which is popular in this period. It was the first mouse with the PMW3366 sensor. It has a high accuracy and rich use function, which may be the reason why it won the sales champion. It is foreseeable that in the field of gaming peripherals in the future. Heavy mice may come less and less, and these "mice of martial arts" mouse will be cherished.