The 8 Best Airplay Speakers of 2019
Play music from the convenience of your Apple devices
Best Overall: Sonos One Gen 1 / Gen 2
Why Sonos One? Best Overall
If you're looking for an AirPlay speaker and simply want the best you can find, then the Sonos One is probably the way to go. Sonos has built a reputation for having some of the smartest multi-room speakers around, and for good reason. The Sonos One, for example, is not only compatible with AirPlay 2, but it also supports Amazon Alexa and will soon support Google Assistant — meaning no matter which home ecosystem you use, it should offer something for you. Alternatively, you could use the speaker with Sonos' own app, which connects to a range of music streaming services, including Amazon Music, Spotify, and Pandora, and allows you to set up your audio system as a whole.
Design and Features
Of course, the speaker isn't just smart — it also sounds pretty great. There's nice, pronounced low-end with a well-tuned midrange and plenty of clarity in the highs. Additionally, the speaker is well designed, featuring a basic black or white look that should fit in any modern-looking home. In other words, the Sonos One is the complete package.
0
Best Budget: Yamaha MusicCast WX-010
Why Yamaha MusicCast WX-010? Best Budget
Not everyone has a ton of cash to spend on a speaker, but thankfully those on a budget don't have to settle for low-quality products. If you're looking for an affordable option, then we recommend the Yamaha MusicCast WX-010, which is generally well-designed and pretty accessible — plus, it sounds great.
Design and Features
The Yamaha MusicCast is actually a very smart speaker. Apart from supporting AirPlay, it also works with Alexa and can be integrated into Yamaha's MusicCast system, so you can get it to work with other Yamaha MusicCast speakers, too. It can also connect through Bluetooth and Spotify Connect. On top of that, the speaker is easy to use. You can use it straight through the Yamaha MusicCast app, which is available for both Android and iOS, and once the speaker is set up, you'll be able to use it on many iPhone and Mac apps. The speaker also looks good — it comes in a rectangular shape, is available in either black or white colors, and has its controls on the top where they're nice and easy to access.
0
Best High-End: Naim mu-so Qb
Why Naim mu-so Qb? Best High-End
Want a little more clarity and detail from your AirPlay speaker? The Naim mu-so Qb may be one of the more pricier options, but if you're looking for high-end audio, it's the one you should invest in. The speaker is essentially designed like a huge cube, but it has a nice fabric covering around it and easy-to-use playback controls on its top.
Design and Features
Measuring 8.6 x 8.6 x 8.3 inches, it's a bit bigger than some of the other AirPlay speakers, though it should still be able to fit in most homes comfortably without sticking out too much. Under the hood, the speaker boasts 300 watts of power, so it can get pretty loud while still sounding great. And, it supports more than just AirPlay — you can connect to it through Bluetooth and Spotify, too. When it comes to sound, the speaker boasts nice, boosted bass, which many will like, though audiophiles may prefer something with a more natural sound.
0
Most Portable: Libratone Zipp 2
Why Libratone Zipp? Most Portable
Setting up speakers can be great, but it can also be expensive. Alternatively, you could just buy a single speaker that you can carry around in your house and even use in other locations. If you like that idea, then the Libratone Zipp 2 is the speaker to go for. Weighing only 3.3 pounds, it's well-designed, sounds great, and has a nice battery for portable use.
Design and Features
When it comes to design, the speaker isn't bad-looking at all. It's available in a range of colors, including gray, black, and red, and it's got an overall premium look and feel to it. On the top, you'll get controls for playback. Ultimately, the most important thing to consider is sound quality, and the Libratone Zipp sounds great. There's nice heavy bass with a decently tuned midrange and clarity in the high end. Plus, the included battery means you can get that sound anywhere in your house for up to 10 hours on a single charge. When it comes to wireless standards, the speaker supports AirPlay 2 and Bluetooth, so it should work with a range of playback devices.
Take a look at other product reviews and shop for the best portable speakers available online.
0
Best Soundbar: Sonos Beam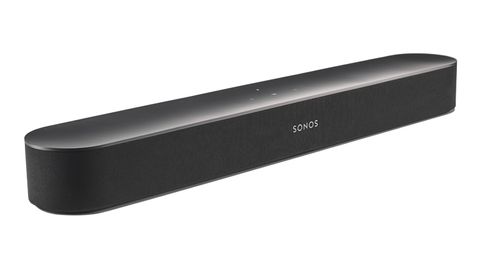 Why Sonos Beam? Best Soundbar
Perhaps you're more in the market for a soundbar and want it to work via AirPlay. If that's the case, then there are some good options for you — including the Sonos Beam. There are a number of reasons why the Sonos Beam is such a great device. For starters, it boasts a relatively nice design. It's got big, rounded corners with an all-black or all-white look and simple controls on the top. The speaker is pretty smart, too. It offers Amazon Alexa, plus it'll soon be supporting Google Assistant. It also supports Bluetooth and AirPlay 2, so you can stream music from a large number of listening devices, and it has an HDMI port to connect to your TV.
Design and Features
When it comes to sound, the speaker is similar in frequency response to the Sonos One. There's a fairly hefty bass boost, but the midrange is very well tuned and the high-end offers a ton of detail. All in all, if you like the idea of a soundbar that's also a smart speaker, then the Sonos Beam is an excellent choice.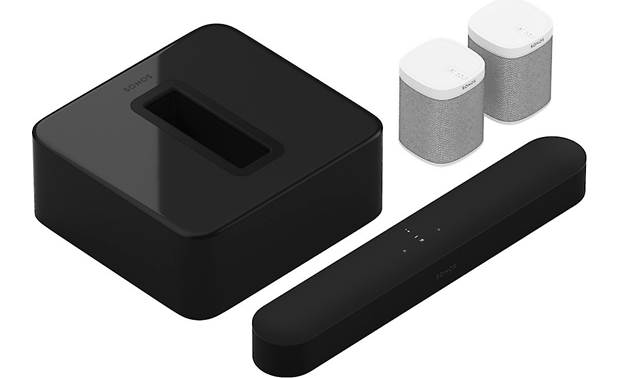 Want to take a look at some other options? See our guide to the best soundbars.
0
Best Small Form Factor: Fabriq Portable Speaker
Why Fabriq Portable Speaker? Best Small Form Factor
Are you looking for something nice and small that can fit on a shelf? Fabriq makes some AirPlay-compatible speakers, like the Fabriq Portable Speaker, which might be a good option in this case. The speaker is nicely designed — it comes in a few different unique colors, so there should be something for everyone. It also supports AirPlay, has Amazon Alexa built into it, and allows for Wi-Fi streaming. On top of that, when using Wi-Fi, you can actually connect up to 10 speakers to create a multi-room audio setup.
Design and Features
When it comes to sound, the speaker isn't quite as loud as other ones in the market, but it's still nice-sounding. There's also a good amount of bass for a speaker this size. Last but not least, the speaker has a battery that will get you five hours of use, so you can use it wherever you go.
0
Best for Apple Users: Apple HomePod
Why Apple HomePod? Best for Apple Users
If you want a speaker with AirPlay, you probably want it because it works well with your other Apple products. Well, there's no speaker that works with Apple products quite as nicely as the Apple HomePod — so if you want Siri, AirPlay, and Apple Music support, it's the speaker to go for.
Design and Features
The HomePod has a lot going for it. First and foremost, it's a really nice-looking speaker. It comes in a sleek space gray or white finish, depending on the color you want, and a Siri logo on the top whenever Siri is active. The speaker is around 6.8 inches tall and 5.6 inches wide, which might be considered a bit large. The speaker also sounds excellent — it offers plenty of bass response and a ton of clarity in the high end to help ensure that those details are easily heard. As you would expect, the speaker is pretty smart — while Siri gets some flack for not being as smart as Alexa or Google Assistant, those who use it regularly will find all the features they're used to.
0
Best Design: B&O Beoplay M5 / M3
Why B&O Beoplay M5? Best Design
While the B&O Beoplay M5 is a little pricier than some of the other options, it looks super stylish, is easy to use, and sounds phenomenal. First, the design: The speaker has a beautiful fabric exterior with an overall very minimalistic look, which is great news for those who want something a bit more modern.
Design and Features
More important than that is sound, and B&O is known for building products with great audio quality. If you're into bass, this might be the ideal speaker — it boasts a nice boosted bass response that bass-heads will love. That's not to say other frequency ranges don't sound good though: The midrange is well-tuned and defined, while there's plenty of high end to go around, too. The speaker works well with AirPlay but supports a ton of other wireless standards. It's also got Chromecast, Spotify Connect, and Bluetooth, meaning you should be able to connect the speaker with any number of devices.
0