The Best Bass Headphones to Buy
V-MODA Crossfade M-100
0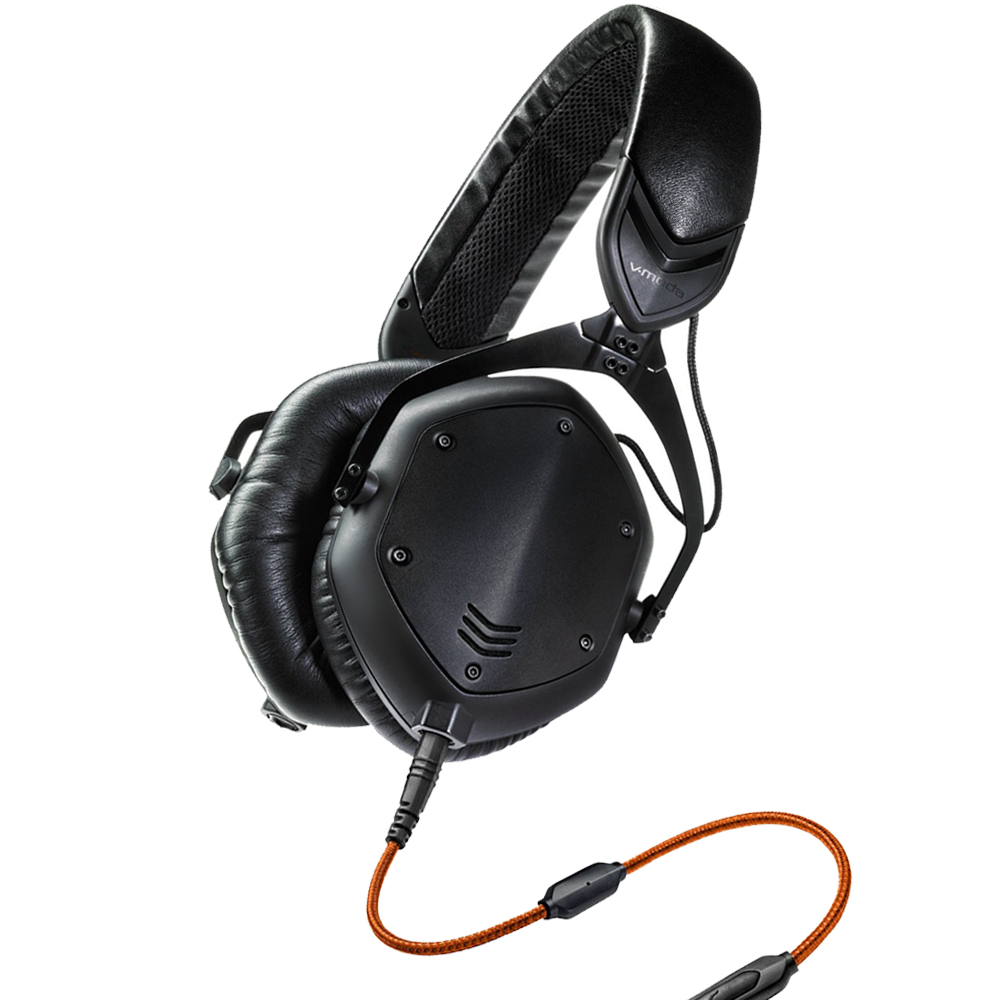 Why V-MODA Crossfade M-100? Best Overall
The V-MODA Crossfade M-100 are some of the most popular bass-heavy headphones on the market. V-MODA Crossfade is a solid pick sound profile that has deep, rich bass quality.
Design and Features
The headphones are sleek, but the most notable design feature is the signature hexagonal earcups, which give the V-MODA Crossfade a modern and unique look. The cups are close-backed, meaning they provide sound isolation, and a 3.55mm headphone jack can be plugged into either earcup. The headphones don't require batteries to work, so you never have to worry about charging.
With a 50mm dual-diaphragm drivers, the V-MODA Crossfade has no problem producing powerful bass without any distortion. Mid and high frequency sounds are vibrant as well, although these headphones are ideal for bass heavy music. But, if you like it wireless, then check out V-MODA Crossfade 2 Wireless Over-Ear Headphone for a free comfort.
0
Symphonized NRG 3.0 Wood Noise Canceling Balance Bass
Why Symphonized In-Ear Headphones? Best Budget
The earbuds come with dual dynamic driver units that are designed specifically wood noise canceling for balanced bass. It also promises solid performance in the midrange, where many of the songs you might be listening to will focus their sound.
Design and Features
The earbuds are made of soft silicone that forms to the contours of your ear, so they fit snugly even when you're moving around or exercising. Although the earbuds don't come with amazing active noise-canceling, the brand said that their design lends to noise-canceling properties by reducing gaps in your ears that allow ambient sound in. If you want to make some calls from the Symphonized earbuds, you can use their built-in microphone that's compatible with both Android and iOS-based devices.
0
Audio-Technica SonicPro
Why Audio-Technica SonicPro? Best Design
Since headphones are often worn in public, companies like Audio-Technica have designed options that aim at making you look good wherever you go. And the Audio-Technica SonicPro headphones do it best.
Audio-Technica's SonicPro comes with plush memory foam earpads and a headband that conforms to your head and ears. They come in a few color options, but the Gun Metal Gray might offer the best mix of luxury aesthetics and comfort.
Design and Features
Each ear cup is big enough to fit around your ear and the chrome finishes all around add a little modern pop to an otherwise traditionally beautiful design.
On the audio side, you'll find 45mm true-motion drivers that aim at delivering not only high-quality bass but also high-resolution audio across the sound spectrum. The headphones also come with a condenser mic to let you not only make calls or even record a podcast with broadcast-quality sound.
0
Skullcandy Crusher Wireless
Why Skullcandy Crusher Wireless? Best Wireless
Skullcandy's Crusher Wireless will satisfy any bass-head. With two 40mm drivers, two additional subwoofer drivers, comfortable over-ear pads and beyond-powerful bass, the Crusher delivers immersive audio. Plus, these headphones give you the ability to adjust the intensity of the bass directly from the headphones using a slider on the left earcup.
Design and Features
They also have a built-in microphone so you can make and receive phone calls. The Skullcandy Crusher doesn't have active noise-cancellation, but it does have noise-isolating memory foam earcups. And without active noise cancellation, you get the benefit of extra-long battery life.
Speaking of battery life, the Skullcandy Crusher is a definite standout. You get about 40 hours of listening from a single charge — almost double the industry standard for wireless headphones — and three hours of listening with just 10 minutes of charging. It can charge fully in just two and a half hours.
With a semi-matte black finish, Skullcandy's Crusher Wireless looks simple and sleek. The headphones are solidly built, and they fold up and can be put into a pouch for extra portability.
0
Sony XB50BS Extra Bass Bluetooth Headphones
Why Sony XB50BS? Best Earbuds
Not a fan of bulky, over-the-ear headphones? Try out the Sony Extra Bass Wireless – a nice option if you love slim but still solid-sounding earbuds with microphone built-in.
Sony's earbuds come with a basic design and hybrid silicone earbuds that fit snugly into your ear canal. The earbuds are designed to be used when you're walking around town or exercising and have an integrated microphone and playback buttons that help you control your audio experience without ever needing to your phone out of your pocket.
Design and Features
The wired earbuds plug into your phone or media player's 3.5mm headphone jack port and have a tangle-free cable so you don't need to fiddle with the wire when you want to connect to a music player and go.
Inside the tiny earbuds, Sony bundled specially designed drivers that rely on magnets that pump out high-quality bass tones. To further boost the bass performance, they've been crafted to isolate sound and seal off gaps that would reduce the bass quality. And comparatively to the previous popular Sony MDRXB50AP Extra Bass Earbud (also very cheap in price), this model brings new IPX4 Splash-proof design that's ready for rain or sweat. This is necessary comfort for gym/running/workout. If you like to add on noise canceling feature to the minimal style earbuds, then Sony SP600N Noise Canceling.
0
Sony XB950N1 Extra Bass Wireless
0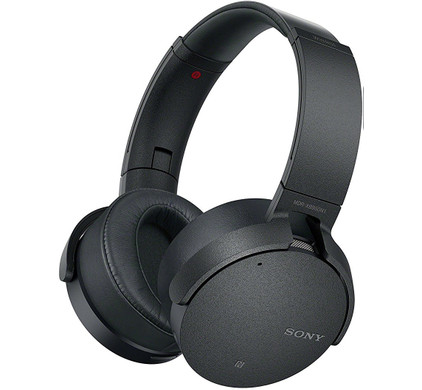 Why Sony XB950N1? Best Compatibility
Sony's XB950N1 are all about giving you every opportunity to enjoy high-quality audio anywhere you go. But only if you're willing to pay for these pricey headphones.
Sony's headphones are wireless and capable of connecting to devices via Bluetooth and with near-field communication. That results in far more compatibility with a variety of smartphones, tablets, televisions, media players and any other devices you might have hanging around the house. And although those wireless connections can sometimes drain battery life, Sony promises 22 hours on a single charge.
Design and Features
When it's time to listen to music, you'll find a variety of options to keep the bass pumping. The headphones have digital noise-canceling technology built in and an Extra Bass feature automatically enhances low-end frequencies whenever you touch the Bass Effect button on the headphones.
Sony's headphones also come with support for the company's Headphones Connect app, which gives you quick access to a variety of sound settings to tailor your audio experience to your liking. And just in case you want to make calls from the headphones, Sony has bundled a microphone. A button on the side of your headphones let you decide whether to answer or end a call.
0
Audio-Technica ATH-WS1100iS
Why Audio-Technica ATH-WS1100iS? Best for Microphone Quality
Audio-Technica's wired ATH-WS1100iS wired headphones might not be for you if you want to take to the streets and listen to music wirelessly. But if you want high-quality audio for podcasts and other activities, these headphones are a great choice.
Design and Features
Audio-Technica's headphones have 53mm Deep Motion high-resolution audio drivers that aim at identifying bass frequencies and delivering them in as powerful and crystal-clear a package as possible. To bolster that effort, the headphones have aluminum housing that reduces vibration and keeps the sound where it belongs: pointed at your ears.
When it's time to use the Audio-Technica headphones' microphone, you'll find it lives on a detachable four-foot cable that gives you audio controls for answering calls, handling media playback and interacting with the devices to which your headphones are connected. Audio-Technica's microphone comes with enhanced audio quality to ensure you sound crisp when communicating with others.
On the comfort side, you'll find dual-layer earpads that have a firm internal layer and soft outer shell.
0
Cowin SE7 Active Noise Canceling Wireless Headphones
0
Why Cowin SE7? Best for Extended Use
Cowin's SE7 wireless, over-the-ear headphones that come with professional active noise-canceling technology. According to Cowin, the feature will actively reduce airplane cabin noise and city traffic and offer the feature in both wired and wireless modes. So you basically can carry it and use everywhere, in travel/work/TV/computer/cellphone, whether noisy or not.
Design and Features
The headphones deliver the bass and if you want to connect wirelessly to another device, you have the option of choosing Bluetooth or near-field communication. Low latency, good fault tolerance, high sound quality. The 90dB give a deep, powerful, and crisp sound, make your overall listening experience just that much better. The advanced Bluetooth 5.0 promises quick and stable connection with your Bluetooth enabled devices, Powerful Bluetooth Function.
To boost comfort, the Cowin SE7 earpads are made from a professional protein that has what the company describes as "skin texture." Ultimately, the headphones are designed to be worn all day and have the battery life to back that up. In fact, Cowin promises a whopping 50 hours playtime in Bluetooth model, 30 hours playtime in Bluetooth and ANC model. And just in case things go awry, you can take advantage of Cowin's 18-month warranty on the headphones. The previous Cowin E7 version is super popular in Amazon, and on good sale price now. And if you need a stronger 100dB, then the luxurious Cowin E8 version.