The Best Ceiling / In Wall / Floor Speakers of 2019
Top Ceiling Speakers
Best Overall: Polk Audio RC80i
Why Polk Audio RC80i? Best Overall
Manufactured out of moisture-resistant, durable material, the Polk Audio RC80i is a terrific choice for ceiling speakers (added bonus: you can even install them in a sauna or pool area). The eight-inch balanced dynamic subwoofer and one-inch dome tweeter allow for a warm sound that fills an entire room.
Design and Features
The adjustable tweeter comes on a 15-degree swiveling mount, so it's easy to make the sound hit exactly where you want. The super easy installation comes right after a prepared hole is made in the ceiling and, with the wires to connect the speaker in place, you need nothing more than a screwdriver to make the RC80i flush with the ceiling. Their white coloring easily helps them blend in and makes them hardly noticeable on a white ceiling, but you'll never question the sound.
0
Best Installation: Polk Audio 70RT
Why Polk Audio 70RT? Best Installation
The vanishing series built-in Polk Audio 70RT speakers are outfitted with Polk's wafer-thin Sheer-grille that magnetically secures the speaker together while protruding a mere 7mm from the ceiling. Installation is easy, thanks to a one-cut, drop-in feature that offers Perfect Fit templates for finding the best fit the first time you attempt to install the 70RT speaker. Past its outstanding fit, the Polk sounds great because of a unique three-way driver that helps deliver full-size speaker performance in a compact package. Also enhancing the audio is a ¾-inch polymer tweeter, a 2.5-balanced driver and a seven-inch dynamic balance subwoofer.
0
Best Budget: Pyle PDIC60T
Why Pyle PDIC60T? Best Budget
Capable of both wall and ceiling installation, the Pyle PDIC60T speakers deliver a two-way sound that's an incredible value for the price. The 6.5-inch design and 8-ohm impedance help boost the sound of the Pyle to a level that makes it ideal for a home theater system.
Design and Features
The dual 6.5-inch speaker pairs with a one-inch titanium dome tweeter that's rated at 250 watts of power and comes complete with a flush mount for the ceiling, as well as a one-inch high-temp voice coil. The included 70-volt transformer handles electricity quite well, while each tweeter offers adjustable direction by sending the sound to a specific area of the room. The bass that's delivered from the Pyle gets surprisingly low, but really delivers when allowing the total volume to get loud. It's loud in a way that will have friends questioning where the music is really coming from. The design helps the Pyle blend into a ceiling elegantly or allows you to paint the speaker grille to customize its look to match your decor.
0
Best Sound: Klipsch CDT-5650-C II
Why Klipsch CDT-5650-C? Runner-Up, Best Sound Overall
Offering an easy installation and premium sound, the Klipsch CDT-5650-C is a close second for the best ceiling speakers. Featuring a one-inch titanium tweeter and 6.5-inch pivoting cerametallic woofer, the high-performing sound incorporates a gimbal mechanism for directing the sound in the right direction. Connecting the Klipsch to either a 5.1 or 7.1 channel home theater system will get you set up and ready to go with 50 watts of power (200 watts peak) for a sound that has no problem getting quite loud.
Design and Features
The audio is both crisp and accurate, with the highlights being the mids and lows. There's also a surprising amount of bass, which is unexpected for in-ceiling speakers. The minimal sound distortion at high volumes is another surprising result. This makes the Klipsch ideal for watching Blu-ray or Netflix movies at a high enough volume to feel like you're right in the action. With the woofer capable of shifting 15 degrees in any direction and the 360-degree rotation of the tweeter, you'll have total flexibility with the Klipsch (and that's a great thing).
0
Best Sound: Klipsch CDT-5800-C II
Why Klipsch 5800-C? Best Sound
To be blunt, this Klipsch's 8-inch in-ceiling speakers have some of the best sound money can buy. Klipsch offers a high-performance and beautiful sound system that's worth every penny. While an in-ceiling speaker is often limited by its fixed location, Klipsch's adjustable controlled dispersion and horn-loaded technology help direct sound exactly where it needs to go with minimal effort and maximum results. Both treble and bass sound crisp and loud to match any kind of movie or music. It's available in white, but the speaker grille can be painted to match the color of any room.
0
Best Design: Bose Virtually Invisible 591
Why Bose Virtually Invisible 591? Best Design
Seamlessly blending into the ceiling, the Bose speakers are an ideal combination of performance and looks. The five-inch woofer and two strategically positioned ¾-inch tweeters offer a high-quality sound that is hardly matched by competitive in-ceiling speakers. Boosting the audio performance of Bose's unique and exclusive Stereo Everywhere works to cover an entire room with stereo sound without any drop-offs.
Design and Features
Beyond the sound is the visual appeal of Bose's design. The near-bezel-less design and construction enables the speaker virtually disappear once installed into the ceiling. Available in white, the Bose speaker system adds an easily-paintable grille for matching any home decor and maintaining the invisible look and feel no matter your ceiling color. Additionally, installation is a snap, thanks to the integrated dogleg clamps and magnetically attached grille that drops right into a pre-cut ceiling hole with ease. And there is also the 791 7-inch version for you to choose.
0
Best Theater: Acoustic Audio R191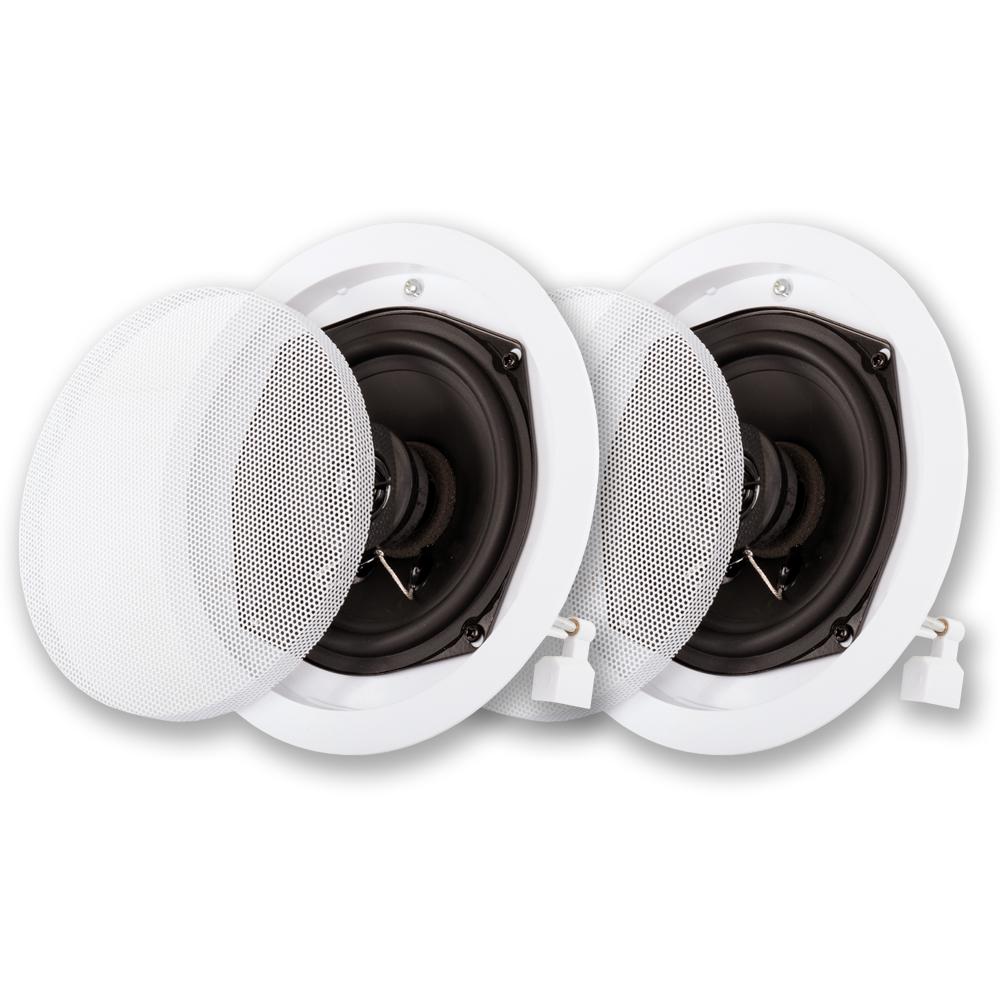 Why Acoustic Audio R191? Best Theater
Offering power between 20 to 200 watts per speaker, the Acoustic Audio R191 delivers a versatile set that takes the home theater experience to an entirely new level. The polypropylene 5.25-inch woofers, 12mm soft dome tweeter and 8ohms of impedance pool together to make the R191 sound crisp and clean. The paintable frame and grille offer both easy installation and the flexibility to change up the look to match your home's coloring. The low-profile housing is designed to be easy to install with cutout templates for helping to discover the exact sizing that needs to be cut from the ceiling. The R191 has an all-weather design that works both indoors and outdoors.
0
Best Splurge: Bose Virtually Invisible 791
Why Bose Virtually Invisible 791? Best Splurge
The Bose Virtually Invisible 791 offers a high-quality sound that is hard to beat. The lone seven-inch woofer pairs with two strategically positioned one-inch tweeters for incredible sound. And there's also Bose's signature Stereo Everywhere technology for balancing the sound in an entire room. Unlike competitors that can only focus their ceiling speakers in one direction, the Bose system works to blanket an entire room with balanced audio performance. And the result is both rich and clear low-end frequencies and strong high-end frequencies. The easy installation pairs with an ultra-slim bezel that makes the Bose model drop right into the ceiling (via a precut hole) and is secured in its position with dogleg clamps, drawing as little attention as possible. The detachable speaker grille can be removed and painted to better fit a room decor.
0
In Wall players
Best Overall: Polk Audio RC85i
Why Polk Audio RC85i? Best Overall
Polk Audio's hitting a grand slam with the RC85i two-way in-wall speaker. It has a one-inch dynamic-balanced soft dome tweeter and eight-inch woofer, and the 15-inch swivel mount on the tweeter can be directed toward or aimed in the direction of any listening area in a room for the best possible sound. The design is just as good as the audio (although that's not saying much for the in-wall ceiling category; it's just a white grille exterior and rectangular shape). The included template makes cutting a hole in the wall super easy even for weekend warriors who don't install speakers for a living.
Design and Features
The moisture-resistant construction of the RC85i makes it ideal for use both indoors and outdoors, including bathrooms or saunas where moisture can easily make its way through the speaker's grille. Fortunately, nearly everything about the RC85i makes it a top-notch choice, including the audio clarity that is second-to-none in the in-wall speaker space. Available for both 5.1 and 7.1 sound systems, we're confident saying that once you have these Polk speakers installed, you'll never want to leave home.
0
Runner-Up, Best Overall: Yamaha NS-IW660
Why Yamaha NS-IW660? Runner-Up, Best Overall
Providing easy installation courtesy of a precut template, Yamaha's NS-IW660 offers big sound in a not-so-big-package. Inside each speaker are three main drivers, a 6.5-inch Kevlar cone woofer for lower frequencies, a 1.6-inch aluminum mid-range frequency driver and a one-inch titanium tweeter to handle all the high frequencies. The combination of all three parts lends itself to a crisp, full sound that's ideal for smaller rooms. The tweeter and midrange drivers are built on an adjustable swivel allowing homeowners to "point" the highe-frequency sounds in the right direction or listening position. With each speaker packing between 50-150 watts of power, there's little question that they pack a punch that'll delight enhance every Netflix binging session. The white mesh cover is painted to already match existing white walls, but it's removable for easy painting to match any color in your home.
0
Best Splurge: Bose Virtually Invisible 891
Why Bose Virtually Invisible 891? Best Splurge
If the price tag doesn't scare you off, the Bose Virtually Invisible 891 in-wall speakers will reward you with some incredible high-quality audio. Courtesy of a seven-inch subwoofer and two strategically positioned one-inch tweeters, the Bose offers a full range of performance that's unmatched by other in-wall speakers. The addition of unique audio enhancements such as Bose's exclusive Stereo Everywhere allows for the stereo sound to be pushed over a wider area than competitive in-wall speakers. The result is a sound that can fill up every inch of a medium-sized room. Beyond the sound, the design is equally impressive by blending into walls with a bezel that's almost not there. While the Bose comes out of the box in white, you can easily paint the grilles to match any decor or color of your choosing. Fortunately, the impressive sound and excellent design are rounded out by an easy installation process with standard dogleg clamps that help the 891 fit neatly into the wall.
0
Best Sound: Polk Audio 265-RT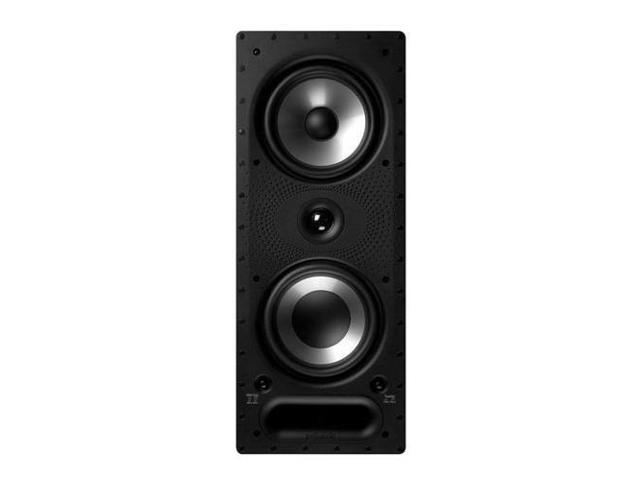 Why Polk Audio 265-RT? Best Sound
Powered by a 1.75-inch silk dome tweeter and two 6.5-inch polymer drivers, the Polk Audio 265-RT has a frequency response between 35Hz to 25kHz. The installation process is straightforward even for amateur installers who wants to give it a go without the help of a professional. Once installed, the 265-RT will produce a natural midrange sound that's just music to your ears. Surprisingly dynamic for the price, the 265-RT is far more versatile than its cost would give away with one speaker more than enough to fill a small to medium-sized room with powerful audio.
0
Best Budget: Pyle PDIC60
Why Pyle PDIC60? Best Budget
With a sound that far exceeds its price tag, the Pyle PDIC60 in-wall circular speakers make for an incredible value. Aided by a 6.5-inch driver and a one-inch tweeter, the titanium dome tweeter can be angled or rotated to point in any direction to direct the sound exactly where you want it to go. This allows listeners to get the full effect of both the mid and high frequencies which, suffice to say, are quite good. The peak power of 250 watts offers very loud volume and ultimately blurs the line between what separates budget speakers from more expensive options. Installation is handled easily with a wall cutout sized to the specific dimensions for each individual PDIC speaker. Mounting flush on both ceilings and walls, the Pyle model remains incredibly versatile whether you're watching a movie, listening to music or just binging Netflix releases.
0
Best Installation: Polk Audio 265-LS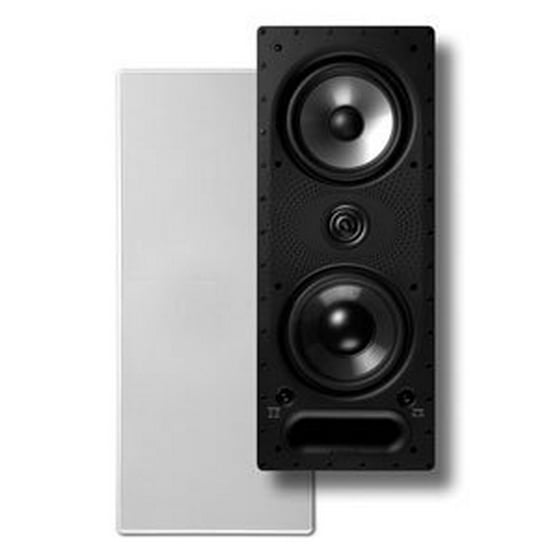 Why Polk Audio 265-LS? Best Installation
Polk's Audio 265-LS three-way speaker is one of the best combinations of easy installation and audio performance on the market today. Offering full-range dynamic audio, the simplified installation of the Polk helps the speaker box nearly disappear into the wall and effortlessly match your decor. Powered by a 6.5-inch bass driver and 6.5-inch woofer, the bass won't knock you out of your chair or off your sofa, but you'll still enjoy the terrific audio quality and, if you pair it with a larger subwoofer, it'll become something truly magical. The installation is just as good and many online reviews point to the 265-LS as being one of the easiest to install. Just cut the hole in the wall for the speaker via the included template, slide the speaker in and tighten the screws. There's no mount required and no extra work.
0
Best Design: Polk Audio 255C-RT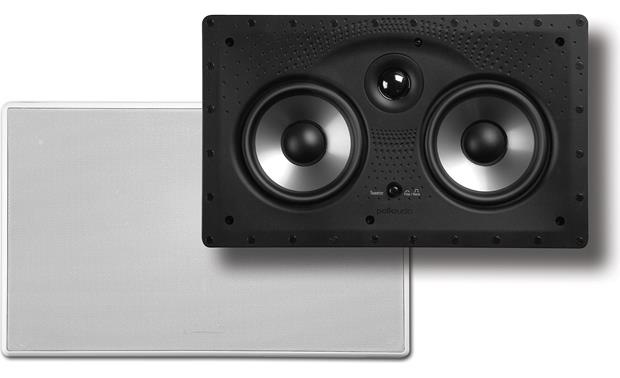 Why Polk Audio 255C-RT? Best Design
If you value design over all else when it comes to in-wall speakers, look no further than the Polk Audio 255C-RT. The design nearly vanishes when you install them into the wall and, with paintable grilles, you can easily match the speaker to the room. The internal components are all away from the edges of the speaker, so they can fit in between wall studs easier than ever. Capable of being used with both a 5.1 or 7.1 stereo system, the dual 5.25-inch woofer-mid drivers match with the one-inch tweeter creating a more powerful bass response than expected. While not as loud as a dedicated subwoofer, the 255C-RT easily pairs great design with great sound while protruding just 7mm from the wall. The bass ports and angled woofer all help lower frequencies, while the highs and mids create a dynamic sound that makes for fantastic detail whether it's music or movies.
0
Best Sealed: Yamaha NSIC800WH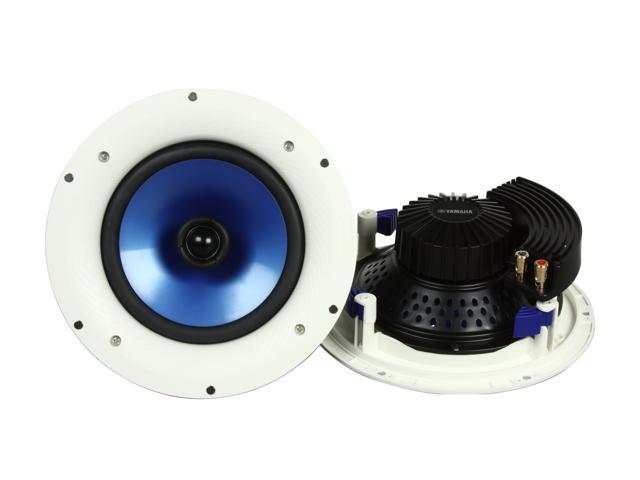 Why Yamaha NSIC800WH? Best Sealed
Featuring a sealed back cover that protects against dust and moisture, the Yamaha NSIC800WH is made provide long lasting sound. The two-channel speaker offers an eight-inch polypropylene mica cone woofer and a one-inch fluid-coiled soft dome tweeter that swivels in the appropriate direction, so the sound is best directed toward the listener. The audio may be great, but it's the Yamaha design that's really noteworthy as the grain-finished acoustic baffle aids sound in naturally dispersing throughout a room. Once placed into a wall after a very easy installation process, the fringe grille is nearly invisible to the eye and appears almost flush against the wall. Capable of 140 watts of power, the design does hide the raw power of the Yamaha speaker with excellent mid to low range frequency response and highs that are equally powerful. Whether it's movie or television dialogue, the sound is crystal clear and musical audio is spectacular.
0
Floor Speakers
Best Overall: ELAC Debut F5
Why ELAC Debut F5? Best Overall
The ELAC Debut F5 stands above the rest with a price tag that isn't out of this world and performance that will have you wanting to stay in and watch movies every weekend. Standing around 36 inches tall, the F5 offers a one-inch silk dome tweeter and three 5.25-inch drivers, the top of which is housed in a separate chamber offering up its own bass port. The fiberboard design offers a black vinyl finish, which doesn't stand out as being particularly attractive but feels solid and well-built. One notable add-on is the addition of a black metal clip in the rear that is designed to secure the speaker to a wall to prevent it from tipping over on children, falling in an earthquake, etc.
Design and Features
When it comes to sound, the F5 offers up an experience that hits well above its mid-range price tag. Mid-range and low-frequency dynamics perform admirably while bass lines are more than adequate to fill up a small room. The F5 almost creates a feeling of being in a concert hall for a live orchestra performance, which is impressive for its price point. Still, if you're looking at trying to fill a larger room, you're likely going to want to pair the F5 with a dedicated subwoofer for increased bass. We'd like to see a little more open on the upper harmonics, but for the cost, the F5 may be near faultless.
Want to see other options before you make your decision? Take a peek at Amazon of complete Elac system.
0
Best Seller: Pioneer SP-FS52 Andrew Jones Designed Floor standing Loudspeaker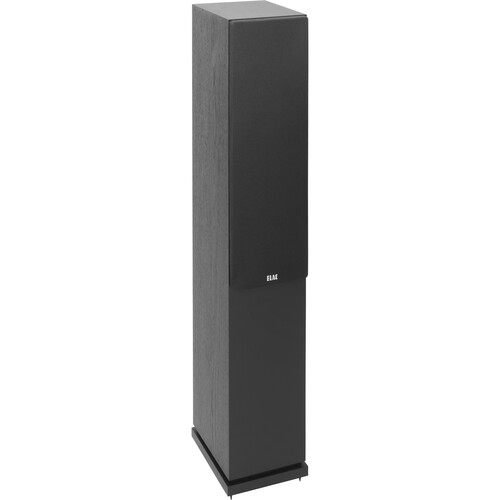 Why Pioneer SP-FS52? Best Seller
Even when you don't have a fortune to spend on speakers, it's easy to set your sights higher starting from the ground up. Introducing the new SP-FS52 Floor Standing Speakers from Pioneer. Designed with uncompromising attention to detail, these speakers are ideal for home theater systems, offering remarkable audio quality from CDs, DVDs, gaming and any other audio source. Using three 5-1/4-inch woofers with oversized magnets for powerful bass, these speakers deliver the kind of high performance and exceptional quality that makes for a stunning music and home theater experience.
Design and Features
The job of the crossover in a speaker is to break the audio signal into low, high, and sometimes mid-range frequencies. It's an important job, and it uses circuitry like inductors and capacitors to accomplish it. Most speakers use an extremely simple, low-cost crossover made up of a single capacitor and inductor. The Pioneer SP-FS52 utilizes a sophisticated 8-component, high-quality crossover. The reasoning is simple: because it's one more way of ensuring high quality sound that makes its presence known. In the SP-FS52, Pioneer has added a structured surface to the 5-1/4-inch woofer. By doing so, not only is rigidity improved, so is bass accuracy. Engineers have also vented the pole piece, improving bass response from the same size woofers in previous models. To widen the sweet spot of the 1-inch High Efficiency Soft Dome tweeter, Pionner engineered a custom wave guide. Increasing tweeter efficiency, together with newly designed crossovers, allows the SP-FS52's play louder using less power.
0
Runner-Up, Best Overall: Klipsch RF-82 II
Why Klipsch RF-82 II? Runner-Up, Best Overall
If superior sound quality is at the top of your list, the Klipsch RF-82 II floorstanding speakers are well worth a look. Featuring a one-inch titanium horn-loaded tweeter and dual eight-inch high-output woofers, the RF-82 focuses on a unique combination of sound precision, clarity and effortless power. The vinyl woodgrain exterior build won't stand out in a room, but the sound sure will with Klipsch's proprietary Tractix sound technology. The end result is loud sound that doesn't consume a lot of power combined with fantastic dynamic peaks and crisp listening. And one of the best highlights is just how well the RF-82 performs at very high volumes. The claw-style feet stand nice and easy on the floor at 43.6 inches tall, 9.5 inches wide and 16.25 inches deep. Overall, they're not terribly slim or short, so you'll want a good-sized room for placement.
0
Best Budget: Polk Audio T50
Why Polk Audio T50? Best Budget
The Pole Audio T50 is the perfect floor-oriented speaker for anyone looking to save a few bucks but still wants to build a quality home theater system. Each speaker in Polk's T series features a background of well-researched acoustics and the sound-quality-minded construction that goes with that. The speaker arrangement offers four separate cones: a one-inch silk tweeter for sparkling highs, a 6.5-inch "extended throw" composite driver as the main horn, as well as two additional 6.5-inch composite sub-bass speakers to support the low end.
Design and Features
The cabinet comes in a sleek black oak finish and is built with acoustically inert, furniture-grade MDF to make sure that all it does is hone and project the sound forward. The look is further accentuated when you remove the front grill off to reveal the cool speaker configuration. Each unit is 7.75 x 8.75 x 36.25 inches and weighs 20.35 pounds. This thing is about as affordable as you can ask from a 6-ohm, roaring 100-watt tower speaker.
0
Runner-Up, Best Budget: Onkyo SKF-4800
Why Onkyo SKF-4800? Runner-Up, Best Budget
The Onkyo SKF-4800 two-way bass reflect floor-standing speakers feature fantastic sound at a wallet-friendly price. Sold as a pair, the 40-inch tall, 11.1-inch wide and 12-inch deep speakers can be used to complement an existing stereo system or as the basis for an entire surround sound system. Featuring twin 6.3-inch cone woofers and a one-inch soft-dome tweeter, the maximum input power of 130W is more than enough to offer a great audio experience. Each Onkyo speaker weighs 28.7 pounds. They feature a rear panel that houses a bass port, and even have connector ports for banana plugs, pins or stripped bare wires (like the 11.5-feet long speaker cables that are included right out of the box). As for the sound quality, it's both clean and detailed, without feeling warm or overcompensated.
0
Best Sound: Polk Audio TSi500
Why Polk Audio TSi500? Best Sound
It's interesting to think that a brand like Polk Audio made the "best-sounding" spot on the list, in part because the brand is normally known for making affordable, albeit good quality consumer audio. The TSi500 brings Polk into the high-end pack, though, with a set of specs meant to "wow" any ears. There's a one-inch silk dome tweeter that's pretty standard on most speakers of this size and variety. It's the four (yes four), bi-laminate woofers within the tower, made of a warm, organic material that gives this thing truly impressive playback. They're all powered by a trademarked Dynamic Balance sound tech that lets you hear full, loud sound without that unfriendly crunch of distortion.
Design and Features
Built and braced with a solid, furniture-like MDF (available in either high-gloss black piano finish or a rich cherry wood), and supported further with quarter-inch baffles, the enclosure on the TSi500 complements the speakers and dampens out almost any artificial acoustic resonance. At the factory, they've optimized the frequency response range with a Klippel motor and it's laser tested to ensure accurate performance up and down the spectrum. And it's all held up with fat, rubberized feet to make sure virtually no unwanted frequencies are transferred through to your floorboards.
0
Best Connectivity: Sharper Image Premium Bluetooth Tall Tower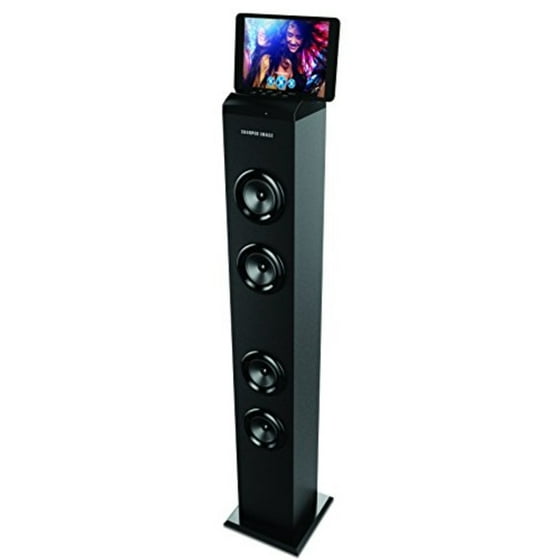 Why Sharper Image Premium Bluetooth Tall Tower? Best Connectivity
What this Sharper Image tower lacks in studio quality audio and big name sound, it more than makes up for in connectivity and convenience. That's because to play music through it, you won't need an external receiver or amp, you can just plug and play (give or take, on that "plug" part). This speaker has both an aux input and standard Bluetooth connectivity that they claim works up to 30 feet away. That makes it perfect for parties. There's a slot on the top meant to be used as a device stand, so you can prop your phone or tablet to use as a screen (can anyone say karaoke?), and they've even thrown in some fancy LED lights to support the sound with a pretty simple light show. There's onboard FM radio and a USB input for charging devices. It's all housed in a 7.5 x 9 x 40.5-inch package that weighs only 12 pounds. So, while it isn't the most premium speaker on the list, it'll be plenty portable for those pop-up parties.
0
Best Splurge: Fluance Signature Series Three-Way Speakers
Why Fluance Signature Series Three-Way Speakers? Best Splurge
This pair of Fluance floor speakers costs a lot of cash, there's no doubt about that. But for the average buyer, if it's $1,000 for a pair, then it still falls squarely in the "reasonable" category, especially when you factor in the quality of the sound and the construction. There's a one-inch, neodymium, balanced silk tweeter that is cooled by what the company is calling ferrofluid. The midrange is covered by a five-inch woven glass fiber cone that sits in its own dedicated chamber within the cabinet. Finally, the pair of eight-inch subwoofers carry a clear, commanding, decidedly undistorted kick all the way from 35Hz, which will go perfectly with the rumble of an action movie.
Design and Features
Now, let's talk power; these speakers operate under a sensitivity of 89 dB and have a power handling of 200 watts (though it'll be more like 90 watts on a continuous basis). They're compatible at the 8-ohm level, which is standard for a home stereo, and Fluance has even engineered a rear bass port that is slightly dampened around the edges to carry the right bass resonance on the back end without too much of a ring. Each tower is 47.24 x 10.9 x 15.4 inches.
0
Best for Small Rooms: Yamaha's NS-F210
Why Yamaha's NS-F210? Best for Small Rooms
Finding lean and compact floorstanding speakers that are perfect for smaller rooms is quite a challenge. In this particular category, larger is often better, as it means more room for more powerful equipment. However, Yamaha's NS-F210 super-slim design manages to fit a great sounding budget-priced floorstanding speaker package together that's perfect for smaller rooms. To maximize space, Yamaha squeezed in undersized drivers in order to offer something lean and small-room friendly. The modern design may or may not be for you, but it certainly feels right when placed next to a flatscreen TV.
Design and Features
Yamaha's slim 41″ tower offers dual 3-1/8th" woofers and a 7/8" balance dome tweeter which, unfortunately, doesn't produce huge bass notes thanks to the aforementioned undersized drivers. However, given that you'll be in a small room and not looking for earth-shattering sound at this price range, the sound is more than good enough.