The Best Gaming Laptop Recommended in 2019
ASUS ROG GX531/GX701 – the best gaming notebook
0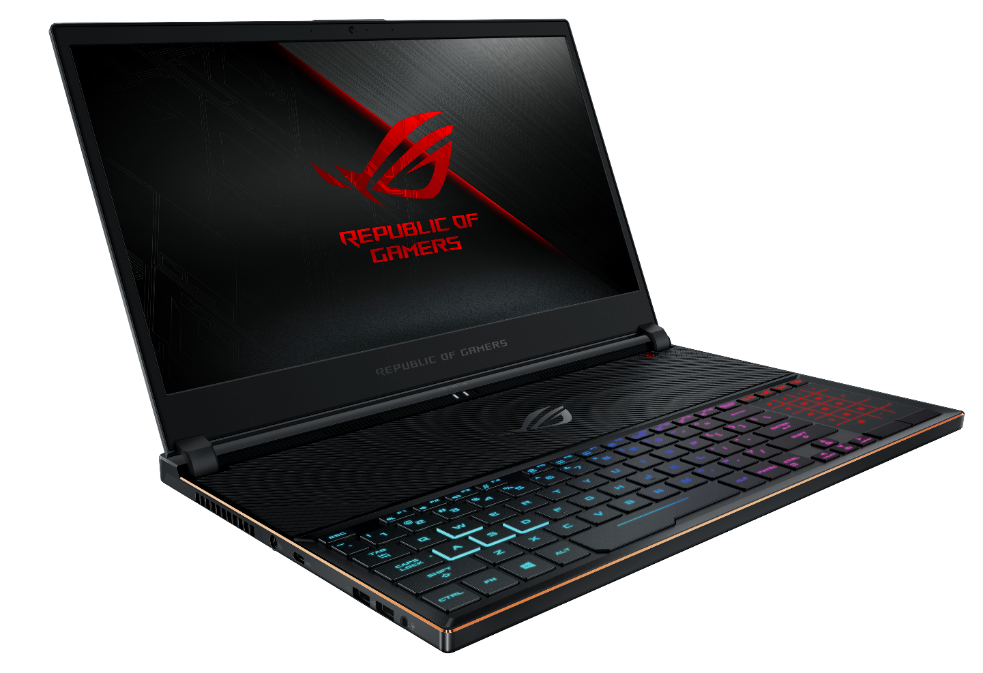 Why ASUS ROG GX531/GX701? Best Overall
Before the ASUS ROG GX501 came out, there were only two gaming notebooks in the world: powerful heavy supergiants, or ultra-thin portable small game consoles, but when running large games, they could not be truly quiet. Since then, Zephyrus has brought a lot of discussion at the time. Today, ROG is launching the new powerful Zephyrus S, model GX531, and model GX701.
It offers the same powerful features as a high-end desktop game console, but with almost the same thickness as a regular ultra-thin notebook. Whether you believe it or not, ASUS has already put this product on the market. Despite its small size, it can't accommodate large-capacity batteries, but this gaming notebook is still the best in its class with its best design, colorful display, outstanding speakers, and, above all, superior gaming performance.
Design and Features
The spec of GX531/GX701 (Core i7-8750H processor, 16GB of memory, NVIDIA GeForce RTX 2060/2070/2080) delivers the almost same performance as a desktop computers. These two machines are the best for game masterpieces, important creative works and VR experiences.
In order to effectively cool such a slim device, ASUS has come up with an innovative solution: the bottom of the notebook has a slope-like design that automatically starts up when you turn on the computer and creates a 6-millisecond floor. Empty gap. This may sound like a very small cooling space.
ROG has amazing design on cooling system. The same active aerodynamic system from STRIX series increases the space to dissipate the heat. The new 12V cooling fan (same as ROG STRIX Scar and Hero II) and new heat pipeline are also good improvement.
With the latest real-time ray tracing technology and artificial intelligence-enhanced graphic technology, they can achieve realistic images. And thanks to Nvidia Max-Q, the speed can be raised up to three times faster, while reducing the thickness of three times.
Some of you may find hard to get used to the position of the touchpad, which is on the right side of keyboard. Also, the battery life is always a problem for such a powerful machine. Although ASUS has improved from three to four hours, we still expect more.
The metal case has a unique square design, while the black exterior of the copper trim adds a strong futuristic style. These models got an innovative design look and quiet cooling effect, setting a new standard for the powerful ultra-thin game book.
Verdict: • Powerful performance, innovative design • Quiet efficient cooling • Excellent display and speakers • Poor battery life • Ergonomic keyboard design • No SD card slot
0
Dell Alienware 17 R5 – Economy Baby Face Killer
0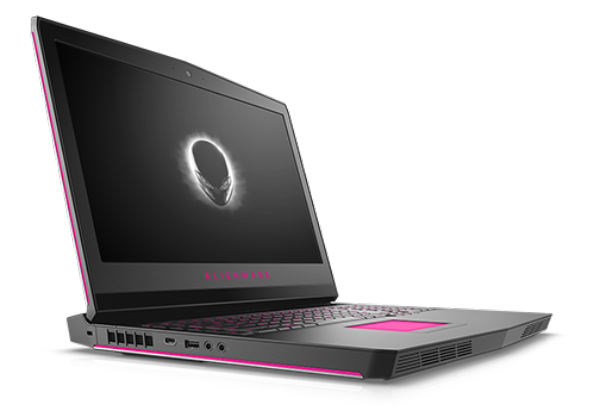 Why Dell Alien 17 R5? Best Value
In a recent update, Alienware 17 is equipped with a faster Intel Core processor, Nvidia 10 series graphics card. It features the most interesting obil infrared eye recognition technology. Now that Intel has finally released the latest Kaby Lake processor for gaming laptops, you can finally buy Alienware 17 R5 and let it reach its full potential.
In the traditional design style, this powerful machine is decorated with beautiful LED lighting, and the game performance is one of the best among many competitors. Without mediocre battery life and noisy fan, the Alienware 17 R5 would be the perfect machine. Despite this, the game's performance is still comparable to the more expensive Razer Spirit Pro.
In order to achieve better heat dissipation and a thinner appearance, Dell Alienware sounds like water. In the experience of demanding game masterpieces, such as Deus Ex: Mankind Divided and Neil: Automata, the sound of the fan may distract you, especially if it is not falling. With the help of noise headphones.
As expected, the aliens performed well in the benchmark test, which beat the more expensive Razer products in all 3DMark, Cinebench and Geekbench tests. But in the film performance test, it can not reach the height of the Razer Blade Pro.
Design and Features
Alienware 17 R5 further proves that 4K in HD settings is just a dream. Even at 1080P, this high-end system can't run at a speed of more than 20 per second: Deus Ex: Mankind Divided. Although you can buy Ultra HD notebooks with 4K, the 1440P is more than enough for today's games.
The screen of the notebook looks great from all angles, mainly because the display uses anti-glare matte glass. Unfortunately, Tobi's eye tracking is almost unattractive. During the game, you can control the target more precisely with your eyes, but it is more uncomfortable than the novel experience. After a few minutes of use, you will feel dizzy.
What really needs to be worried about is the performance of the Alienware 17 R5, but how long it can run in a power outage. It turns out that this behemoth can only be strong for 2 hours and 13 minutes in the PCMark 8 battery test. The number in the movie test is exhausted after 3 hours and 19 minutes. This doesn't even involve the game – you will get shorter here. the result of.
In general, aliens are not only one of the most powerful gaming laptops you can buy, but they are also one of the most economical options when considering similar specific options. Compared to the Razer Blade Pro, the Alienware 17 R5 may be a better choice.
Verdict: • Provides powerful components to realize the viability of various games • Well-designed lighting solutions and control systems • Robust performance and wind-driven design • Strictly only for games, not for business office • Looks like all lights • mediocre life noisy fan
0
MSI GS75 Stealth – the best ultra-thin portable game book
0
Why MSI GS75 Stealth? Best Ultra-Thin
MSI has finally upgraded its leading notebook to an elite with GS75 Stealth. This is a portable gamebook to run high-end game masterpieces. It features a reasonable price and it is cheaper than major competitors.
For configurations, the GS75 doesn't generate an extra premium. You can double the memory to 32GB and maximize storage to two 512GB NVMe SSDs, which puts it very close to its main competitors, such as the ASUS ROG GX501 and the Gigabyte Aero 15X.
The look and feel of the flagship thin and light game book is very satisfying. You can't find a sharp outline or a annoying red LED on this notebook. Instead, a delicate all-black shell and some low-key gold trim lines advocate its style.
Design and Features
The GS75 Stealth is very lightweight and measures only 17.53 mm (0.69 in) thick. According to MSI, the computer could have been thinner and lighter. To rather satisfy most gamers, they equip with the Ethernet port and 8 hours of battery life.
Despite its slim body, it still provides ample ports and equips with a powerful feedback RGB keyboard. On the other hand, MSI has embedded a beautiful display with almost no borders. It has a ratio of 82% to the body, a border of only 4.9 mm, and a 15.6-inch display that looks only 14 inches.
The equipped IPS screen has a 144Hz refresh rate and a 7ms response time, powerful under games such as Warhammer: Vermintide 2, and no screen tears in the entire scene.
Another nice feature is that the display can be flipped over when the screen is rotated 180°. It is very convenient to use for screen sharing.
In the end, this is the brightest, fastest, most colorful display we've seen on Nvidia Max-Q laptops. However, the lack of Nvidia G-Sync is a pity. Still, this pity saves you hundreds of dollars in cost.
Overall, the MSI GS75 Stealth is one of the most impressive Nvidia Max-Q gaming notebooks we've ever tested. It has the highest performance and many competitors of its class, and is one of the best you can buy. Well, you have to make some compromises in audio, and it doesn't have any biometric login system available.
Verdict: • Inspirational design, elegant appearance • You can set different lights for each button. • Performance is fine and fast. • The audio effect is not good enough • No biometric login system
0
Razer Blade Pro – Ultra-portable desktop replacement
0
Why Razer Spirit Blade Pro? Best Replacement for Ultra-portable desktop
There is always a difference between a gaming notebook and a desktop. Both types of systems can bring a complete gaming experience, but the latter are often bulky and unsuitable for carrying.
Now, the Razer Blade Pro proves that desktop performance in ultra-thin package is possible. This notebook is equipped with a quad-core Intel Core processor, Nvidia RTX graphics card, 17-inch 4K display and 32GB of memory, all of which are only thick 0.78 inches thin body.
Open the laptop and you will find that the layout of the key burglar cover is different from most other products. The trackpad is not placed under the keyboard, but on the right side. More than once, we found ourselves scratching it in the area below the keyboard, but it didn't take too long to overcome this pain.
Design and Features
Those who remember the first upgrade of Blade Pro may have the impression that this area was once occupied by the beautiful, digital corner template, but ultimately the defective Switchblade UI.
However, this time the Razer offers an oversized glass interface for a larger, smoother moving space. If you're used to placing your mouse next to the keyboard, this design will make you feel familiar, and it's much more convenient to use than the touchpad between the wrist rests.
For the first time, Razer realized the ultra-thin mechanical switch iPad Pro keyboard on the laptop, which made it look more spectacular, the button sinking with a good touch and perfect yesterday. As always, the full-custom phantom lighting supports 16.8 million colors, this time it has been extended to the track lights around the hornworm control board. In addition to individually adjusting the color of each button, you can now set a circle of lights around the touch device.
The most attractive feature is its 17.3-inch IGZO display, which supports 100% Adobe RGB color gamut, multi-point horn control, and Nvidia's G-Sync technology in addition to 4K resolution. This notebook also comes with the brightest display of the Razer. When you use it indoors, you have to raise the keyboard backlight to more than 30%. Even at 50% of the screen, the 17-inch display is easily visible in the sun.
This is one of the thinnest and fastest 17-inch notebooks we've ever tested, making it easy to handle demanding tasks. The thinner body, lighter weight, and longer battery life make it the ultimate desktop replacement for you.
Verdict: • Powerful game performance • The first real mechanical notebook keyboard • Unique design area for ultra-portable, suitable for travel • Shorter battery life
0
Acer Predator Helios 300 – the most affordable game book
0
Why Acer Predator Helios 300? Best Budget
For the most affordable models, we will focus on gaming laptops with GTX 1060 GPUs, and this price is what most players are willing to take.
If you want to get a lower-priced notebook, you can only choose the lower-end GTX 1050 or | 1050 Ti (or even older) graphics cards, but for the most demanding games, their capabilities will Greatly reduced. On the other hand, the GTX 1060 has a good price/performance ratio and is suitable for 60FPS games at 1080P resolution.
The Predator Helios 300 is one of the most cost-effective games available to most users. Like other products, it comes with an Intel Core 7-7700HQ CPU, 16GB of DDR4 memory, and the AGNvidia GeForce GTX 1060 GPU.
Design and Features
The biggest difference between laptops is storage capacity, manufacturing quality and price. Like the best laptops in the GTX 1070 category, most of the GTX 1060's notebooks produced similar results across all benchmarks. In other words, in terms of performance, there is almost no difference between the various models in this price range.
So if all the notebooks behave the same, what is the difference between the Helios 300? There are only two parameters: price and battery life. Compared to the equivalent configuration of the ASUS ROG GL502VM and the MSI GE62VR Apache Pro, its price is obviously much lower. In addition, its battery life is really long, far exceeding other competitors at the same price.
G-Sync is the only thing missing from the Helios 300. Of course, this technology will bring in no extra cost. The 1080P matte screen is nothing special. There is no desktop IPS screen that is brighter, but far better than the fading on the TN panel. As for game performance, the GTX 1060 can easily maintain 60FPS settings in almost any high-end game, so it should not be a stumbling block in your gaming experience.
A discrete graphics card consumes too much power, and Acer has a thoughtful design in this area: during normal non-gaming, the Helios 300 switches to an integrated graphics card, which significantly improves endurance.
Verdict: • Very attractive price • Stable 1080P performance • Long battery life • no G-Sync
0
Gigabyte Aero 15 X9 One of the Best Max-Q Gaming Notebooks
0
Why Gigabyte Aero 15X? Best Max-Q
The Aero 15X, equipped with the Core 7-8750HQ CPU and the Nvidia RTX 20740 Max-Q GPU, is powerful enough to run most games at 1080P/60FPS at the highest setting. Although not the cheapest, its performance exceeds that of most competitors, and is slightly smaller and more portable.
Each Max-Q notebook we tested was equipped with a 15.6-inch 1080P screen. The main difference between the Aero 15-X9 is the 144Hz refresh rate (a lot of competitors offer 120Hz) and the design look. Most of its success is attributed to the 5mm screen. The border, which makes the notebook only 14 inches wide. This subtle difference means that it is not only slim and light but also easier to store in a normal-sized backpack.
For the gaming performance of the notebook, the Aero 15-X9 scored the highest score in almost all tests (although the amplitude was small). For example, in the Rise of the Tomb Raider, its benchmark score is 94FPS; in Overwatch, the frame rate of the image can be kept above 100FPS.
Design and Features
For the most demanding games like Total War: WARHAMMER II and Tom Clancy's Ghost Recon: Wildlands, the Aero 15 X9 can reach 60FPS in 1080P settings, and you can easily Improve this number.
In addition to gaming performance, the Aero 15 X9's processing power in both productivity and non-gaming missions is also impressive. It scored the highest scores in Cinebench R15, 3DMark Fire Strike, and CrystalDiskMark Q32 sequential reads, and ranked second in PCMark 10 Express and CrystalDiskMark Q32 sequential writes. Some of the higher scores are attributed to improvements in their storage devices – the 512GB PCIe Gen3 x4 NVMe SSD has a sequential read-write speed of 3200/1700MB per second, which is comparable to the Samsung 960 Pro's 3500/2100MB.
The Aero 15 X9 is not without its drawbacks. It offers a refresh rate of 144 Hz in addition to the higher price. In comparison, the number of MSI products and many non-Max-Q systems can reach 120 Hz. In addition, it does not provide G-Sync tear-proof technology.
The wide viewing angle display is X-Rite Pantone certified, making it one of the best color notebooks. However, the 5 mm border at the top of the screen means the camera is mounted below the display.
Despite the slightly higher cost, the Gigabyte Aero 15 X9 delivers the performance promised by the Nvidia Max-Q concept in the most portable form factor. It's smaller, lighter, and has excellent endurance. In addition, this notebook can run the latest games at the highest settings and truly implement the functions of a portable workstation – whether your workstation is an office, a conference room, or a sofa.
Verdict: • Perfect performance now • Incredible portability •  Excellent battery life • Refresh rate 144Hz • There is no G-Sync technology •  Camera equipped on awkward position
0
Dell XPS 15 – One of the best two-in-one game book
0
Why Dell XPS 15? Best Two-in-One
Dell's redesign has been in a state of flux. In addition to the bold reform of the flagship Super XPS 13, the Texas-based company completely reshaped the XPS 15 into a two-in-one notebook.
In converting a powerful notebook into a hybrid machine for tablets, Dell turned to Intel's new Kaby Lake G processor to provide discrete graphics on a single chip. This 15-inch high-performance machine also introduces a new magnetic suspension keyboard and an innovative cooling system to further reduce weight and compress the size of this flip-up notebook.
Considering that the old XPS 15 series has always been popular, the new addition of a 360° chain and the eighth generation of Intel Core processors, and built-in AMD Vega graphics processor, will only make it better.
Design and Features
The notebook comes with a silver anodized aluminum cover and a carbon fiber keyboard stand, as well as a premium chain that can be rotated 360°. The most impressive modification is to put the powerful features of the XPS 15 into a hybrid notebook that can be easily accommodated. In fact, the machine is claimed to be the smallest and thinnest 15.6-inch 2-in-1 notebook available today, with a thickness of only 0.9 to 1.6 cm (0.35 to 0.63 inches) and a score of 35.4 cm (13.9 inches).
The new InfinityEdge display has a new 1500:1 contrast ratio that makes any black spot disappear on the screen. This almost borderless design allows a 13.9-inch notebook to hold a 15.6-inch diagonal screen. At the bottom of the screen, there is a 720P webcam with an infrared lens for secure Windows login. In addition, there is a fingerprint reader built into the right side of the power button for another Windows login option.
The new magnetic suspension keyboard makes the base thinner. This magnetic levitation technology is similar to the Japanese bullet train. By using a rare earth magnet under the button, it mimics the response of the physical button with a distance of only 0.7 mm. It takes a little while to get used to it. Once you master the keyboard, you can see that it is definitely an impressive innovation.
As for the processor, the XPS 15 features 2 in 1, and it scores higher than any other competitor's Cinebench and GeekBench scores. This new sensor hub allows the processor/graphic hybrid chip to freely increase the frequency. It can work with the software on the processor to monitor the device's heat dissipation and power consumption, then automatically make adjustment accordingly.
In addition to impressive benchmark scores, this 15-inch notebook also uses its extra frequency space to perform more demanding tasks such as photo and video editing, as well as some lightweight games. In addition, with 1080P resolution and the highest game settings, it runs well on Overwatch and maintains 60 speeds per second.
Of course, all of this performance comes at the expense of high temperatures. To help solve this problem, Dell has developed a new type of Gore insulation to keep it cool.
The smallest and thinnest 2-in-1 device is impressive, thanks in large part to its new hybrid processor/graphics chip. AMD's Radeon RX Vega M graphics card has brought tangible value to Intel's processors, even beyond the notebooks with Nvidia GTX 1050 graphics cards.
Verdict: • Impressive processor and single-chip graphics power consumption • Advanced magnetic suspension keyboard • Innovative cooling system • When processing intensive tasks, the noise is relatively large. • The price is a bit expensive.
0
OMEN by HP – One of the Best 17-Inch Notebooks
0
Why Omen by HP? Best Affordable 17-Inch
The 17-inch Shadow Elves features the best price/performance positioning. Although there are some better products for GPUs, they are generally heavier or more expensive. There are also lighter and thinner notebooks, but they are mostly not powerful enough or more expensive. Hewlett-Packard has succeeded because the cost of the Shadow Wizard is much lower than most competitors.
The 17-inch Shadow Wizard configures with Nvidia GeForce 1070 graphics. Keeping your game running at 1920×1080 pixels and full HD resolution, this notebook can handle everything you've invested. This model runs smoothly under FPS mode for the Rise of the Tomb Raider 2016, which is still one of the most graphically demanding games. Adjusting the image resolution to 4K will cause some instability, but the game basically runs around 30FPS.
Design and Features
On the other hand, the Shadow Elves have a good performance for Overwatch, which can be stable at 70 tons per second at 3K resolution of 3840×2160.
If you're planning to buy a 17-inch notebook, portability is clearly not the main concern. Considering it as a massive architecture, the weight of 2.86 kilograms (6.3 pounds) is still amazing – some equally sized notebooks are usually a lot heavier!
This notebook finds a good balance between a subtle look and a luxurious design with a two-tone back cover, plus carbon fiber texture and red logo. There is also a pair of identical red backlit keyboards.
If you're looking for a powerful gaming notebook and don't mind the huge size of 17 inches, there are very few machines that are strong, beautiful, and powerful like Shadow Elves. It is not the best thin model, but it is the best combination of price, screen size, and performance.
Verdict: • Avant-garde and cool design look • Powerful overall performance • Vivid display for amazing visual experience • Battery life is below average • Plastic (not aluminum) back cover