The Best Headphones for Music Listening
Shop for the best headphones for your music listening experience (WIth all perspectives of noise-canceling, Wi-Fi, sound quality and more)
Bose QuietComfort 35 (Series II)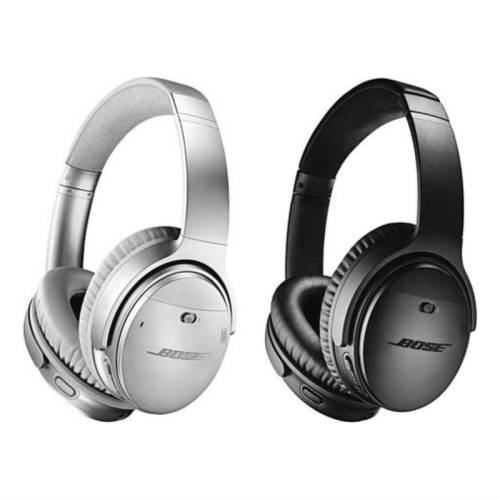 Why Bose QuietComfort 35 (Series II) Best Overall
When you combine best-in-class active-noise canceling and an extremely comfortable, fold-up headphone design, the result is the Bose QuietComfort 35 (Series II). While the latest over-the-ear headphone in the QuietComfort line offers plenty to rave about, perhaps the most notable is that it's the first in the series to be wireless.
Design and Features
Weighing 8.32 ounces, the QuietComfort 35 (Series II) looks much like the QuietComfort 25. However, the QC35 does offer an additional piece of technology to the overall appearance with the Bluetooth toggle on the power switch. The headband offers 12 separate steps to provide maximum comfort, as well as allowing the earcups to rotate up to 90 degrees one way and five degrees in the other.
The oval-shaped design of the earcups attempt to fit over the whole ear to provide a heightened level of comfort over fully round earcups. Beyond the design, the Bluetooth wireless capability allows the QC35 to add multipoint pairing or connecting to two devices simultaneously via NFC. An LED battery indicator lets you know how much juice you have left (its said to last up to 20 hours on a single charge). If the battery runs out, the headphones work just fine when wired with the included cable.
0
Sony WH1000XM3
0
Why Sony WH1000XM3? Best Noise-Canceling
If you want the convenience of a wireless connection but still want to make sure you're still getting the best music experience possible, then it's important to pay attention to Bluetooth codecs. For great sound, you should make sure your music files are in a high-quality format, and that both your headphones and playback device support the AptX HD or LDAC Bluetooth codecs.
Design and Features
This is where the Sony WH1000XM3 headphones come in. The industry-leading headphones support a wide range of Bluetooth Codecs, including both AptX HD and LDAC for supreme sound quality — and that's just the beginning of what makes these a dazzling pair of wireless headphones.
The Sony WH1000XM3's also feature best-in-class active noise canceling with a dedicated processor to go on top of the snug fit, which helps keep out noise. You also get the option of a wired connection which expands the frequency response range (4Hz-40kHz wired vs. 20Hz-40kHz LDAC wireless). The WH1000XM3 headphones also have a number of quality-of-life features, like a quick-charging battery (10 minutes gets you five hours of playtime, while a full charge gets you 30), touch sensor controls, and a built-in mic for use with voice assistants and hands-free calling.
0
Jaybird X4 Sport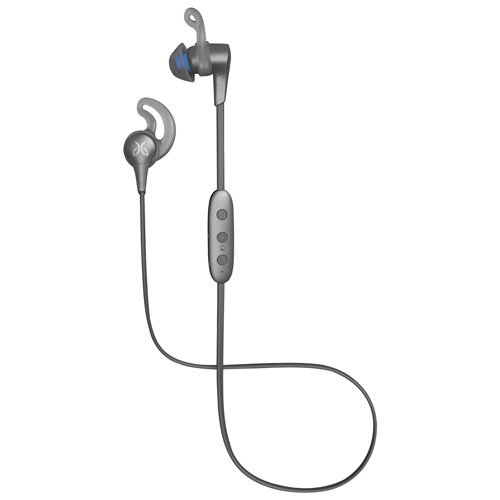 Why Jaybird X4? Best for Fitness
Subway commuter? Marathon runner? Fast-walking multi-tasker? Wherever you listen to music, the Jaybird X4 are the headphones that customize your music to your lifestyle, from the sound to the fit. Use the Jaybird app to adjust the bass or treble and save your settings for future listening sessions. With interchangeable ear fins, adjustable Speed Cinch, and silicone Comply Ultra Foam tips, the earbuds adjust to fit your ear shape, ensuring both comfort and security throughout your day — the entire day, if necessary. The earbuds offer an eight-hour battery life and can receive an hour of charge in just ten minutes.
Design and Features
Need to pause your listening to call home or check in with your boss? Along with controlling volume and skipping tracks, the headphones also let you answer and end calls with just the touch of a button.
0
Audio-Technica ATH-M20x Professional Monitor Headphones
0
Why Audio-Technica ATH-M20x? Best Budget Wired
For a reasonable price, this pair of Audio-Technica wired headphones deliver terrific sound with booming bass and excellent midranges, thanks to 40mm drivers. Its advanced build quality has an understated design but prioritizes comfort with cushioned ear cups, which as a result has attracted a loyal fanbase of listeners. Reviewers lament that they don't offer a noise cancellation feature – and given their low price point it'd be a shocker if they did – but the fit is so snug that they block out surrounding sounds well enough. Another thing to note is that this pair has a straight cable, whereas the previous model (ATH-M20) has a coiled cable.
0
B&O PLAY Beoplay H4
Why B&O PLAY Beoplay H4? Best Bluetooth for iPhone
When it comes down to it, music lovers' main concern is really sound quality and these Bang & Olufsen headphones don't disappoint. They house 40mm electro-dynamic drivers that produce a deeply rich and balanced sound with high clarity and crisp mids, and we're happy to report that the sound quality holds up even when used wirelessly over Bluetooth. The battery life impresses too, promising an impressive 19 hours of playtime per charge.
Design and Features
Aside from sound quality, anyone who knows Bang & Olufsen knows the company is renowned for its design details. Sleek yet sturdy, the Beoplay H4 is made of metal with lambskin leather on the headband and features memory foam earpads. While they don't have active noise cancellation, you'll find the design minimizes sound rather well regardless. H4 is rather basic version of H series, you can get additional features from other models. Beoplay H7 (On Ear) is with microphone; Beoplay H8i (Over Ear) is super lightweight; Beoplay H9i (Over Ear) is with advanced noise canceling feature.
0
Skullcandy Uproar Wireless
Why Skullcandy Uproar Wireless? Best Budget Wireless
Stylish wireless Bluetooth headphones for less than $40? Yes, please! Skullcandy Uproar Wireless headphones are skillfully crafted to be light and offer up to 10 hours of continuous usage without a charge. The audio controls are thoughtfully put together, and they have a built-in microphone, built-in Bluetooth, synthetic leather, a year's warranty and a carrying case. Sound quality is much better than you'd expect considering the price point; Uproars use neodymium magnets to offer unparalleled sound for the money.
Design and Features
On the downside, Uproar headphones are Bluetooth only so there's no aux cable input support, and the build quality is relatively cheap. However, if you're looking for low cost wireless headphones to keep your kids plugged in on a long car journey, you can't do better than Skullcandy Uproar Wireless. If you are fine for adding a little more budget, then we also recommend Skullcandy Riff Wireless On-Ear Headphones.
0
Microsoft Surface Headphones
Why Microsoft Surface Headphones? Best Design
Microsoft's Surface line has always been geared towards designers. And the sleek, gray look of the new Surface headphones is about as modern and minimal as you can get. These are noise-canceling headphones, made from soft-touch lightweight plastic and a memory-foam-style pad. They weigh in at just over half a pound so they're suitable for long listening sessions.
Design and Features
Microsoft has also including some unique design features here. You may remember the Surface Dial from 2016, a puck-shaped accessory that operated as an unconventional rotating tool beside the Surface Studio. This unique accessory seems to have informed the design of the headphones — you can actually turn the outer part of the ear cup like a dial to adjust the level of noise canceling. This feature is probably the most unique part of the Surface headphones and makes them especially versatile. If you're working in a noisy office, you can block out surrounding conversations and just listen to your music. If you're walking down the street and need a little more situational awareness, let in some ambient sound. The 40mm Free Edge driver puts out decent sound quality (though most reviews point to it being "passable" rather than exceptional), delivering sound pressure levels up to 115 dB and covering a frequency spectrum of 20–20,000 Hz. They might not impress hardcore audiophiles, but they're perfectly suitable as a pair of stylish everyday headphones for more casual listening.
The Microsoft Surface headphones connect via Bluetooth or aux cable. They come with a sturdy carrying case and work seamlessly with Siri, Google Assistant, and of course Microsoft's Cortana.
0
Audio-Technica ATH-M50x Professional Studio Monitor Headphones
0
Why Audio-Technica ATH-M50x? Best Studio Monitor Headphones
With thousands of users singing the praises of Audio-Technica's ATH-M50x Pro headphones, it's really hard to mount an argument against them. While there are definitely more sonically impressive headphones out there, these hit a sweet spot — one where incredible studio monitor sound collides with a price tag that comes in way, way below the brand's competitors'.
Design and Features
The ATH-M50x headset's design is simple, with wide ear cups for an over-ear fit, and faux leather on the headband and ear pads. The cable is interchangeable, with three different cables included in the package and a simple twist lock to hold them in place. The headphones are also foldable, making them easy to pack up for on-the-go use.
The ATH-M50x headphones have a low impedance at 38 Ohms, so you can use them with mobile devices. As far as specs go, they also have a frequency response range from 15Hz to 28kHz, which means their 45mm drivers deliver rich. Reviews for the ATH-M50x headset are so overwhelmingly positive, they can't be ignored as an excellent blend of budget and quality. Pick up a pair in black, blue, red, white, or gunmetal.
0
Beyerdynamic DT 770 Pro Studio Headphone
Why Beyerdynamic DT 770 Pro Studio Headphone? Best Wired
If you're looking for a simple pair of headphones that are focused on delivering a rich audio experience for all your listening, then Beyerdynamic's DT 770 Pro headphones are a good pick. The German-made model has a simple, closed-back, circumaural (over-ear) design, and can plug into 3.5mm or ¼-inch jacks with an included adapter.
Design and Features
The DT 770 Pro headphones come in a few different versions with resistances of 32, 80, and 250 Ohms. For use on the go and with mobile phones, you'll likely want the 32 or 80 Ohm version. For recording or high-end listening with an amp, one of the higher-impedance models may be better.
All of the models have a wide frequency response range from 5Hz up to 35kHz, and you'll get clear audio along that range without too much bass or overly bitey treble. While you relish the sound of your music, you'll also be able to enjoy the comfort of these headphones as they're light and come standard with soft velour ear pads; plus, they're durable as they're fashioned with a strong steel headband. If you want open design for studio music mixing with noise escape feature, then DT 990 Pro can be a good choice for studio use. Want super balanced sound image, excellent resolution / spatiality, and high output sound pressure level? Then check out DT 1990 Pro.
0
Bose SoundSport Free Wireless Headphones
Why Bose SoundSport Free Wireless Headphones? Best for Fitness
"Wireless" headphones have been around for a while now, but finally, we are starting to see pairs emerge that live up to their name in being truly wireless. The Bose SoundSport Free wireless headphones are Bose's first crack at a totally cord-free pair, and needless to say, we are impressed.
Design and Features
Perhaps most importantly, they have an exceptional Bluetooth connection that rarely drops, offering depth and clarity that's rare to find in a wireless set. On the downside, the noise-cancelation is lacking due to the fact that they don't create a seal in your ear canal to block out surrounding sounds, though that can be a good thing in situations when you need to be more aware, like while running outside. Instead, the SoundSport Free comfortably rest on the outer part of your ear canal (just like Apple's AirPods).
Bose claims about five hours of play time on a single charge, which should be plenty to power you through a workout, and its carrying case provides two additional charges. They're pricey, even when compared to AirPods, but if it's freedom, flexibility and subtly you crave, the Bose SoundSport Free won't disappoint.
0
Bowers & Wilkins P9 Signature
Why Bowers & Wilkins P9 Signature? Best for Sound Quality And Splurge Aesthetic
Bowers & Wilkins has been making premium audio products for decades, and the B&W P9 Signature headphones are the company's latest and greatest wired headset. These certainly aren't the most wallet-friendly headphones out there, but the highest quality audio doesn't come cheap. And still, for a serious audiophile, the P9 Signature headphones don't hit an astronomical price.
Design and Features
The P9 Signature headphones in Italian genuine leather are designed to look and sound luxurious. They have a wide frequency response range from just 2Hz up to 30kHz and have an impedance of 22 Ohms, so you can use them with your phones and other mobile devices. The design's combination of durable yet light aluminum, memory foam ear cushions, and gorgeous Italian Saffiano leather doesn't hurt their appeal either.
These over-ear headphones can have their earpads swapped out, and also allow interchangeable cables. With the ear pads removed, you'll also see the 40mm angled drivers behind the high-end audio experience. Bowers & Wilkins also throws in an Alcantara carrying case to go with the P9 Signature headphones, since they're foldable and can go where you go. Too expensive for you? Bowers & Wilkins PX Active Noise Cancelling Wireless Headphones just offers rather lighter sweet burden for the budget,
0
Sennheiser HD 650
0
Why Sennheiser HD 650? Best for High-End Sound Quality
Sennheiser offers a more affordable high-end audio option with their HD 650 headphones. Just bear in mind that these have an impedance of 300 Ohms, so you won't be using them with any old smartphone or laptop headphone jack. You'll need an amp to get much sound out of these, but once you're hooked up, you'll get incredible audio.
Design and Features
The Sennheiser HD 650 headphones have an over-ear, open-back design. You'll feel immersed in your music, and all of it will come through crisp thanks to a 10Hz-39,500Hz frequency response range and reference-class design. You'll want to make sure you have a quiet listening area though, as the open-back will let external noise in and let your audio out.
At just over half a pound, the HD 650 headphones are light on the head and have a soft headband and cushy, breathable ear pads. Customer feedback has been overwhelmingly positive for the headphones. However, because of their dependence on a quality amp for audio playback, your experience will depend on what you pair these with.
0
Samson SR850
Why Samson SR850? Best Budget Open-Back
If you're in the market for a pair of headphones that offer quality sound, design, and a wallet-friendly price tag, look to the Samson SR850s. The studio reference-style headphones feature an open-back design, which means you'll be getting a clean audio experience without too much bass, mid, or treble overwhelming the other frequencies.
Design and Features
The open-back design isn't going to be for everyone, as it will let some ambient sound into the headphones as it lets some of the audio you're listening to leak out. If you like listening while you commute or in public spaces, you may want a backup pair of headphones. But, the benefit of an open design is an expanded soundstage which can greatly enhance your experience when listening to music.
What's extra impressive about the Samson SR850 headphones is their incredible bargain price. Coming in well below $50, the headphones still manage to offer a wide frequency response, low impedance, a detachable ¼-inch adapter, and simple but comfortable design. With a self-adjusting headband, they've gotten a solid thumbs up from budget-minded audiophiles.
0
Beyerdynamic DT 240 Pro
Why Beyerdynamic DT 240 Pro? Best Studio Monitor Headphones
Beyerdynamic has an affordable option for music-lovers who want a lightweight, portable pair of headphones that offer incredibly clean sound. The DT 240 Pro headphones cost less than $100 but have a design more metal-heavy than plastic — a surprising feature given the low price. The DT 240 Pros also successfully offer studio-quality audio.
Design and Features
If you're looking for a clean listening experience, these headphones will offer just that. But if you're trying to rock out, they can feel a little dry. If you're recording music, rather, you'll get unflavored audio that can help you know how your tunes truly sound, and you won't have to worry about overly muddy bass or biting treble. The headphones also provide high-level isolation and little-to-no sound leakage.
The Beyerdynamic DT 240 Pro headphones come with a coiled three-meter cable ending in a 3.5mm jack, and they also come with a ¼-inch adapter. One quality-of-life feature is the ability to plug the cable into whichever side of the headphones you want, so you don't need to have the cable crossing over your torso, no matter which pocket you keep your phone in.
0