The Best Hiking Boots Recommended To Buy of 2019
Hiking shoes can be critical to the level of travel. Still, a stiff and sturdy model doesn't exactly mean to disappoint any hikers' expectations.
The trend now is preferably toward lighter materials, while still providing good support. Especially the waterproof function is one of the most popular option. Of course, there are also models available in non-waterproof versions, mainly for hot or dry climates.
Our best hiking boots fall into three categories:
Lightweight boots for everyday hiking and easy storage.
Lightweight boots for most backpackers.
Heavyweight boots for terrain roads.
If you like lighter, more flexible shoes, check out our best hiking shoes.
0
Salomon Quest 4D 3 GTX Hiking Boots
0
Why the Quest 4D3 GTX? Best Overall
Over the years, Salomon's Quest 4D hiking boots have been their outstanding products. And this recent update has adopted a new outsole with some minor adjustments to provide more cushioning and flexibility.
When you wear the Quest 4D3 GTX for the first time, you will feel that this is a well-designed boot. The high top opening and reliable lacing system hold the palms and heels in the right place. And the loose padding on the upper and the shoe tongue make you feel comfortable. This pair can be very stiff when you wear directly out of the box. It will transform into soft and comfortable after a while.
Design and Features
We have some complaints of Quest 4D 2. The slim structure of outsole causes pain of the feet when facing a rough rocky path and carrying a heavy backpack for a long time. We are happy to see that 4D 3 does not have this problem. The improvement is that the shape of the shoe last is more flexible than the previous one, and the rubber mixture at the bottom of the shoe is also thicker.
From the outside, Quest 4D 3 is very similar to the predecessor. However, you will find that Salomon completely redesigned the outsole if you flip them over. The old undulating structure has been replaced by better pitch spots. This design prevents dirt agglomerating in the outsole. In addition, the hard rubber mixture becomes a softer Contagrip rubber. All of these improvements bring better traction. In this way, you'll get better safety whether it's on the surface of the steep mountain or in the wet area.
One of the main reasons for upgrading to lightweight hiking boots is stability. The position of the shoe top is higher than the ankle, which provides reliable support. Semi-rigid knots structure, unlike other ordinary hiking boots, makes you feel free of any limits.
The excellent lacing system has always been a hallmark of the Quest series. And it plays an important role in difficult journeys. The most delightful is the set of hooks at the ankle bend, which allows you to lock the heel during long climbs.
Performance and Verdict
We haven't encountered any problems in the warm weather. In summer trips, you'd better not expect any miracles, even the best quality diaphragm will not make it completely cool. Still, the boot is amazing with high-quality mountaineering performance, Quest quick-drying upper material, good ventilation, and waterproof ability. In the winter, this model can provide good insulation.
Overall, this model is excellent. While carrying a fully loaded backpack you still feel good support for hiking or walking. The new sole grips well on the dirt and wet trails. And the lacing system creates for the great wearing experience. It is very durable, too. Still, it is not a suitable model for professional training. And the Gore-Tex version can be hot in a warm climate.
0
Merrell Moab 2 Mid WP Hiking Boots
0
Why the Quest 4D3 GTX? Best for Everyday Hiking Walk
For everyday hikers and lightweight backpackers, Merrell Moab 2 is probably the best choice. The reason for being popular for this boot is the light and comfortable feel, and the price is reasonable. You get a good cushioning effect, a reliable Vibram outsole, and an effective waterproofing membrane.
Design and Features
Moab 2 has some great upgrades and notable changes, including a new insole with a higher arch, an improved heel, and a rugged leather upper. If you prefer to travel in a warm climate, or if you want a non-waterproof model, then Moab 2 Mid Vent can be added to your wish list.
Disadvantage? Compared to some of the more expensive models, this hiking boot's sole lacks effective support. They can't carry heavy weights and don't allow to run around on rugged roads. In addition, it is not very durable. But Moab is still a well-built hiking shoe that offers great comfort for most everyday hikers as well as easy hiking.
Performance and Verdict
This model is very budget-friendly. It is reasonable and light, excellent comfort. It is also reliable, can be used a long time You will feel good even when traveling in warm weather. And there are also available in a variety of models: low, medium and high, waterproof, non-waterproof However, there is only average traction when walking on rocks and mud roads. And for heavy loads or technical training, it is too flexible and not supportive enough.
For more information on Merrell Moab 2, please see our introduction to the best hiking shoes review.
0
Lowa Renegade GTX Mid Hiking Boots
0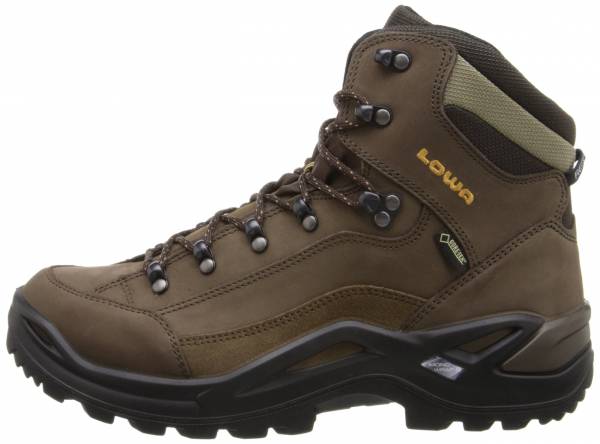 WHy Lowa Renegade GTX Mid? Best Support
Almost all major hiking boots brands have their own iconic models. For Lowa, it is the Renegade GTX. These boots have a wide-appealing attraction: comfortable to wear, strong support, and relatively lightweight. And for those with larger feet, the size and width are also satisfactory.
Design and Features
We spent a few days of backpacking in the Lowa Renegade GTX Mid, with the main activities being wet lakes and grassy areas. This is not an ideal way to test hiking shoes. Still, Renegade proves a very comfortable touch. It is exactly what we want: strong enough for long climbs. What's more, the midsole provides enough isolation. Even hiking and rock climbing with a big pack, the soles will not be painful.
Normally, upgrading to high-quality boots such as Renegade shall offer you full traction. Moreover, Lowa has the Vibram outsole, and the hybrid pattern allows you to easily advance in rock, soft soil, and snow.
Breathability is rarely an obvious advantage for leather hiking boots, but Renegade achieves a good record here. The leather upper is so thin that it won't turn into a sauna room. And the inner of the shoe the same.
GTX in the product name points out the waterproof design of Renegade. And Gore-Tex is the mainstay in the field of waterproof and breathable fabrics, helping you hike in the wet areas in the summertime. But after walking for a few kilometers, you will see that the waterproof of the shoes is still functioning well.
Additional support and stability is one of the main reasons to upgrade to a rugged model like the Lowa Renegade. Although it's a bit stiff, the reliability is enough to get you started on a new journey without any break-in period. Although the lacing system of this model does not fully secure the feet like the Salomon Quest 4D 3, the three sets of locking hooks are still evenly fastened. And the sturdy sole is easily trusted on a technical perspective.
Performance and Verdict
So far, these boots have shown good resistance in our long-term tests. And the impeccable soles do not have the problem of sliding on the rock like other rubber materials.
It is very stable and supportive, with good cushioning around the ankles, very suitable for rugged terrain. There are multiple models available. Still, the reasonable heaviness is also a counterpart proving its strong stability.
0
Salomon X Ultra 3 Mid GTX Hiking Boots
0
Why Salomon X Ultra 3 Mid GTX? Best Ultralight
Salomon's X Ultra series looks like a sophisticated running shoe, but with extra ankle support and protection. It's one of our favorite ultralight hiking boots.
This update has not changed this trend: it is still very flexible and lighter. Still, it retains good toe protection, with a stable outsole, and a new traction design. For fast walking day hikers or lightweight backpackers, the X Ultra 3 Mid is a great choice item.
Design and Features
Of course, the lightweight structure brings other compromises, which is the possible lack of foot protection. It is thinner than Quest 4D and can't fit firmly on your ankles. It can't provide assistance in technical terrains or heavy objects carrying.
However, in terms of foot comfort, durability and traction, the X Ultra 3 beats other ultralight options, such as Altra and Adidas.
Performance and Verdict
If you want to reduce more weight, then the low-top X Ultra 3 will be more appropriate. It is at the top level in the lightweight models, with good magnetic, traction and durability. The great support ability protects you on rocks and rough roads. The only issue is that traveling in dry weather feels a bit hot. And if you have a heavy backpack or move forward in a technical area, you need more protection.
For more information on Salomon X Ultra 3, check out our introduction to the best hiking shoes review.
0
Scarpa Zodiac Plus GTX Hiking Boots
0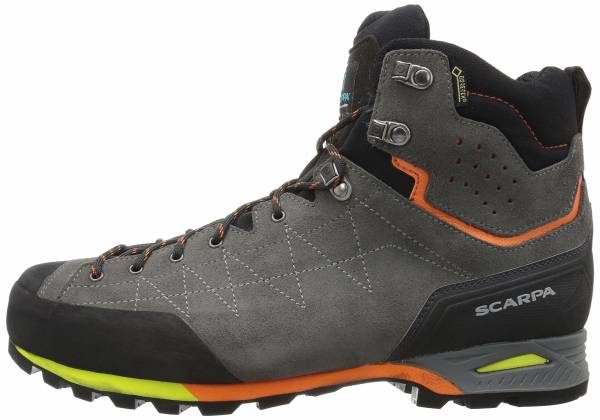 Why Scarpa Zodiac Plus GTX? Best for Heavy-Duty Trips
Scarpa's Zodiac Plus GTX is full support and lightweight boot. That is ideal for handling heavy-duty hiking trips.
In rugged terrain, when you carry a heavy backpack, these boots provide the robust body to make your feet more stable. In addition, it's soft enough to walk on steep trails. The shoe extends over the ankle for extra support, and Sock-Fit technology makes you feel so comfortable.
Design and Features
As for the bottom of the shoe, Scarpa abandoned the performance design that is more mountain-oriented and made Plus without adding a foot pad. Instead, they combine EVA and PU to create a unique blended midsole. These two materials are not common. Here, the hardness of PU, shock absorption and durability are well balanced with the EVA's lightness and cushioning.
The Alps-centric Scarpa's pursuit of traction is not surprising. The Vibram Drumlin sole provides excellent grip even in the cliffs, and it has great flexibility on complex routes and boulders.
Zodiac Plus GTX is made of hard suede leather for the upper, not only waterproof and breathable, but also very durable. The rubber edge around the hat provides the forefoot protection for the forefoot. The closed heel helps prevent the wear on the upper Sock-Fit technology prevents rocks, rain, snow and dust from entering the interior of the shoe. Therefore, the EVA and PU midsole provide reliable protection against rugged insides, including sharp rocks.
Performance and Verdict
Scarpa is proud of the fact that their craftsmanship and most footwear (including Zodiac Plus GTX) are still made in Italy. When you first see this product, it will be attracted by the quality of the manufacturing. Obviously, this hiking boot has been carefully designed, such as the entire tongue and shoe technology, the memory along the back of the heel, and the ergonomic flexibility around the ankle. These features help eliminate stress and prevent blisters on your feet.
It has the perfect combination of comfort and stability. Despite the use of suede leather and Gore-Tex waterproofing, ventilation performance is still good. The running-in period is pleasingly short. Still, you have to know that suede leather uppers are easy to attract dust. And EVA materials in the soles may eventually wear out.
For long distance and scheduled backpacking trips, the comfort of the boots is a top priority, and the Zodiac Plus is absolutely shining in this area.
0
Asolo Falcon GV Hiking Boots
0
Why Asolo Falcon GV? Best Comfort
In many ways, the Asolo Falcon GV represents what we think hiking shoes should have: a little less weight and more support than traditional boots. And its technical improvements make it more suitable for hiking.
The comfort of this technical hiking boot is definitely a surprise. And its out-of-the-box is almost no break-in period. The materials are also of great quality. And everything goes in the right way after a difficult journey. In fact, it is one of the most comfortable boots we have ever worn.
Design and Features
Noteworthy that the Falcon GV is not as heavy as some other models. In many ways, it's more like a combination of hiking boots and running shoes. The dual-density EVA midsole is not as soft as some of the models we tested, but you won't feel foot pain after a long trek. Still, if you prefer highly cushioned models, or if you want to add a custom insole, it's not for you.
The traction of the Asolo Falcon GV is an interesting topic. First of all, the Vibram Megagrip sole works very well. During our hiking, whether it is over a steep road or a glacier or muddy water, its performance is admirable. Then, Asolo claims that the sole is self-cleaning, indeed This way: we never need to clean it. One of the reasons may be the shallower sole bumps.
This is a very lightweight hiking boot suitable for day trips that do not require the highest load. In addition, we are seeing more and more models are avoiding traditional heavyweight designs (such as Asolo Fugitive GTX) to achieve less support – this is the direction of the market.
Asolo Falcon is no exception for water proof feature. After crossing multiple rivers and walking on heavy mud, the boots can still be dry. More importantly, when we move forward in a warm environment, the feet will not feel too hot. This high level of breathability is one of the greatest benefits of Gore-Tex boots. And most inexpensive proprietary waterproofing technology prevents moisture ingress. Still, Gore-Tex is the best option for creating enough airflow.
With its technical strength, Falcon GV provides ample toe protection for all terrains. Although the shoe cap is not the same as most other models, it is very rugged and provides enough coverage to protect you from stones and roots. In addition, the padding above the heel is not particularly thick. There is no leather on the top (polyester and sponge only), but we have not encountered the problem of stones or other debris hitting the ankle.
Performance and Verdict
After many hard trips, all the equipment on the boots remained very good except for some minor wear on the midsole. It is worth mentioning its appearance. We like modern design and fashionable colors, so we think it is one of the brightest hiking boots on the market.
Good support and tough, but light and comfortable, this is a rare specialty in the world of hiking boots. And there is no running-in period out of the box. Therefore, hikers can feel at ease for technical terrain and flat roads. It is a bit more expensive than competitors, and the support function is not the most impressive.
0
Keen Targhee II / III Mid Hiking Boots
0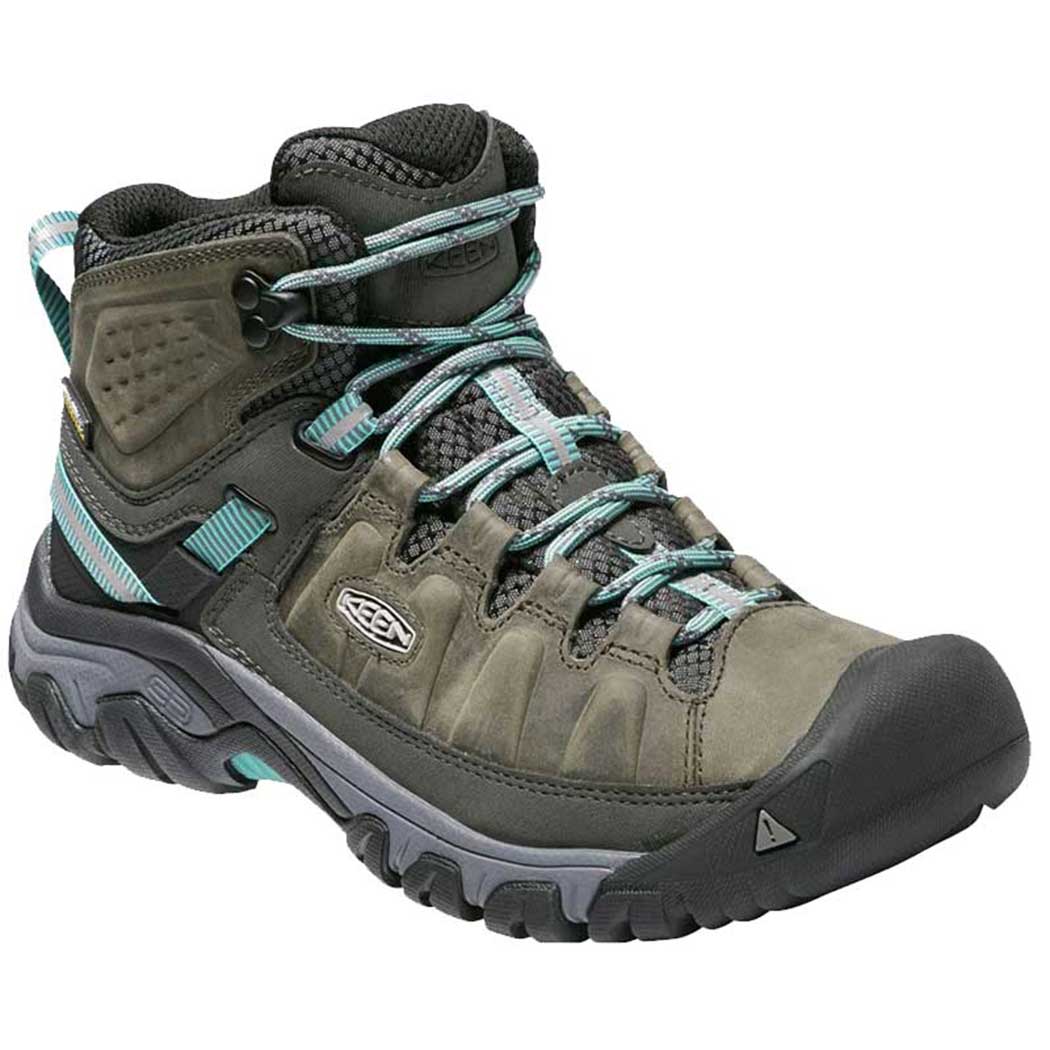 Why Keen Targhee II Mid? Best Budget
With an affordable price tag and excellent out-of-the-box comfort, the Keen Targhee collection is one of the most popular boots for day trekking and moderate backpacking. This hiking boot is known for its spaciousness. The new version is wider in the toe area, which we like very much.
Design and Features
Despite the reasonable price, the boots are fitted with a medium-sized shoe and leather upper. And the ankles are high enough to provide protection.
Keep in mind that Targhee I is not as good as some competitors in the ankle support (such as the Lowa Renegade described above). But it provides enough stability and grip for most alpine adventures.
The main competitor Targhee's main competitor is Merrell Moab 2. Both models have redesigned. The new Targhee leather structure is more rugged, but the Moab is comparable to the drums and the mesh looks even more cool. This difference gives Moab more advantages. Undoubtedly, Targhee is still a reliable choice, especially for down-to-earth people.
Performance and Verdict
In general, this model is very comfortable when out of the box. It is a high quality crafted product for leisure / primary hikers. Also, it has good water resistance. Well, the stability on the rugged terrain is very limited. It has just moderately support, especially in the toe area. When hiking for a long time in a warm environment, it may accumulate a lot of wetness.
For more information on Keen Targhee II, check out our introduction to the best hiking shoes.
0
Arc'teryx Bora2 Mid GTX Hiking Boots
0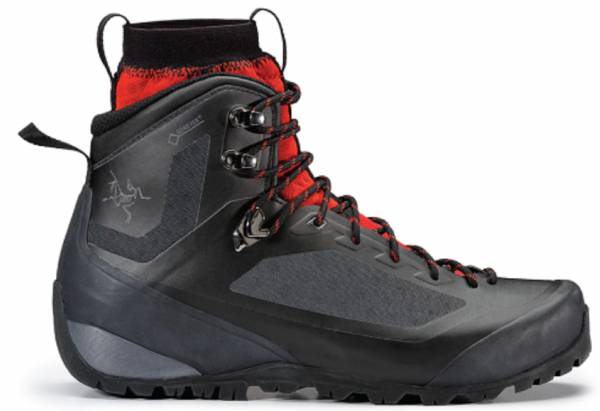 Why Arc'teryx Bora2 Mid GTX? Best Splurge
The Bora2 Mid GTX combines the protection and grip of the shoe close to the comfort of a lightweight running shoe. The unique removable pad can be cleaned or replaced. It can even be used with other boots to achieve the desired Arc'teryx Performance level.
Design and Features
From the outside, it looks more like a pair of close-to-shoes with thick rubber around the bottom that provides excellent protection in rock and debris-filled terrain. In addition, the detachable gasket does not cause any problems in terms of performance, and it is very waterproof while also breathable.
The Bora2 Mid GTX has excellent traction, especially on rocks. The soles are bulky and nostalgic, and they don't have any problems dealing with steep slopes – one of the key features of weight-bearing footwear.
The Gore-Tex lining is fully waterproof and minimizes seams, which further reduces water splashing and penetrating into the boot. In addition, the upper is slightly higher than the other models on the market, you can get a small legging effect. There are some extra protection features on the shoe top that you usually can't get from other biking boots.
With a rubber outlook and a waterproof lining, the boots look like they tend to overheat. But in our three-day walking test, it performed surprisingly cozy, even more breathable and cooler than some of the lighter travel shoes. Of course, all waterproof hiking boots will generate heat to a certain extent, but the advantages of Arc'teryx Bora2 in this perspective are indeed impressive.
The boots are very tough and provide a medium level of support, especially for the ankle area, which is great for rock and other difficult terrain. When we wore a heavy backpack with Bora2, we didn't encounter any problems with insufficient hardness of the shoes. But if your ankles are particularly fragile and want a higher level of support, then we suggest you look for other models.
Performance and Verdict
You can get excellent safety on both sides of the soles. But at about the height of the midfoot, the rigidity of the boots starts to get a little bit worse. The outer casing is thinner and combined with less filler around the foot. This means that Bora2 does not provide superior ankle protection. However, for most people, this is not a problem, as many people don't want more external buffers.
Overall, this model is so versatile and amazing. The detachable pad is very useful and very comfortable. The high-strength waterproof and protective outer case provides excellent fortune on rocky terrain. Even more, Gore-Tex design is very breathable. After all, there wouldn't be a surprise for the price which is out of reach for most backpackers,
0
Scarpa R-Evolution GTX Hiking Boots
0
Why the R-Evolution GTX? Best Durability
In the days to come, lightweight hiking boots are a project with a wide range of hobby groups, because it is very touching and to cut off a part of the high heel. With the aggressive R-Evolution GTX Scarpa announced to enter this field, these boots have outstanding durability and reliable support and stand out in this crowded market.
Out-of-the-box of this model may take a little longer to run than other typical medium-weight hiking boots. But after a casual day trip, everything will be great.
Design and Features
At the bottom of the shoe, the chunky square bumps are closely spaced between the toes and the soles of the feet, and the shape under the heels is wider. This design helps to provide excellent traction on the rock during climbing and reliable when moving downhill. In addition, it can also get rid of the soil well when traveling in a particularly muddy environment. Still, the Salomon Quest 4D 3GTX performs slightly better in this regard. In addition, the Vibram outsole is a reliable travel companion on both wet and dry sides.
Due to its high end and long-lasting performance, the Gore-Tex lining is almost ubiquitous. R-Evolutions is no different. To further increase the water resistance, Scarpa also adds DWR coating. As for the breathability, the R-Evolution GTX performed quite well, only slightly worse than the Arc'teryx Bora2 mentioned above.
Performance and Verdict
The prominent toe cap gives us the greatest sense of security; it looks very similar to the approaching shoes or lightweight travel shoes, but with a more rugged TPU casing: the heel is also very protective, we have throughout the test There is no problem with the gap; the elastic fabric covering the instep and the memory foam continue around the ankle, although not particularly thick, you feel enough.
Overall, the durability of this model makes a very safe and secure travel experience. And sock-Fit technology is very effective and comfortable throughout the foot. It has durable upper material, strong toe protection, excellent manufacturing quality. But as for the concession, it is also not as flexible as middleweight boots like Salomon Quest 4D, and shoelaces are rather thin.