The Best Lightweight Hiking Shoes Recommended To Buy of 2019
The momentum of the hiking gear is shifting from bulky boots to light shoes, and even more brisk and more comfortable trail running shoes.
Carrying a weight-bearing backpack or crossing a rocky path does lose some ankle support, but the feeling of weight loss is worthwhile for people.
Here are our favorite hiking shoes, from fast and light travel to support models that carry a complete backpack, I believe there will always be one that will satisfy you. If you like the style above the ankles, check out our best hiking trails.
0
Salomon X Ultra 3 GTX
0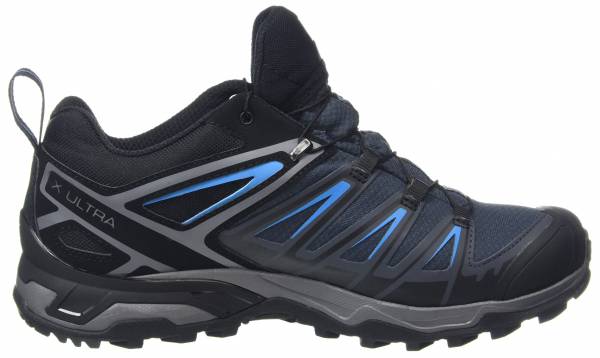 Why Salomon X Ultra 3 GTX? Best Overall
For a long time, Salomon's X Ultra range of hiking shoes is our favorite for a variety of uses from everyday to lightweight backpack travel. The 3rd generation, now introduced, adjusts the lacing system and redesigns the outsole to improve downhill traction, otherwise in much the same way as the old one. The lightweight and flexible construction makes it suitable for any surface and can be worn continuously for long periods of time.
Design and Features
The first impression of the X Ultra 3 is that it looks like a pair of stable running shoes that are both lightweight and flexible, with a good padding at the mouth and tongue. And the insole provides sufficient cushioning and support, which is different from the traditional hiking models such as the Merrell Moab 2 or Keen Targhee I which have thinner bottom. When walking in rugged terrain, it still feels good, even with a load of more than 30 kg.
The improvement of downhill traction depends mainly on the redesign of the heel. This area uses a series of canopy incisions. Body rubber bites into the ground. Admittedly, the grip of the old X Ultra 2 is already very good, but we are more satisfied with the new Contagrip outsole, whether it is traveling in soft soil, hard stone road or heavy snow, it performs well. . Most importantly, the rubber sole does not deteriorate or chip even after a long hike on the granite.
The X Ultra 3 won't replace your technical hiking boots, but it will provide enough support for any day of hiking or lightweight backpacking adventures. The shoes are very flexible under the soles of the feet, and the stable soles (called "advanced chassis" by Salomon) offer a wealth of possibilities for rock footprints. But if you prefer to use harder boots for long-term climbing, then we recommend upgrading to Quest 4D3.
Due to its good water resistance, the breathability of the shoes is not very good. This problem is not obvious in cold weather, and it can provide useful insulation and protection in the snow. But if you are traveling in warm weather, then at the end of the day, you may feel a little hot and uncomfortable, of course, this can be tolerated.
In addition to adequate comfort and support, durability is another indicator of the X Ultra's beyond standard running shoes. The reinforced synthetic upper material protects the mesh from tearing, although the long-term wear can cause a small amount of scratches on the toe, but the overall shape can still be kept very good.
Salomon also produced the X Ultra 3Mid GTX, which in most cases has a higher upper, a shared traction system, a lightweight upper, and the same sense of walking.
Performance and Verdict
Those who are of heavy-duty, or who need to hike in extra-foot-protected areas may prefer Mid, while the low-up models are better suited to people who move quickly on ordinary roads. Finally, we think both are good choices.
This shoe is at the top of the industry in terms of lightweight performance. It is of great magnetic, traction and durability. Good support protects you from rock and rough roads. Traveling in dry weather feels a bit hot. If you are carrying a heavy backpack or moving in rugged terrain, then you need more protective gear.
0
Merrell Moab 2
0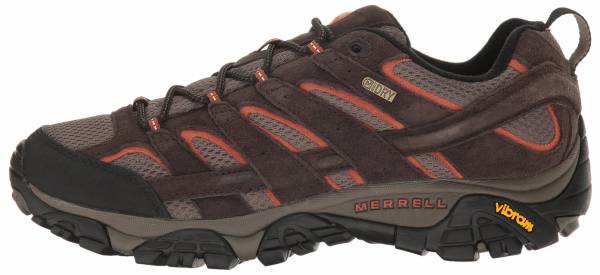 Why Merrell Moab 2? Best for Everyday Hiking Walk
After more than a decade of the original Moab release, the legendary Moab 2 is finally on the market. And we are happy to see what Merrell has done for the reboot. The new hiking shoes have not lost any original things, still very light and keep the right price.
When you wear Merrell Moab 2, you will realize why this shoe is so popular for so long. The insole and tongue have soft cushions. Also, the support insole has been significantly improved for reliable arch support. Moreover, the molded heel fits well on the foot; it is fitted with extra padding, It offers amazing off-road isolation and underfoot protection.
Design and Features
Moab 2 is for day hikers since it provides modest support and stability. Compared to training running shoes, this shoe is not suitable for walking on rugged terrain. Still, for mid-high and low-cut models, a considerable amount of flexibility is designed around the ankle and the upper. This is not necessarily a bad thing. More flexible shoes are usually more comfortable, but Moab's performance is not ideal for carrying heavy loads, climbing steep rocks, or crossing technical terrain.
Two silicone bands are added to the inside and outside of the upper to provide more stability and reduce the risk of ankle sliding. In actual wear, although it is difficult to quantify the difference in this design modification, we feel very stable walking under various conditions.
Reliable exterior has a long service life and provides good traction on rock and dirt roads, and feels good on soft soil. For those who like to travel in the daytime, this shoe will be a good partner. However, although the shoes are doing quite well on the downhill, it is more like a serious hiker, and it seems that the heels are always on the ground.
Moab 2 has a lot of mesh along the sides and top, so the breathability is very good. The optional waterproof version has a great impact on its breathability. If you are hiking in a warm environment or don't mind letting your feet pass through accidental water, the Vent model is a great way to keep it cool.
In terms of durability, after a few months of use, this shoe performed very well. Our hiking trip left some permanent scratches on the shoes. But apart from that, it looked as good as the new shoes. The potential weakness is the mesh material along the upper, but we don't see any signs of tearing.
Performance and Verdict
Since its launch in 2006, Merrell's Moab hiking shoes and hiking boots have achieved great success. There is no huge difference. The only change is the silicone band that extends along the sides of the shoe is even more compelling. Another improvement is extra stability.
It is reasonable and light, excellent comfort, value for money. And there are available in a variety of models: low-cut, medium-high, waterproof, non-waterproof. You can rely upon it for long time use. Still, when walking on rocks and mud roads, it only provides modest traction. And for heavy loads, or technical training, it is a bit too flexible.
0
The North Face Ultra 109 / 110 GTX
0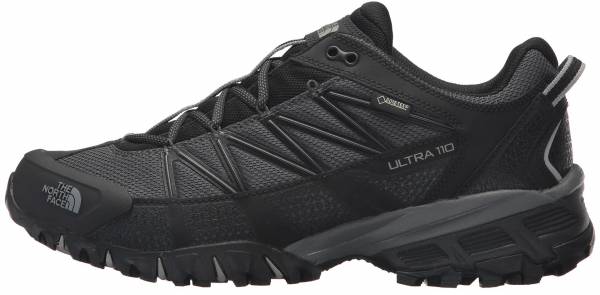 Why The North Face Ultra 110 GTX? Best Value
The North Face has been promoted in the hiking market, and the Ultra GTX series is one of our favorite products. In the competitions, they performed exceptionally well in terms of stability, grip, and protection.
The Ultra 110 GTX may be sold as a running shoe, but we don't agree. It's really hot and not lightweight enough. Surprisingly, it happens to be one of the most comprehensive hiking shoes we've ever tested.
Design and Features
This shoe is very comfortable and feels good even when the load is more than 15 kg. ESS SHANK can stabilize the support of the foot movement to enhance safety. The TPU toe cap is very thick for hiking shoes. Those who prefer lightweight and flexible may prefer the Salomon X Ultra3, but The North Face is a better choice for heavy loads and technical routes.
From the previous Ultra 109 GTX to the current 110, the most significant change is the outsole design. 109 has already provided good traction, but the new design has proven to be more durable. The viscous rubber grips very well on the rock, and its flexibility makes it suitable for all kinds of hard and soft surfaces. We have found that it can even provide reliable traction in the snow. The Salomon X Ultra 3 is still the leader in the full traction category, but the Ultra 110 is only close behind.
We believe that the Ultra 110 is misclassified as a running shoe category. And the attributes that are not suitable for running make it an excellent model for hikers. The 110 GTX has a fairly rigid heel that is robust enough for long walks and heavy packaging. It also helps provide safety on steep slopes and uneven roads, just not ideal for fast moving.
A good waterproof and thick upper is a good thing for wet and cold weather. It also means that the Ultra 110 can be very hot. Given the popularity of the shoes, we are surprised that The North Face has not yet released a non-waterproof version, which not only makes the shoes lighter, but also greatly improves the ventilation of summer adventurers.
Performance and Verdict
The Ultra 110 is a reliable hiking companion with a luxurious upper that blends leather, mesh and a large TPU toe with all materials durable. There are solid reinforcements on both sides of the heel and upper sandwich, but there is no evidence of separation of the sole.
It is very comfortable, super stable, able to hike on difficult terrain. The upgraded outsole provides good traction and does not wear out quickly. You can feel good protection around the feet. In general, this model is a very good value for money. The only notice is that waterproof design and thick upper material make it feel very hot with the summer heat.
The shoes are a bit heavier and weigh about 140 grams/5 ounces more than the popular Salomon X Ultra 3GTX.
0
Adidas Terrex Swift R2 GTX
0
Why Adidas Terrex Swift R2 GTX? Best Stability
Adidas has appeared in the world of hiking shoes and has released the latest version of the Terrex Swit series. The R2 GTX is a low-top hiking shoe with good protection and toughness, but a bit stiffer than the way we are used to.
Stiffness is reflected in the overall design, including the rough sole and the tough upper. Still, the comfort is not reduced. It is very suitable for wearing. There is no running-in period, and it will not loose, just like a pair of light weight walking boots. If you're looking for a flexible, running-like experience, it won't work for you. If you want a lightweight protective hiking shoe, then Terrex Swift can do a good job.
Design and Features
The sabers are used well. Unlike other modern hiking shoes we have recently tested, the former ugliness is very hard. Adidas once again collaborates with the tire manufacturer Continental Group to produce rubber, so the outsole pattern looks very similar to car tires.
In addition to being lightweight, the biggest upgrade to Terrex Swift R2 may be the protectiveness. Compared to Salomon X Ultra 3, Adidas offers more design for training. When we hike on various rocks, we don't feel the sharp corners that other light shoes often encounter. If you like to feel the traces under your feet, it is better to look elsewhere. RD provides a smooth and comfortable experience, and the model is strong enough and certainly not one of the most sensitive shoes we have ever worn.
The sides are also very protective, this design is rare for lightweight hiking shoes. The Terrex Swift R2 has almost a shoe-like shoe cabinet with a molded TPU toe cap. In addition, there is more rubber along the arch area, creating additional protection on the inside and outside. It is worth noting that all the toughness of the shoe can help to increase the overall stiffness. In contrast, this usually sacrifices flexibility.
As a low-top shoe, Terrex Swift R2 still provides quite good stability. First, the rigid design and hard structure help keep the foot and ankle fixed. Secondly, the lacing system is not our favorite type, but it does a good job of tightening the foot. Those who want more support should consider mid-boots like the Salomon X Ultra 3 Mid. To be fair, the R2 is one of the most stable models we have ever worn compared to other low-top hiking shoes.
Performance and Verdict
Similar to Salomon, Adidas uses a fast lacing system in its Swift lineup called Lace Bungee. This allows you to fasten your belt at once. Still, Lace Bungee's lacing movements are not smooth enough, even the shoelace itself feels too stiff. But most importantly, once you tie it, it's hard to loosen.
This model is in very impressive protective measures. It is very lightweight, only 700 g / 24.6 oz. But the stability is still very good. It is also harder than other lightweight hiking shoes and the lacing system is not smooth enough.
With the Terrex Swift R2 series, Adidas is targeting people who want more protection in lightweight sports than training runners.
0
La Sportiva TX3
0
Why La Sportiva TX3? Best for Technical Training
From a large number of trails and rocks to areas filled with snow (especially in summer), the La Sportiva TX3 is a loyal and reliable companion. It runs very fast on all terrains and overall performance is very good.
If you do climbing often, it won't let you down. The sole is coated with viscous rubber under the toes for firm attachment to the rock. The bottom slightly protruding from the mesh upper helps to strengthen the sturdiness. The close fit of the heel and the midsole provides the intimacy required for technical walking safety.
Design and Features
In fact, the TX3 is probably one of the most comfortable high-performance hiking shoes. The rounded soles of the soles, can be placed against rocks and snow, and the cut-in heels effectively help up and down the loose ground. The wide shoes provide plenty of space for your feet to travel. Always get fresh air.
Despite the lack of ankle support, the sturdy outsole makes it a reliable support platform and it can easily withstand backpacks over 30 kg. The quick-drying polyester mesh upper produces a lot of airflow, so it is perfect for wearing in the hot summer months.
In an era of speed and lightness, more and more travelers are bringing portable models into the depths of the mountains. In this respect, the TX3 offers very stable traction on the snow – superior to the dotted invisible rubber on the Five Ten Guide Tennies.
The sole highlight of the sole provides a reliable safety guarantee for all walks, and the sturdy heel can fit the ground well when going downhill. But the shortcomings are also obvious. Because the shoes are very breathable, it is easy to wet the feet in the snow. La Sportiva has created an enhanced version TX4, which is definitely a better choice for the mountains. But the TX3 does a good job in most cases.
The TX3 is not waterproof, but it is very light and breathable. Therefore, it can dry quickly after getting wet. In the wilderness of the mountain, if you drag your wet feet back to the camp at night, then the next morning, the shoes will usually become dry and the shape is intact, unlike some leather models.
Performance and Verdict
The TX2 is the lightest member of the family and is designed for simple walking and technical climbing in warm conditions. TX4 is the most rugged, with a durable leather upper and a solid outsole. TX3 in terms of weight and durability is in a medium position. It has a lightweight synthetic upper similar to the TX2, as well as a stable sole and brake system like the TX4.
In general, it is the perfect combination of lightness and support. It provides a lot of support for hiking and hiking, suitable for technical hiking. The sole provides excellent traction on all surfaces, including snow. Still, the mesh upper lacks durability, at the expense of lightweight and increased ventilation. And the laces are short, sometimes it is difficult to make two knots.
0
Keen Targhee II Low WP
0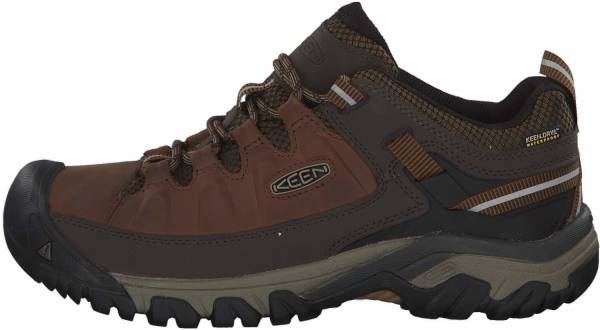 Why Keen Targhee II Low WP? Best Comfort
For many years, Keen's Targhee collection has been a leader in the hiking footwear category. The newly released Targhee II retains the comfort and quality we like, making it a great choice for a relaxing daily hike, but it is not suitable for rugged trails or long loads.
Out of the box, this shoe will make your feet feel relaxed and require little or no running-in period. The detachable insole looks very high quality and is highly rated among users. As long as you stick to the established route and not exceed the limit, it is one of the most comfortable hiking shoes. It is worth noting that the Targhee II is still wide, especially around the toes, but over time you will definitely feel particularly comfortable.
Design and Features
Compared to the common Vibram sole, Targhee I does not have much height difference. The multi-directional bumps are very strong and have a significant improvement over Targhee II's outdated design: the soles are not blocked by mud and we have only experienced very few traction slip problems. However, because Targhee I has reliable support for hiking on steep rocks and rugged terrain, our main slip occurs on the ankle rather than the soles of the feet.
Stability is the main area of Targhee II lacking, and it is designed to provide a relaxed and comfortable experience, but does not perform well on steep or rocky terrain.
This shoe is waterproofed with Keen.Dry technology and does a good job of removing moisture. Most hiking shoes in this price range use some type of proprietary waterproof material, and the end result is often poor breathability. If you are hiking in a warm environment for a long time, Targhee II may warm your feet faster, which can cause sweat and potential blisters. If you care about this problem, consider this waterproof model, which has good breathability and is suitable for dry and warm environments.
Targhee IE Merrell Moab and most other lightweight boots are more affordable, with a padded cushion at the ankle for good protection. After a long trek, you may notice a lot of signs of wear around the ankles of the shoes, which means the filling position works very well.
Leather uppers are prone to scratches on rocks and branches, but overall durability still performs well. The same is true for the midsole and outsole: both are strong.
Performance and Verdict
It is very comfortable. And there is no running-in period right out of the box. It is a carefully crafted high-quality product. For leisure hikers, it is very cost effective. This model is very spacious, especially in the toe area. The only issue is that stability on rugged terrain is limited. When you are hiking for a long time in a warm environment, you may feel the sweatiness.
0
Merrell MQM Flex
0
Why Merrell MQM Flex? Best Versatile (Hiking / Running)
Mountain running shoes are becoming more and more popular, driving the market towards a light and flexible design. Merrell's latest product is their hybrid MQM Flex, which combines approaches of both hiking and running shoes.
When you put on MQM Flex, you can immediately feel that it is completely different from Moab 2. The pad around the heel is very thin and the buffer underneath may be a far cry from your favorite thick foam. On the positive side, MQM is perfect model as small-foot running shoes: it's light and flexible, and the height difference is low. And there are plenty of protections to help you travel at night or minimize pain during running.
Design and Features
All of this shows that the MQM is perfect for ambitious day trips, short runways, or ultra-light backpacks. But if you want the best comfort, you may want to stick to more cushioned shoes like Moab 2 or Salomon X Ultra 3.
The grip of the shoes is ok, not very outstanding. The shorter bumps on the sole do not have the same bite force as the X Ultra 3 or The North Face Ultra 110 GTX. And this model is lack of some of the useful features, such as the large number of bumps around the heel for braking on downhill. For most hiking and regular short-distance adventures, this is certainly acceptable, but if Merrell needs to greatly improve one of the areas of this shoe, it is traction.
In terms of stability and support, the MQM Flex is more like a sturdy training running model than most mountain shoes. The heel is quite strong, which helps keep the ankle slip to a minimum. However, it doesn't have the wide shoe cabinet and ground feel like the Moab 2. If you are heavy, or prefer a stronger shoe, you may need an enhanced version of mid-high models.
It's not surprising that non-waterproof versions do not perform well in wet environments. When crossing a stream, the mesh upper will quickly absorb moisture, but the benefit is that the shoes will dry out quickly in sunny and warm weather conditions. The breathability of the shoes is very good, but we found that the walking temperature of MQM is slightly higher than Moab 2 (probably because it does not use enough open mesh), but it is still very suitable for summer adventure.
As for durability, Merrell did a good job. In our extensive use of approximately 2 months, the upper remained very good, but the soles have shown signs of wear and the shallower bumps indicate areas where it is likely to be damaged first.
Performance and Verdict
It is fit, light, and flexible, you can put on and move quickly. And it is quite versatile, providing adequate support and protection for ordinary day trips and ultra-light backpacking. As a lightweight hiking shoe, the quality is not as Salomon X Ultra 3 and the traction grip is just moderate.
0
Salomon Odyssey Pro
0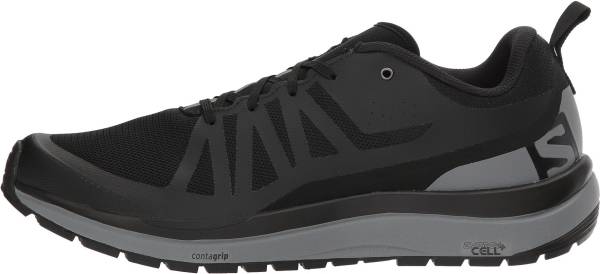 Why Salomon Odyssey Pro? Best Ultralight
Salomon's goal is to change the hiking shoe market with the lightweight Odyssey Pro. Inspired by neutral running shoes, this hiking shoe is a great choice for non-technical daily hiking. Despite the limitations of its professional features, if weight and cushioning are your first choice, then Odyssey Pro will be perfect.
Comfort is the most popular side of the shoe, and the thick midsole gives it plenty of flexibility, and the soft tongue and upper material provide just the right amount of comfort. Another highlight is the light weight, which is more flexible because it is lighter than most hiking shoes.
Design and Features
The traction is not impressive enough, and although the soles have tight bumps, we do often slip when walking in the canyon. More importantly, on the muddy and soft ground, the rubber mixture soles on the steep mountain roads lack a tight bite. The best part of Odyssey Pro is the sturdy and reliable hiking experience and the flexibility of off-road trot, but the lack of versatility is an obvious disadvantage.
These shoes are designed for fast movement, so it feels like a lightweight training running shoe. So, for those who are used to running all day, Salomon Odyssey Pro may make them feel at home, but if you often walk on rough roads, you may need the stability provided by Salomon X Ultra3.
Odyssey Pro only produces non-waterproof models, and a large number of meshes on the upper give it excellent breathability. When you occasionally cross the stream, the slightly dampened area will dry out quickly (arid climate is more conducive to this process). This is not a shoe you want to use near cold or snow, but if you like to take risks in warm weather, then it is an excellent partner.
Lightweight materials usually mean poor durability, but Odyssey Pro breaks this spell. When we were hiking and off-road, the shoes did suffer some rude treatment, but it remained intact. The material on the upper is almost entirely mesh, but the nylon cover can significantly improve toughness. Flat laces look thinner and may give you less confidence, but there is no indication that they are excessively worn.
Performance and Verdict
From the outside, the most attractive aspect of Odssey Pro is the integrated solution for hiking and running. For running, it feels very lightweight, flexible, and has good stability. It is very suitable for non-technical daily hiking. Still, lack of traction is a big limitation of their ability to the training session, and it is not for heavy loads. But for those who are really interested, it is a good option for non-technical hiking.
0
Vasque Grand Traverse
0
Why Vasque Grand Traverse? Best Traction
The Vasque Grand Traverse is not a Swiss Army Knife outdoor shoe, but it is the most interesting pair we have ever tested. This lightweight and flexible shoe with a mix of hiking and proximity features is perfect for deserts.
Traction is the strongest part of this shoe, and when we travel on a variety of rock surfaces, there is very little slippage. In addition, its support for rock climbing is also very good.
Design and Features
Approaching shoes are best for dry conditions or wet rocks. To test this feature, we wore these shoes on a very muddy hike. As expected, the relatively flat sole will soon become muddy, but traditional hiking boots will not have this problem. So if you are planning to hike in a humid environment, it is best to choose another model.
This shoe has a minimalist design with a lower Vibram outsole and an EVA midsole. When we are on foot or when climbing a mountain, you will fully feel the footprints and rocks under your feet. In reality, we like the feeling of moving on the rock surface of the canyon area, but some people may prefer a thicker insole and be less affected by prolonged foot impact.
Interestingly, despite the low ankle height, we found the Grand Traverse to be fairly stable, thanks to their unique lace system that extends from the shoe opening to the toe. The shoes are very strong on the feet and tightly tightened, making the ankles very strong.
We think this waterproof shoe is designed for the desert, so the breathability is very good. The velvet leather upper is slim and light, and the mesh on the sides and top performs well in terms of heat dissipation. Although it does not provide good water resistance, it can dry quickly after wetting.
Performance and Verdict
As a hiking shoe, the Grand Traverse is lighter than many competitors, which also makes it impossible to reach the top level in terms of durability. And it is not suitable for rock climbing. Still, the sturdy shoes give good protection, and the leather and mesh uppers are thinner with good breathability. Nice lace system and the midsole rubber material shows signs of wear after prolonged use, and you will enjoy the exquisite grip and traction. Overall, VAsque has done a good job, if you are willing to lose weight, the life of the Grand Traverse will be effectively improved.
0
Salewa Firetail 3
0
Why Salewa Firetail 3? Best Balance of Weight and Flexibility
Although Salewa is not a household name, the company has a large following in the climbing community and Alpine hobbyists. The Firetail 3 is a powerful, rugged proximity shoe, and the impressive Vibram sole helps keep it safe on steep terrain. Many shoes will give in after a hiking trip, but Firetall 3 is still ready for the next adventure.
Like many competitors, Salewa uses the Vibram sole to bite the rocky terrain, except for the key climbing areas of the shoe (the inside and outside of the toe area). Firetail 3 is very good when we travel through wet and algae-covered rocks, but most people don't use this type of shoes on this terrain.
Design and Features
Firetail 3 has very good traction, but if you tend to explore the cracked desert environment, then it cannot be appropriate. Shoe lasts are bigger and rounder than many other closed shoes, even though the lace system is designed to provide the best climbing
Designed, this square toe area still provides excellent comfort. But when you need to move precisely, it also limits the function of the shoe; however, the big toe area does provide an advantage for climbing snow mountains.
One of the highlights of this hiking shoe is the lacing system, which is similar to climbing shoes. The laces extend from the toe close to the heel to the toes, which is common in approaching shoes and can be fine-tuned to ensure a more comfortable fit.
Performance and Verdict
The lightweight and flexible design help you carry it around, you can hang it on a sling, or throw it in your backpack while climbing, and the non-waterproof model will weigh less.
It is rugged and durable, it can be used at any time even after severe abuse. The high quality of Vibram sole is for the most slippery surface. The lacing system is easy to use and provides good support when needed. But if you step on the water, the shoes are wet and the drying speed is very slow. The shoes are very strong, but they are not suitable for the precise training session. Overall, we believe that Firetail 3 achieves a good balance between weight and flexibility.
0