The Best Noise-Canceling Headphones to Buy
Tune out the background noise with these great headphones
Bose QuietComfort 35 (Series II) Wireless Headphones
Why Bose QuietComfort 35 (Series II) Wireless Headphones? Best Overall
Bose is perhaps best known for introducing the world to noise-canceling headphones, but the brand is also synonymous with high-end, high-quality sound. Bose's QuietComfort 35 (Series II) over-ear headphones may not be the best sounding headphones money can buy, but they are certainly the most comfortable and most effective noise-canceling headphones around.
Design and Features
They come in black and silver color schemes, offering a healthy spectrum of styles. The cans themselves collapse into a convenient, travel-sized package. Sure, they're not cheap, but the noise-canceling technology developed by Bose has been perfected over decades.
0
Sony WH1000XM3
Why Sony WH1000XM3? Best Overall
The only pair of wireless noise-canceling headphones that can hold a candle to our top overall pick is the Sony WH1000XM3. These incredibly stylish and light headphones offer strong noise-canceling and high-end sound quality derived from 40mm liquid crystal polymer drivers. On top of being nice to look at, these headphones also have hidden touch sensor controls so you can play, pause, skip, turn volume up/down, and more by just tapping gently on the right ear cup.
Design and Features
They're also designed to be comfortable and can be worn all day. Battery life on these headphones is amazing with up to 30 hours of playback on a single charge. If you need to quickly recharge, you can get 5 hours of playback after charging for just 10 minutes. While a tad pricey at over $300, these headphones will surely satisfy the headphone lover in your life who demands good noise cancellation and sound quality.
0
Bose QuietControl 30 Acoustic Noise-Canceling Headphones
Why Bose QuietControl 30 Acoustic Noise-Canceling Headphones? Best In-Ear
As mentioned, when it comes to noise-canceling tech, Bose is the cream of the crop. Simply because it's been in the game since the 1980s, the company has a leg up on the essential hardware behind noise-canceling devices. That's why both its over-ear and in-ear flagship cans are the best noise canceling headphones on the market.
Design and Features
The in-ear QuietControl 30 offer the right mix of style, comfort, and tech to ensure reliability and performance. Some people find in-ear headphones in general to be uncomfortable for prolonged use, so for these users we still recommend going with the QuietComfort 35's. But if you don't mind the feel of in-ears, or you don't expect to use them for long periods of time, the QuietControl 30 are the right fit.
0
Mpow H18 Wireless Active Noise-Canceling Headphone
Why Mpow H18 Wireless Active Noise-Canceling Headphone? Best Budget and Battery Life
These aren't the cheapest noise-canceling headphones on the market, but they do offer the best mix of performance and price. You can find noise-canceling cans for as low as $50, but they're not likely to work as advertised. The Mpow H5 headphones promise solid noise-canceling performance with retro design and hi-fi stereo sound. There is no wonder the model gains nice stellar reviews.
Design and Features
Passing on the very popular previous Mpow H5 version, the active noise reduction tech blocks out ambient noise of up to 25dB Better Noise Cancelling Effect, and runs promising up to amazing 50 hours of use. Professional protein earpads, 90° swiveling earcups and adjustable headband deliver better durability and comfort. The Active Noise Cancelling around-ear headphones from Mpow give you crisp, powerful sound and quiet that helps you enjoy your music better. Really satisfying is that Mpow offers 45 days money back & 2-years worry-free guarantee. Mpow Bluetooth headphones connection range can reach 56ft (17m) – much further than conventional Bluetooth Headphones. It is convenient in any situation where you don't want to deal with dangling cables – like commuting. Still, the ear muffs look a bit tight; if you prefer a comfortable touch with Dual-Mic Active Noise Cancelling and good deep bass, you can choose the Mpow H10 2019 Edition.
0
Monoprice SonicSolace Active Noise-Cancelling Headphones
Why Monoprice SonicSolace Active Noise-Cancelling Headphones? Best Value
The Bluetooth SonicSolace noise-canceling headphones (available in this handsome brown color, or a more subdued black) are truly a steal. The construction on these is probably the first thing you'll notice; they feel extremely premium with touches of rugged metal and very soft faux-leather cups. The adjustable headband and oversized cups make the headphones pretty comfortable, but it's important to note that the one major con is that they're a little on the heavy side, so they might not be the most comfortable for some users in extended use.
Design and Features
They give you a frequency response ranging from 20 Hz to 20 kHz, with 40mm drivers that push out 105 dB of sound, so you know the sound well pack plenty of punch. The rechargeable battery promises 16 hours of audio playback without noise-canceling tech, and eight hours with it engaged. And that tech really does cancel noise at a pretty effective rate, but the earcups themselves do a pretty fantastic job of isolating sound without it enabled, so it's a double whammy.
0
Sennheiser PXC 550 Wireless Noise-Canceling Headphones
Why Sennheiser PXC 550 Wireless Noise-Canceling Headphones? Best Comfort
Your search for the most comfortable noise-canceling headphones is officially over — the Sennheiser PXC 550s are phenomenal with an ergonomic design that pairs a padded headband with rotating ear cups meant for long listening sessions. As an added bonus, the ultra-comfortable build doesn't diminish portability as the PXC 550s collapse into an included travel case.
Design and Features
When it comes to sound, the mids and highs offer excellent detail and clarity, the bass is just right, and the volume is loud enough without being overwhelming. Even when cranked to max volume, the audio is rich and clear without any detail loss. Wirelessly connecting to any of your devices via Bluetooth 4.2 or NFC, NoiseGard suppression technology — with an active impedance of 490 Ohm and passive impedance of 46 Ohms — keeps ambient sounds away from your ear in order to place focus on your music or calls. A triple microphone array adds stand-out call clarity that also benefits from NoiseGard tech.
0
Libratone Q Adapt
0
Why Libratone Q Adapt? Best Balanced Design
These Libratone headphones sit in a nice cross-section of noise-canceling cans – they aren't too big and bulky that you might as well be bringing speakers around, but they aren't so small that they sound tinny. One look at the near-perfect reviews and you probably won't need any further convincing to give these a try. The sound is a unique blend of lows, mids and highs that give you not necessarily a flat response, but a more Bose-like optimized sound for music listening.
Design and Features
They connect wirelessly via Bluetooth, but you can also plug them directly into your device via a 3.5mm aux cable. The design is a small, sleek on-ear construction, which they're calling "Scandinavian," available in either deep black or classic white. The internal battery offers 20+ hours on a single charge, which means they'll definitely last you through the day. But, arguably the coolest feature of these headphones is the adaptive noise-canceling tech. They're calling it CityMix, and the protocol offers you variable levels of noise-canceling whether you want to block out just about everything or just a small amount.
0
Beats Studio 3 Wireless Noise-Canceling Headphones
Why Beats Studio 3 Noise-Canceling Headphones? Best Style
Beats reputation for top-notch headphones continues with the Studio 3.
Pure adaptive noise canceling (pure ANC) actively blocks external noise. Their digital noise-canceling technology all but eliminates ambient noise from the background as the headphones automatically detect activity and balance their levels accordingly. And it keeps the high style from the brand's DNA.
Design and Features
Fortunately, noise cancellation isn't the only reason to love these headphones. The Studio 3 design and build quality are first-class. The headband is both comfortable and sturdy while the ear cups are large enough to properly seal most ears. Real-time Audio calibration preserves a premium listening experience. Also, the up to 22 hours of battery life enables full-featured all-day wireless playback. Apple W1 chip for class 1 wireless Bluetooth connectivity & battery efficiency. With fast Fuel, a 10-minute charge of rechargeable Lithium-Ion gives 3 hours of play when the battery is low.
0
Paww WaveSound 3 Bluetooth Headphones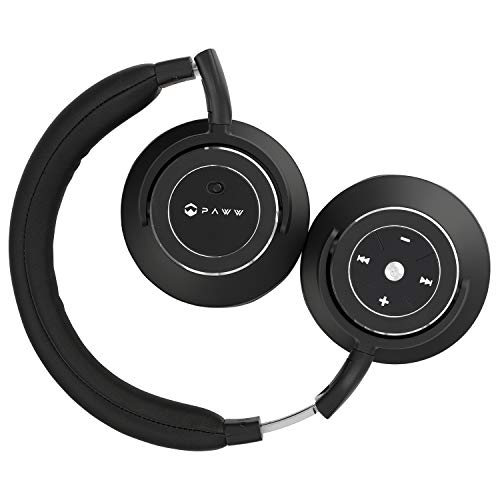 Why Paww WaveSound 3 Bluetooth Headphones? Best Value for Travel
The WaveSound 3 headphones are designed first and foremost for travel, with an included traveling case and specific design features meant to help when you are on airplanes or trains. They block out cabin noise, talking and as much as 23 dB of unwanted ambient noise. And they include an airplane adapter meant for plugging in to some in-flight viewing systems, which is way better than using the sub-par headphones you are often given on a flight.
Design and Features
On top of clear sound and noise cancelation, the WaveSound 3 has a built-in microphone for taking calls (please don't do this on an airplane!), as well as a lightweight and durable metal construction that will be comfortable on your head. The headphones are praised for being a great value for less than $100, and that they're especially useful for travel and dealing with ambient noise.
0
Bang & Olufsen Beoplay H8i Wireless Bluetooth Headphones
Why Bang & Olufsen Beoplay H8i Wireless Bluetooth? Best Style
With a premium design and build materials to match, the Bang & Olufsen Beoplay H8i headphones are a beautiful choice. The brand is known for quality and attention to detail — Bang & Olufsen promises that their products will withstand years of regular use — and the H8i is no exception. The leather headband feels tough and durable while the outer earpieces incorporate anodized aluminum. Inside, lambskin memory foam ear pads are both stylish and comfortable.
Design and Features
Unlike most noise-canceling headphones, the H8i employ an on-ear design that doesn't encapsulate the entire ear. That makes their noise-canceling technology even more impressive. Activate "transparency mode" with the click of a button and ambient noise is drowned out. Audio quality is just as good as the design. Balanced mids and highs pair with outstanding lows and while the bass isn't terribly deep, it's easy to overlook in lieu of the total package. The headphone's battery supports 30 hours of playback, and they offer 100 feet of Bluetooth range and fast charging via USB-C. Want the comfortable Over-Ear touch of Beoplay? Check out Beoplay H9i version.
0
Cowin SE7 Active Noise Canceling Wireless Headphones
0
Why Cowin SE7? Best for Extended Use
Cowin's SE7 wireless, over-the-ear headphones that come with professional active noise-canceling technology. According to Cowin, the feature will actively reduce airplane cabin noise and city traffic and offer the feature in both wired and wireless modes. So you basically can carry it and use everywhere, in travel/work/TV/computer/cellphone, whether noisy or not.
Design and Features
The headphones deliver the bass and if you want to connect wirelessly to another device, you have the option of choosing Bluetooth or near-field communication. Low latency, good fault tolerance, high sound quality. The 90dB give a deep, powerful, and crisp sound, make your overall listening experience just that much better. The advanced Bluetooth 5.0 promises quick and stable connection with your Bluetooth enabled devices, Powerful Bluetooth Function.
To boost comfort, the Cowin SE7 earpads are made from a professional protein that has what the company describes as "skin texture." Ultimately, the headphones are designed to be worn all day and have the battery life to back that up. In fact, Cowin promises a whopping 50 hours playtime in Bluetooth model, 30 hours playtime in Bluetooth and ANC model. And just in case things go awry, you can take advantage of Cowin's 18-month warranty on the headphones. The previous Cowin E7 version is super popular in Amazon, and on good sale price now. And if you need a stronger 100dB, then the luxurious Cowin E8 version. 
0
Bose QuietComfort 25
Why Bose QuietComfort 25? Best Wired
There are few brands that just do headphones right, and perhaps the best example of that is Bose. Offering a full range of well-researched audio products, Bose — and their QuietComfort line, specifically — is a great place to start if you're looking for a solid set of headphones. While their QuietComfort 35 Wireless Headphones offer you freedom from wires, they do come with a commensurate price tag. But, if you want all the benefits of Bose's tried-and-true noise-canceling tech, and don't need the Bluetooth capabilities, the QuietComfort 25 is a perfect choice.
Design and Features
The design's noise-canceling microphones pick up outside noise and offset it with a small burst of white noise, giving you first-rate noise reduction that allows your music to shine through. The 56-inch QC25 cable features an inline mic and controls, allowing for you to stop and start your music and take phone calls. This particular package comes with a lightweight carrying case and an airport power adapter to help power noise canceling on the go.
0
Sony WF-1000X True Wireless Earbuds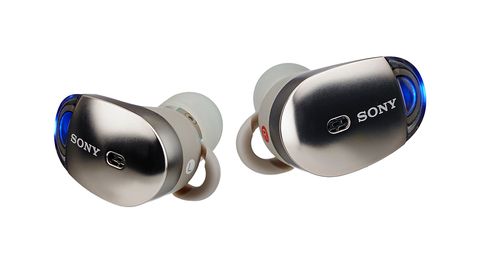 Why Sony WF-1000X True Wireless Earbuds? Best for Compact
When it comes to choosing a pair of travel headphones, the most important consideration is how big they are and, as a result, how much space they'll take up in your bag. If you're looking to save a ton of room, then a pair of true wireless earbuds is your best bet. Thankfully, these Sony WF-1000X options offer you the added benefit of noise-cancelation — an extra important feature when you're trying to drown out the dull roar of a plane engine.
Design and Features
The earbuds even take the adaptive noise-canceling a step further and adjust the levels and qualities of your music playback based on your surroundings. The design's 6mm driver offers a pretty hefty response for headphones of this size. They connect via Bluetooth and reviewers note that the pairing is really stable. The headphone's batteries offer up to 3 hours of play time, but the included carrying case can juice them up with an additional 9 hours of operation. Altogether the set comes in a package that's under an inch thick, so it'll easily slide into any carry-on.
0