The Best Indoor / Outdoor Portable Bluetooth Speakers of 2019
Take your music on-the-go with these portable wireless speakers
Best Overall: Bose Home Speaker 500
Why Bose Home Speaker 500?
Best Overall
Bose has been in the Bluetooth and wireless speaker game for a long time — now they're taking their notable sound tech and moving into the more overt smart speaker world with the Bose Home Speaker 500. This speaker offers what Bose refers to as "room-filling sound" with the ability to use Alexa-enabled smart assistance functions. That means you can both stream music wirelessly and control it with your voice. There's a small screen on the unit, but it just displays album artwork and is not a touchscreen — instead, they've relegated the physical controls to a series of buttons on the top.
Design and Features
Beyond the fact that it puts out big sound from such a compact device, the most notable thing about the Bose Home Speaker 500 is its Alexa functionalities. (Bose promises that other smart functionality, like Google Assistant, is on the way.) You can use the speaker with all the requisite platforms including Spotify, Amazon Music, SiriusXM and more. And there's even a Bose Smart app that lets you pair this up with another unit or one of Bose's smart soundbars to give you multi-room sound and mobile device control. It's on the pricier side, but if you're a fan of Bose, that's expected. It's a speaker with a notable name that gives you sound commensurate with the brand's track record. If you like more of wireless feature, then cheaper Bose SoundTouch 10 wireless speaker also works well for beautiful side-defying sound at home.
0
Best Smart Speaker: Google Home Max
Why Google Home Max?
Best Smart Speaker
If you like to crank up the volume on your portable Bluetooth speaker, then you'll like the Google Home Max. Inside this low-profile speaker are a pair of 4.5-inch woofers and dual amps dedicated to a set of 0.7-inch polyester dome tweeters. The result: room-filling sound with serious bass. And at 100-percent volume, there's almost no sound vibration (a rarity for a portable Bluetooth speaker). For even more sound, two Home Max speakers can be paired together.
Design and Features
Weighing almost 12 pounds, the Home Max is among the heaviest of the portable options. Fortunately, all that weight isn't just about the audio. The Google Home Max also includes Google Assistant capabilities. You can ask it to tell you the weather, play a song, search the web, or control smart home devices like thermostats or lights.
0
Best for Office Desk: JBL Charge 4
Why JBL Charge 4? Best for Office Desk
Measuring 4.9 x 5.9 x 10.8 inches, the JBL Charge 4 is capable of connecting up to three devices in total (smartphones, tablets, etc.) directly to the speaker through Bluetooth technology. The JBL offers up to 20 hours of playtime, thanks to a 7800mAh battery, as well as IPX7-rated waterproofing.
Design and Features
The Charge 4, same as the previously popular and cheaper JBL Charge 3, provides a deep bass response and can sit both horizontally or vertically (but horizontal is the best placement for maximum audio performance). And it's more than just a music player: You can even take conference calls directly from the JBL. The noise and echo-canceling speakerphone add crystal-clear calling directly from your smartphone. Aside from audio performance, the build quality of the Charge 4 is both durable and sturdy enough to throw into a backpack for a weekend getaway since it weighs 3 pounds.
0
Best Budget: JBL Clip 3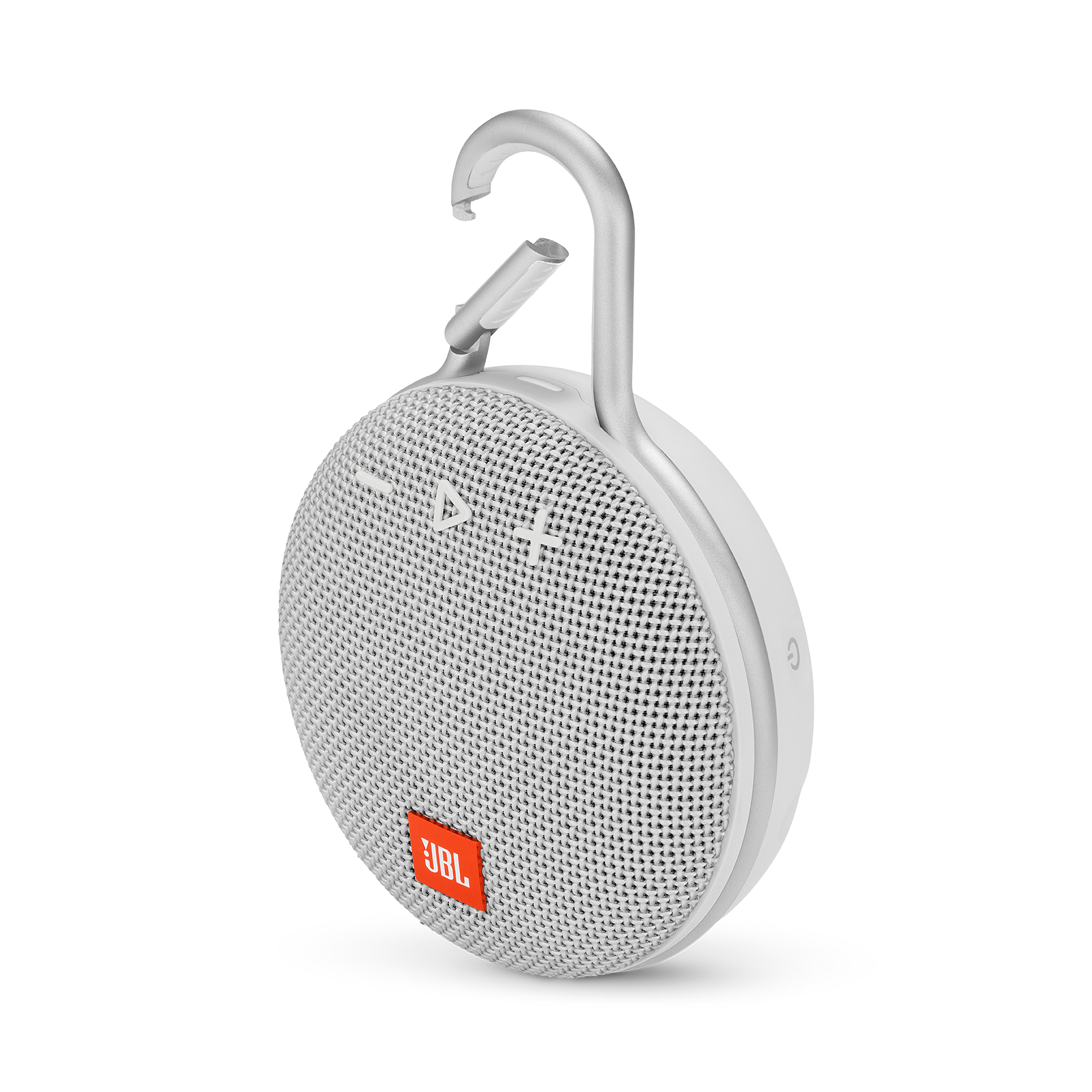 Why
JBL Clip 3?

Best Budget
The JBL Clip 3 is not only lightweight to hold and carry, it's also light on the budget. In fact, it's one of the most budget-friendly Bluetooth speakers that still delivers a quality sound. The speaker features a clip you can use to attach it to your backpack or your belt loops.
Design and Features
Use the speaker's controls to play or pause songs or skip tracks, all without having to take out your phone. The JBL Clip 3 may be small, but the eight-hour battery life rivals that of some of the larger Bluetooth speakers. It's waterproof and while it does float, it can be submerged in water for up to 30 minutes.
0
Best for Design: Bang & Olufsen's Beoplay A1 Portable Bluetooth Speaker
Why Bang & Olufsen's Beoplay A1?
Best for Design
Sometimes the best-designed products are almost the simplest and that's exactly where the Bang & Olufsen's Beoplay A1 Portable Bluetooth speaker knocks it out of the park. The basic circular design mimics the look of a hockey puck, but with strikingly clean lines that offer booming sound. With a battery life that hits around 24 hours at regular music volume (recharging 2.5 hours from zero-to-full), the 1.3-pound all-aluminum dome is both dust- and splash-resistant to help protect against the elements. The sound has peak power of around 2X140 watts.
Design and Features
Connection to the A1 is easily done through B&O's Play application available on both Android and iOS (in the app you can also personalize the audio experience, set up wireless stereo pairing for even bigger sound and update the software on the A1). Beyond music, the A1 doubles as a speakerphone with an omni-directional microphone that sits on the bottom of the device and can pick up 360 degrees of voice recognition no matter where the A1 is in relation to your body.
0
Best Portability: Bang and Olufsen Beoplay P2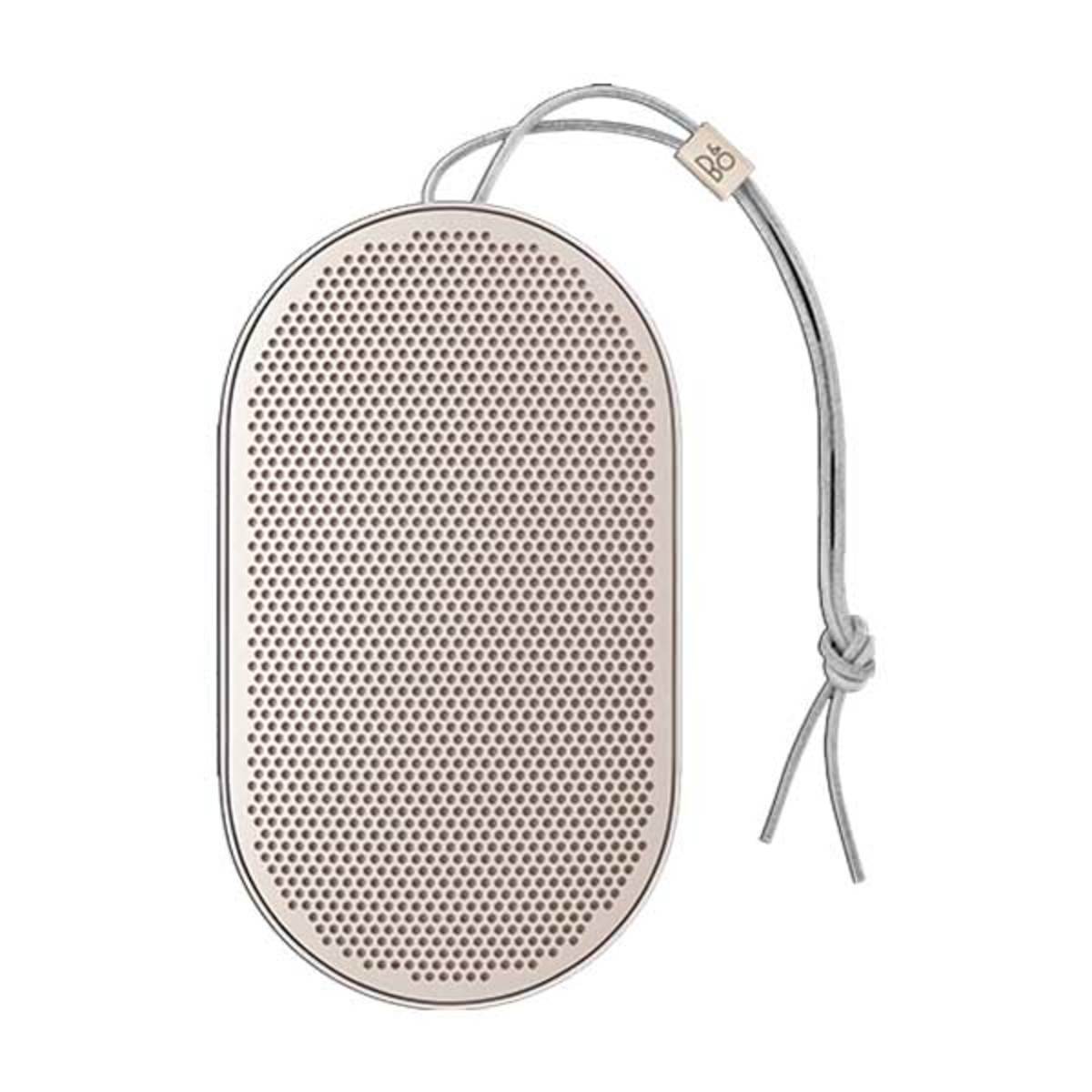 Why Bang and Olufsen Beoplay P2?
Best Portability
B&O Beoplay P2 is small enough to hold in the palm of your hand and still manages to deliver impressive sound. The Beoplay P2 has some pretty neat features, too. You can play and pause the music by double-tapping the speaker grill. Or, you can use the Beoplay App to customize your speaker to respond to certain movements, like a tap or a shake. With 10 hours of playtime, this speaker can hang out with you all day and fit right inside your backpack, messenger bag, tote or purse.
0
Best Portability: Libratone Zipp Mini 2
Why Libratone Zipp Mini 2?
Best Portability
The small Libratone Zipp Mini 2 is a sleek and portable Bluetooth speaker. Weighing only 3.86 pounds, the tiny cylinder has booming 360-degree sound. Plus, a leather strap on the side makes it easy to carry around on-the-go. However, there is one thing to consider: The Zipp Mini 2 isn't waterproof, so you shouldn't take it around in rugged outdoor environments (or in the shower).
Design and Features
In addition to its size and convenient carrying strap, the Zipp Mini 2 has an elegant Scandinavian design with an optional pop of color (Libratone is a Danish company). The speaker comes with four color options: black, gray, green and red. If you want to change it up, you can always switch out the colored sleeve and replace it with a new one.
The speaker is compatible with Alexa and offers support for Airplay 2, so you can connect it with other speakers (up to 10) in the same house.
0
Best for Parties: JLab Block Party
Why JLab Block Party? Best for Parties
For serious parties, the JLab Block Party is what you need. You can connect up to eight of these speakers together for a full sound. The multi-speaker system is great for an outdoor party or even for a multi-room audio system. It even includes indoor and outdoor modes, with the speakers equalized to play the optimal sound based on the amount of sound-absorbing surfaces nearby. (The outdoor mode may be better for houses with a lot of sound-absorbing surfaces). There's a built-in status indicator to let you know how much battery time is left, and the speaker features buttons for volume, power, as well as to play or pause the music.
0
Best Battery Life: Anker Soundcore 2
Why Anker Soundcore 2?
Best Battery Life
The Anker Soundcore 2 is a surprising little Bluetooth speaker for a lot of reasons. First of all, its small form factor (just over six inches long and only about 12 ounces) doesn't hold back the surprisingly deep and booming sound quality. It does lack a bit of detail. But considering it's so small, 12W stereo sound, sports IPX5 waterproof, and delivers a 66-foot Bluetooth range, it's pretty solid.
Design and Features
But, as our category choice here denotes, the real "wow" factor is the battery life. Anker promises 24 hours of playback on a single charge — that's a whole day of music without the need to plug it in. Considering that most other speaker options promise only 10–15 hours, this one blows them all out of the water. Plus, with a unibody design and a few sleek colors to choose from, it's pretty stylish too. If you don't care much about super long battery life and like a higher level of 20W stereo sound, then the Anker SoundCore Boost is a good alternative.
0
What to Look for in Portable Bluetooth Speakers
Sound quality – The best way to test sound quality is, of course, by listening in person — but in the age of online shopping, that's not always possible. Perhaps the most important spec to consider is sensitivity, measured in decibels (dB). This indicates how loud the speaker will get; the higher the sensitivity rating, the louder the speaker will be. An average speaker is around 87 dB to 88 dB, but 90 dB would be excellent.
Battery life – It's handy to be able to bring your speaker on the road with you, but you might as well be carrying a brick if its battery dies. Most Bluetooth speakers will average about 8 to 24 hours per charge, depending on how loud you're playing your music. Another thing to consider is how long a speaker takes to recharge its battery — in some cases, a 10-minute top-up can prolong battery life for hours.
Waterproof – If you're taking your portable speaker to the beach, you'll want to be sure it won't be drowned by an unexpected wave. Many models have waterproof ratings ranging from splash-resistant up to IPX7, which means it can be submerged for up to 30 minutes and still work.