The Best Protective Sports Gears Recommended To Buy
Exercise brings not only health and pleasure, but sometimes injuries. I believe that some friends who are injured in sports will also choose to wear some protective gear. Speaking of sports protective gear, many people are expected to think of professional athletes and intense basketball games. Ordinary people often wear protective gear to protect themselves during daily sports running. For example, jogging seems to be a sport with a low risk factor. But it requires coordination of hands, shoulders, squats and legs. In the exercise, the ankles, wrists, and knees are vulnerable parts, and the injured joints need more protective gear to protect them. The following small series introduces several protective gears for everyone, let us do more with less in sports.
0
SKINS Gold A400 Compression Series
0
Introduced in 2015, the New A400 retains the A400's gradient compression technology, which locks heat at low temperatures and accelerates heat at high temperatures. The principle is to use the Adaptive AC temperature control additive from HeiQ of Switzerland to produce a coating on the surface of the fabric fiber by dip dyeing to achieve the effect of warm winter and cool summer. In addition, the surface of the clothes is covered with 360-degree reflective material, which is a good all-season compression garment. SKINS's A400 series extracts 400 precision compression points, which is good for stimulating the vitality of the sports muscles, reducing the accumulation of lactic acid, accelerating the recovery of the body, and reducing the risk of injury with the natural movement of the body.
SKINS is one of the world's top gradient compression sports equipment brands, and its products are loved by many sports enthusiasts and enthusiasts. This neutral gradient compression MX leggings are made of 65% nylon + 35% spandex. Strong compression + super elastic, ensuring functionality and comfort, dynamic gradient compression, firming muscles, combined with Y-splicing of the Achilles tendon, can better regulate the pressure of the Achilles tendon, and protect it, 50 times UV protection, Suitable for running, ball, fitness and other sports scenes.
0
Mueller Fitted Wrist Brace
Friends who like to play tennis, badminton, and table tennis, a ball down, often elbows will hurt, especially when playing backhand, so when playing tennis, if you feel elbow pain, it is best to bring a wristband. Mueller is a professional sports care product company in the United States. Founded in 1959, it has professional protective gear for athletes and is suitable for general household use. The lower two wristbands are all Velcro closures for easy adjustment and tight fit. Mueller Fitted is the sales champion of Meiya, which helps to reduce the pain and swelling of the wrist without hindering the full movement of your thumb and fingers. It's very comfortable to wear, with 2 adjustable fixing straps, whether your wrists are thick or slim. This model is very suitable for netizens with damaged wrists. Some buyers claim that they can firmly fix the wrist and the elastic adjustment will not make your wrist feel uncomfortable. However, it should be noted that this is a right-hand version of the wristband, and friends who want to buy a left-hand version can search for the left version.
The wrist needs to be protected during part of the strength training during basketball or fitness. The winding type is easy to use and the comfort and stability are stronger. Advantages: 1. Breathable and wicking material, it is very comfortable to use when exercising; 2. Single-thumb ring design is not easy to fall off; 3. Super strong Velcro, sticky and firm.
0
BAUERFEIND GenuTrain Series (Knee Brace / Ankle Brace)
0
One-piece knee pads are a traditional type of floor that completely wraps the knees and securely supports the entire knee joint. Bauerfeind is a sports protective gear brand from Germany. The value friends in the station are also familiar. It should be NBA players wearing many knee pads, such as Kobe, Jeremy Lin, etc. Among them, the star product GenuTrain basic knee pads, to protect the knee bone's built-in viscoelastic precipitate There are 2 pressure points at the distal end and two side wings at the height of the meniscus. Suitable for running, basketball, hiking and other sports wear.
Bauerfeind is a German professional sports protective gear brand. It was founded in the 1920s. After nearly 90 years of development, it has become a professional brand in the field of professional sports protective gear. German national men's volleyball team, women's volleyball team, weightlifting team, handball Teams, hockey teams, and many NBA superstars are used. This BAUERFEIND Genutrain decompression-fixed base knee pad with silicone padding has a built-in viscoelastic deposit that protects the kneecap in a ring shape with 2 pressure points at the distal end and two wings at the meniscus height. 3D three-dimensional preparation guarantees elasticity and breathability, and the fabric also has the function of venting and venting.
0
3M FUTURO Sports Series
The humerus band is a band design that is fixed to the tendon below the kneecap to reduce the tendon being pulled during exercise, so that the tendon gets a moderate rest, but there is no protective effect on other parts of the knee joint. Suitable for sports people with tendon injuries, sports that run more and more, such as basketball, track and field, or people who are riding bicycles excessively.
FUTURO is developed and designed by the excellent 3M team. Its sacral band is adjustable and designed to change the tightness and further help to fix it through the Velcro. Built-in elastic cushion for precise pressing of the tibia, both left and right legs can be used. Developed and designed by the 3M professional team, FUTUROTM is specially designed for white-collar and middle-aged groups suffering from joint pain, providing a variety of options for joint protection and pain relief. The official website is here. The tibia is located in front of the knee joint, which is to protect the knee joint and prevent excessive activity such as excessive adduction and abduction of the knee joint. Tibial injuries occur more frequently during exercise. The age of fractures is generally between 20 and 50 years old, with more men than women. This FUTURO band is made of polyester, nylon, synthetic rubber and polyurethane foam. It has an adjustable design to change the tightness and further help to fix it with Velcro. Built-in elastic cushion for precise compression of the tibia, does not affect knee movement, easy to wear, can be used on both left and right legs. Can be used for sports protection, warm health care, for arthritis, tendonitis, knee pain, have a certain auxiliary treatment effect. This is a medium strength type.
0
LP
Support Series
0
The open-hole knee protector has the function of a basic knee brace, and is designed to open the humerus to reduce the pressure on the tibia of the outdoor sports knee protector, strengthen the fixation of the tibia, and reduce the friction caused by the movement. It is suitable for patients with tibia problems, such as patella softening, patella shift, etc. In addition, sports with more knee activities are also applicable, such as jogging, climbing and other sports. LP was founded in 1987 in the United States, a wide range of professional protective gear brands in the field of sports protection. This 788 sports double spring-supported knee brace adds a flexible metal spring piece to the inside and outside of the knee joint to increase support and adjust the design to wear. Comfortable.
In the bounce sport, the shin guard is an indispensable protective gear. It has different biasing designs as the knee brace. It is roughly divided into a strap-type shin guard, an elastic fabric shin, and a synthetic rubber shin. The strap-type ankle guard is divided into six-character cross straps and horizontal straps. It is suitable for people with sprains, fractures, fractures, postoperative recovery, etc., or frequently jumps and falls, shifts and shifts the movement, for habituality. The lame, the inside and the outside, the ligament relaxation plays a very good protective support. The LP 757CA is fixed across the ankle opening, and the inner flap of the ankle and the ankle can relieve the double impact of weight and speed. The 8-shaped winding of the telescopic strap securely fixes the ankle for high-intensity exercise. LP SUPPORT, referred to as LP, is currently one of the most widely used professional sportswear brands in the world. This LP757CA ankle is made of CoolPrene, which is breathable, warm and massage-like. The diamond-shaped embossing design fits the skin and effectively controls muscle extension. The inner flap of the sticker and the ankle can alleviate the double impact of weight and speed. The 8-shaped winding of the telescopic strap securely fixes the ankle for high-intensity exercise.
The elastic fabric ankle is also a familiar style. The special elastic fabric makes the protective gear and the ankle fit more, and the pressure is applied to the ankle joint to provide comfortable protection. The choice of the shoes is also very convenient. The LP CT11 is lightweight and versatile, with a powerful mesh technology that stabilizes the ankle movement; the breathable, porous fabric adds comfort to the wearer. LP SUPPORT, referred to as LP, is currently one of the most widely used professional sportswear brands in the world. This ankle sheath is a series of LP potential excitation products. The sheath is located on the back of the ankle joint. It can effectively stabilize the ankle joint during exercise and achieve protection and support. According to the ankle joint contour design, it is more suitable and free to move. The instep area of ​​the ankle joint is covered with a breathable mesh to increase the breathability during wear and enhance comfort. Four colors, multiple sizes are available.
LP Obi protective gear, the English name is LPSUPPORT, referred to as LP, one of the professional protective protective gears widely used in sports protection. It is produced and sold by LAPOINTIQUEINT'LLTD. of the United States. It was founded in 1987 in Seattle, USA. Over the past 20 years, OBI has established 53 distribution points around the world, covering more than 60 countries in North America, Central and South America, Europe, Middle East, Asia, South Africa, Australia and Russia. Professional protective gear brand. Unlike ordinary knee pads, LP's knee pads are attached with flexible metal springs on the inside and outside of the knee joint to increase support. They can maintain knee stability and absorb shock during up and down slopes or frequent jumps. . The front opening design not only dissipates heat but also prevents sacral movements. The adjustable design adjusts the degree of restraint of the knee pads from person to person to avoid damage caused by improper force. For knee injuries, providing good warmth, support, and healing benefits. The middle dome is hollow, and it does not compress the kneecap and avoid displacement when worn. It is used for knee and joint injuries. Suitable for sports.
0
Rehband Rx CrossFit Games Knee Sleeve
Rehband Leibangte is a protective gear brand from Europe. The famous brand is inseparable from the CROSSFIT movement. The reason why it can be favored by high-intensity CF athletes is inseparable from the core value of the brand itself. The knee pads made of neoprene and reinforced stitching can better protect their joints, while giving strong support and moderate rebound to ensure the safety of joints after weighting, which is not possible with general knee pads. Nowadays, some fitness "old birds" can be seen in the country. If your knees are used too frequently, it is recommended to buy a professional "insurance" for your knee pads.
As we all know, Europe has always been the birthplace of sports protection products. Sports fitness is a normal life of many Westerners, and its targeted research began as early as 60 years ago. With the increasing number of negative cases such as sports ***, many famous European researchers gathered in Stockholm to communicate with famous athletes in various fields, and a brand new sports brand was born – Rehband . "ENABLE YOUR FULL POTENTIAL" "Inspires vitality and creates potential", Rehband, a slogan, is particularly important in the emerging sports and fitness market. In China, CrossFit, a popular American hot and hot training program, has quietly emerged in the first-line fitness market. As a partner of CrossFit Game, I came to the Chinese fitness market in 2016. It has received wide acclaim, especially in gym training, running training, powerlifting, and Austrian as well as many high-load training programs. The RX series continues the rigorous quality of the REHBAND brand. We combine more than 60 years of R&D experience with training theory. After many designs and a large number of actual evaluations, we have a better combination of product form and function. The REHBAND RX series of knee pads are powerful compression products that are anatomically designed and comfortable to wear, helping to enhance stability during exercise, reduce joint wear during exercise, and relieve pain from excessive exercise.
This kneepad is specially designed for crossfit. It is made of styrene-butadiene rubber/neoprene rubber material. It has excellent protection and ergonomic design. It can support fixed points in a reasonable position, and it can be done in strength training such as squatting. Crossfit wod's high-intensity, interval-free training, its fixed protection does not affect the completion of the action. It is very suitable for use in sports. However, due to the poor permeability of the material styrene-butadiene rubber/chloroprene rubber material, it cannot be worn for a long time. Once a large amount of sweat is produced, the skin wrap will be hot and unpleasant.
0
CopperJoint Compression Series
The CopperJoint compression guard looks high-end in appearance, with a "black gold" two-tone look and an ergonomic design that fits into the full range of sports. Mainly to enhance blood circulation, maintain arm temperature and muscle tightness, so that it can not be pulled or cramped during strenuous exercise. It also helps relieve joint and muscle pain and minimizes sports injuries. Its unique nylon material is light in weight and strong in elasticity and excellent in perspiration. The compression arm guard is also a common B-lifting device in the gym. In addition to the high value, this model also brings practical protection. It is no wonder that the sales and reputation in Meiya are very good.
0
0
Venom Challenger 2.0 Boxing Gloves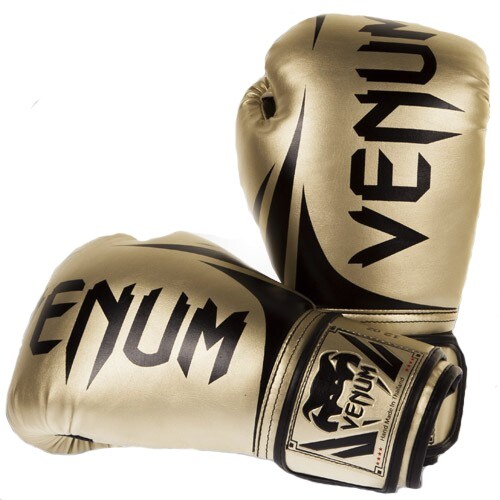 Venum Venom is a well-known brand of comprehensive fighting, covering a wide range of products, including fighting clothing, fighting training equipment, etc. Its products are fashionable, innovative in design and high in quality. Once they are on the market, they are deeply loved by global fighting fighters. Venum also reached a cooperation agreement with Kunlun, the domestic fight fighting event. This recommended Venum Venom Challenger 2.0 series boxing gloves, which is highly cost-effective, is popular among boxing enthusiasts. The use of high-quality PU fabric skin, durable, improve the life of the glove; the interior is a triple density foam core, providing better shock absorption, more thoughtful protection, Velcro can better fix the wrist and reduce injuries risk.
The protective gear can play a role of prevention and protection, so friends who often exercise should also choose the right protective gear according to their needs. Here, Xiaobian introduces a small part for everyone. There are also many choices about brands and protective gears. For example, LP, McDavid, BAUERFEIND, AQ, Mueller, FUTURO, etc. are all good brands, and you can choose Decathlon for cost-effectiveness. You are also welcome to share your thoughts in the comment area and give more friends a reference.
0
0