The Best Speakers and Soundbars of 2019
Buy the top Bluetooth, budget and bookshelf speakers (and more) for your home
Polk Audio PSW10 10-Inch Powered Subwoofer
The Polk Audio PSW10 comes with a warning for its power. Seriously, this 10-inch powered subwoofer has the capability of emitting 85 decibels (dB), which is more than a freight train.
Why Polk Audio PSW10 10-Inch Powered Subwoofer? Best Home Audio Subwoofer
The Polk Audio PSW10 is equipped with one 10-inch polymer-composited dynamic balance cone driver to deliver a fully balanced explosive sound. It is designed with laser-based Klippel measurement technology for improved linearity and deep, precise sound.
Design and Features
It's a big one too: the unit measures at 14 x 14.38 x 16.12 inches and weighs 26 pounds. Due to its sheer power, the PSW10 has a non-resonant all-MDF enclosure construction with 0.75-inch-thick baffles and internal bracing so you won't break the system at maximum volume. But just in case you do, Polk Audio provides a five-year warranty for the PSW10. With a bandwidth of 40Hz to 200Hz, 50 watts of continuous power and up to 100 watts of dynamic power, the subwoofer does a magnificent job at filling the bottom end of your home theater system.
0
Best Budget: AXESS SPBT1031 Portable Bluetooth Speaker
Why AXESS SPBT1031 Portable Bluetooth Speaker? Best Budget
Coming in at under $20, the Axess SPBT1031 still packs in plenty of special features. These speakers are small but remarkably powerful, with two two-watt horn outputs and a five-watt subwoofer. It also has a frequency range of 100 Hz and 20KHz and delivers up to 4ohms.
Design and Features
The Axess weighs 2.9 pounds and measures 11.5 x 6.3 x 6.7 inches, making it easily portable and suited for both indoor and outdoor use. It even comes with a handy shoulder strap for easier transport. The device is Bluetooth-enabled and has a range of 32 feet. For non-Bluetooth devices, there's also 3.5mm auxiliary jack so you can directly connect it to your phone or other music player. The battery is also pretty impressive, promising at least 14 hours of playback on a single charge.
00
Best Studio Audio Monitor: Mackie CR Series CR3 – 3″ Creative Monitors
Why Mackie CR Series CR3 – 3″ Creative Monitors?
Best Studio Audio Monitor
For the person who requires studio-quality sound and performance for their multimedia creations, spring for the Mackie CR Series CR3 — this studio audio monitor won't cost you an arm or leg either. At six pounds and measuring 11.5 x 8.5 x 15.3 inches, the Mackie CR Series CR3 is the largest speaker set on the list. The speakers emit an ultra-wide frequency range perfect for full-range multimedia, pumping out 80 HZ to 20 kHz – you'll be able to hear pin drops.
Design and Features
The 50-watt integrated amplifier, precision designed high-frequency waveguide, premium transducers, and all-wood cabinet design make for an acoustic sound that will capture everything bit of audio. You don't need to turn the audio up too high, as the small stereo tweeters coupled with bottom heavy sub create a balanced sound without mumble. Two professional-grade isolation pads are included, so you can minimize unwanted bass buildup and also tilt the monitors up or down for more focused listening. No, it doesn't come with the fancy out-of-box Bluetooth connectivity, but it does include all the wires you need: a 1/8" stereo RCA cable for connecting your computer's audio output directly to you monitors, a 1/8" to 1/8" cable for your smartphone, and the 6' speaker-to-speaker cable so you can connect the left/right speakers together.
0
Best for Office Desk: JBL Charge 4
Why JBL Charge 4? Best for Office Desk
Measuring 4.9 x 5.9 x 10.8 inches, the JBL Charge 4 is capable of connecting up to three devices in total (smartphones, tablets, etc.) directly to the speaker through Bluetooth technology. The JBL offers up to 20 hours of playtime, thanks to a 7800mAh battery, as well as IPX7-rated waterproofing.
Design and Features
The Charge 4, same as the previously popular and cheaper JBL Charge 3, provides a deep bass response and can sit both horizontally or vertically (but horizontal is the best placement for maximum audio performance). And it's more than just a music player: You can even take conference calls directly from the JBL. The noise and echo-canceling speakerphone add crystal-clear calling directly from your smartphone. Aside from audio performance, the build quality of the Charge 4 is both durable and sturdy enough to throw into a backpack for a weekend getaway since it weighs 3 pounds.
0
Best for Office Desk: Libratone ZIPP Mini 2 Speaker
Why Libratone ZIPP Mini 2 Speaker? Best for Office Desk
The Libratone ZIPP Mini 2 Speaker has 360 degrees of FullRoom audio with a four-inch woofer, dual one-inch soft dome tweeters and two four-inch low-frequency radiators. The Zipp Mini makes audio playback easy via Bluetooth or Wi-Fi connectivity, as well as AirPlay 2 on iOS, DLNA on Android or Spotify. With more than 10 hours of battery life, the Zipp Mini can more than get through the length of a standard workday. A convenient carrying handle makes moving the Zipp Mini around a desk incredibly simple. The speaker also doubles as a speakerphone for conference calls.
0
Best for Karaoke: Ion Audio Party Rocker Express / Max
Why Ion Audio Party Rocker Max? Best for Karaoke
Make your speakers the life of the party with the Ion Audio Party Rocker Max. The front grill's LED grid and lighted dome disperse a shower of dazzling color over the dancefloor. This 100-watt speaker packs a powerful punch, with an eight-inch woofer and a wide-dispersion tweeter that produce a pumping bass and rich sound.
Design and Features
The Ion Audio speaker promises 75 hours of playback and has a rechargeable battery to keep the good times going. It's Bluetooth-enabled, so you can access your carefully-curated party playlist from a phone or tablet, as well as a 3.5mm aux input for non-Bluetooth devices. As an added bonus, the Party Rocker Max has dual microphone inputs for karaoke. Even with all these features, it's easy to transport thanks to the built-in wheels and telescoping handle.
0
Best for Outdoor: Fugoo Tough Portable Rugged Bluetooth Speaker
Why Fugoo Tough Portable Rugged Bluetooth Speaker? Best for Outdoor
The FugooTough Portable Rugged Bluetooth Speaker offers exceptional sound with a durable build. Powered by eight symmetrically placed drivers, four tweeters, two mid/sub drivers and two passive radiators, the 360 degrees of sound coming from the Fugoo is outstanding. The IP67 rating means the Fugoo can withstand three feet of water submersion for up to 30 minutes and even has dust, mud and shock protection. In addition, there's a 40-hour of battery life and the internal power doubles as a portable power bank for quickly charging phones or tablets. For Apple and Google device owners, Siri and Google Now control are both built in for quick voice commands. The full duplex speakerphone also assists with hands-free calling.
0
Runner-Up, Best for Outdoor: Cambridge SoundWorks OontZ Angle 3 / 3 Plus
Why Cambridge SoundWorks OontZ Angle 3? Best Budget for Outdoor
With two precision acoustic drivers and a triangular shape that enhances audio clarity, Cambridge SoundWorks' OontZ Angle 3 delivers crystal clear sound whether you're streaming music at the beach, in your dorm room or in the shower. The ultra-portable speaker weighs less than 10 ounces, measures 2.76 x 5.24 x 2.52 inches and features a proprietary passive bass radiator design that ensures distortion-free sound — even at the loudest volume.
Design and Features
The speaker is IPX5 water-resistant, rainproof, sand-proof and splashproof and can play at two-thirds volume for up to 12 hours. Via Bluetooth, you can connect to tunes on a variety of devices including iPhones, tablets, laptops, Chromebooks and Amazon Echo, as well as non-Bluetooth devices with an AUX cable. Customers say that the speaker pairs easily and quickly and plays better than Bluetooth speakers more than three times the cost.
Want richer bass and louder volume? Then choose OontZ Angle 3 PLUS.
0
Best Wireless/Bluetooth: Marshall Kilburn Portable Bluetooth Speaker
Why Marshall Kilburn Portable Bluetooth Speaker?
Best Wireless/Bluetooth
With a design that's more classic than contemporary, the Marshall Kilburn Portable Bluetooth Speaker is a superb choice for audio fans who want a unique look. Powered by dual 3/4-inch dome tweeters and a lone four-inch woofer, the Kilburn adds a sound that lives up to its rock 'n' roll promise.
Design and Features
Weighing under seven pounds, the Kilburn remains light enough to move around and has a top carry handle. Unlike today's speakers that offer fine-tuning via an app or touch controls, the Marshall sticks with an analog knob to fine-tune the sound coming from your Bluetooth-enabled smartphone, tablet or computer. The Kilburn has nearly 20 hours of battery on a single charge. This year, Marshall has released the second generation Kilburn II, which is bigger in size but lighter. And the material is more durable (even though not so aesthetically classic as original), with new waterproof feature.
0
Best Party Speakers: Sony XB41 Portable Wireless Speaker
Why Sony XB41 Portable Wireless Speaker? Best Party Speakers
Measuring 5.3 x 12.7 x 7.4 inches and size and weighing 1.6 lbs, the Sony XB40 Portable Wireless Speaker has the ideal size and sound for taking to parties, and the LED color is fantastic. Boosted by the inclusion of Sony's EXTRA BASS and ClearAudio+ technology, the XB41 offers automatically adjusting audio for even deeper bass. The XB41 can connect and stream to nearby devices via Bluetooth, NFC, as well as LDAC technology.
Design and Features
Frequency Transmission ranges from 20 Hz to 20000 Hz. As a bonus, the XB41 can connect to additional XB41 speakers via a wireless party chain connection for creating true stereo sound. When it comes to audio playback, rest assured that there's more than enough juice inside the XB41 for more than 24 hours of battery life on a single charge. For a little extra flair, Sony adds a multicolored line light and a flashing strobe for after-hours playback, as well as IP67 dustproof and water-resistance.
0
Our Fav Soundbars
Improve your TV's audio without spending a fortune
0
Most Popular: Nakamichi Shockwafe Pro 7.1
Why Nakamichi Shockwafe Pro 7.1? Most Popular
Forget rigging up multiple budget soundbars to create makeshift surround sound. The Nakamichi Shockwafe (yes, that's wafe — not wave) Pro 7.1 soundbar is here to get the job done. Serving up an eight-inch wireless subwoofer and dual rear satellite speakers, the soundbar adds true surround sound. All totaled, there are 11 speaker drivers and 400W of room-filling sound for a theater-like experience. At the heart of the soundbar are four 2.5-inch full range drivers on the left and right sides followed by dual 2.5-inch drivers in the center. Each satellite speaker features an extra 2.5-inch driver and silk dome tweeter along with one-inch drivers for left and right channels. Combined with the subwoofer's eight-inch side firing driver, the soundbar system fills up a medium to large room with no issue.
Design and Features
Measuring 45 inches in length, the soundbar isn't the smallest in the category but it can comfortably rest beneath any 50-inch or larger TV. Controlling the sound while sitting on a couch or chair is done via the included remote. The rear of the soundbar features connectivity options including dual HDMI 4K pass-thru inputs as well as optical, coaxial, and analog inputs.
0
Best Overall: Vizio SB4551 SmartCast
Why Vizio SB4551 SmartCast? Best Overall
Packed with features, Vizio's 45-inch SB4551 SmartCast measures just two inches high and two inches deep and has a style that's both sleek and clean. As one of the only 5.1-channel surround-sound soundbar manufacturers, The Vizio SB4551 has four-inch drivers in the right, left and center the speaker. The inclusion of Google Cast offers the same technology as Chromecast and provides access to millions of songs, podcasts and streaming directly over Bluetooth or 802.11n Wi-Fi.
Design and Features
The audio can get as high as 103dB, thanks to the eight-inch subwoofer that comes in a flat black box (it's best stashed underneath a sofa or chair providing corded access to the rear satellite speakers and their surround sound). The system is best utilized from the SmartCast app, which is intuitive and offers fine-tuning of the bar through easy-to-navigate system settings.
0
Best 4K: Sony CT800
Why Sony CT800? Best 4K
Sony's 2.1-channel Sony CT800 is a must-own if you have a 46-inch or larger 4K TV. The lengthy 41-inch soundbar offers a near utilitarian black design that can fit unobtrusively underneath your TV, be wall-mounted or work well propped up with the included foot stands. The built-in Google Home means you can control volume, skip to the next track or stop audio altogether without lifting a finger. Sony also adds support for Google Cast, which allows more than 100 audio apps to stream directly from your smartphone or tablet. Beyond streaming via Google, NFC or Bluetooth, the highlight is the 4K HDR compatibility with HDCP 2.2. Dolby TrueHD and DTS-HD audio format support are also included. If you feel like to splurge and want the best high-end sound quality, then Sony HT-X9000F Dolby Atmos and Wireless Subwoofer is one amazing choice.
0
Best Value: Bose Solo 5 TV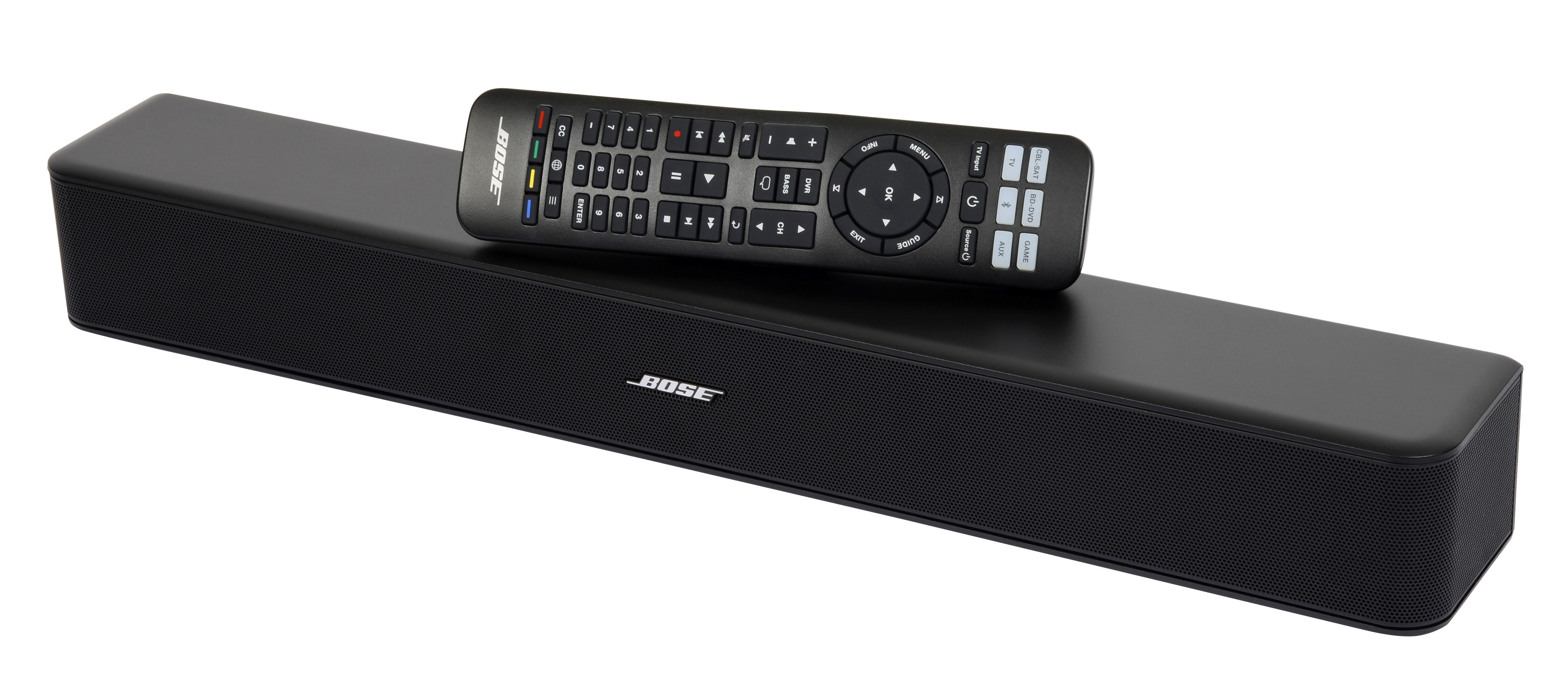 Why Bose Solo 5 TV? Best Value
The Bose name requires little introduction in the audio world, and the Bose Solo 5 TV soundbar is a superb value for the quality of sound. Measuring 21.5 inches in length, the wall-mountable Bose is a one-piece soundbar that features no buttons since all controls are handled by the included universal remote. The controller manages the Bose unit, but can also take command of your Blu-ray player, connected Bluetooth devices (not including phone) and gaming systems.
Design and Features
Setup is super simple with a lone audio cable connecting the Solo 5 directly to your TV. Beyond setup, features such as Dialogue Mode make the Bose standout with improved speech quality helping to make every spoken word easier to understand. Additionally, the Bose provides extremely flexible placement options, including underneath the TV, on a shelf or even mounted directly on the wall with an optional mount (sold separately).
0
Best Budget: AmazonBasics 2.1-Channel Bluetooth
0
0
Why AmazonBasics 2.1-Channel Bluetooth?
Best Budget
If you want an audio upgrade to your TV sound without emptying your wallet, the AmazonBasics 2.1-channel Bluetooth soundbar is a great choice. The 31.5-inch soundbar offers a built-in subwoofer that totals up to 100dB of power and three different modes (standard, news, and movie) to find the best experience for delivered sound.
Design and Features
Standard mode will offer straight out-the-box settings, news mode offers more intelligible dialog and movie mode provides optimal acoustic performance for soundtracks. The included Bluetooth v2.1 tech offers the opportunity to stream video or music from either a smartphone, tablet or computer up to a range of 10 meters. Amazon conveniently includes a remote control for controlling audio right from your sofa. The sound won't knock your socks off, but, for the price, the AmazonBasics soundbar will perform far better than your TV.
0
Best Sound: ZVOX SB500 SoundBar
Why ZVOX SB500 SoundBar?
Best Sound
Don't let the non-brand name fool you. The ZVOX SB500 Soundbar packs powerful sound that's well worth a listen. Designed to work with televisions sized 50 to 90 inches in length, the 43.9-inch length of the ZVOX is well within the norm. Packed inside it are three two-inch full range speakers and dual four-inch subwoofers. A 140-watt class D digital amplifier assists the soundbar with finding its own natural sound. ZVOX's MegaBass feature eliminates the need for an external subwoofer by utilizing digital processing tech to produce powerful bass.
Design and Features
Whether it's placed vertically or mounted on a shelf, the sound of the ZVOX will not be diminished. While many soundbars focus on musical audio, the ZVOX is second-to-none in its category for dialogue enhancement. AccuVoice technology incorporates the same technology found in hearing aids to deliver crystal-clear voices. Output leveling works to reduce the annoying sound of too-loud commercials by making loud sounds softer. Multiple inputs serve as homes for a variety of third-party audio devices including Chromecast or a multi-zone Wi-Fi audio system.
0
Best Subwoofer: Polk Audio MagniFi Mini Soundbar System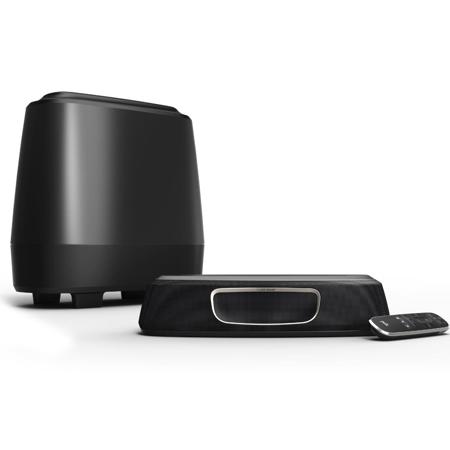 Why Polk Audio MagniFi Mini Soundbar System? Best Subwoofer
Dismissing the small size of the Polk Audio MagniFi Mini soundbar system would be a mistake; it may be just 13.4 inches, but the soundbar serves up room-filling sound. Incorporated into its diminutive package are dual 0.5-inch tweeters and four 2.25-inch drivers. The 14.5-inch tall subwoofer adds a key component to the soundbar system delivering the kind of deep bass you can feel. Driving the audio experience is Polk's exclusive Voice Adjust technology. By increasing volume and vocal clarity for crystal-clear dialogue, the Polk Audio MagniFi Mini works whether you're listening to action scenes, a rom-com, or the big game.
Design and Features
Set up in minutes, the soundbar's universal compatibility connects to a TV, cable box, or satellite IR remote control. Wireless connectivity through Wi-Fi and Bluetooth enables third-party support for devices like Chromecast, Google Home, and Roku. Additionally, the Wi-Fi works for streaming music from a smartphone or tablet. Streaming options like Pandora, Google Play Music, and Spotify can also connect via Bluetooth. All of the functions are controlled via a remote that manages volume, input, and sound modes.
0
Razer Leviathan Gaming & Music Soundbar
0
Why Razer Leviathan Gaming & Music Soundbar? Best for Gaming
Although Razer is synonymous with PC gaming thanks to its wildly popular laptop lineup, it's no surprise to see one of the brand's soundbars top the charts. The Leviathan, the company's elite gaming and music 5.1 soundbar, measures a mere three inches high, making it unobtrusive in front of a monitor. Contained within its small frame are two 2.5-inch drivers and two 0.74-inch tweeters that produce booming sound. The 10-inch high subwoofer adds an extra 5.25-inch downward firing subwoofer with two full-range drivers and tweeters. Combined together with aptX technology, audio quality on the Razer is downright exceptional. That's good news for gamers who want room-filling sound with each fired shot or mission passed.
Design and Features
Disappointingly, the soundbar lacks a remote control which reduces its use to just more than a few feet away. Without a third-party application for smartphones, the only way to control volume or input is directly from the soundbar. That might be a hiccup for anyone who wants to use this in combination with a television. For PC gamers, it's unlikely to be much of a drawback. What the soundbar does offer is NFC technology for fast pairing with smartphones or computers connecting via a single tap.
0
What to Look for in an Affordable Soundbar
Design – Unlike surround sound speakers that can be tucked away, a soundbar is meant to sit front and center in your home. Luckily, soundbars are generally sleek, attractive pieces of technology — just look for one that'll match your existing setup.
Sound quality – When possible, always listen to a speaker before you buy it. However, if you're shopping based on specs alone, look carefully at a soundbar's sensitivity rating (how loud it can get) and its frequency response (how high and low it can play). For an average speaker, the sensitivity rating should be around 88 to 90 dB, and a solid frequency response would be 65Hz to 20kHz.
Size – Soundbars come in a wide array of lengths, but the size you need will depend on the size of your TV. In general, for a 42- to 50-inch TV, you'll want a soundbar measuring 38 to 45 inches; for a 50- to 55-inch TV, you'll want a 50-inch soundbar; and for a 70-inch TV, buy a soundbar around 60 inches long.