The Best Stereos For Small Spaces And Bookshelf Speakers in 2019
Our Fav Stereos For Small Spaces
0
Yamaha MCR-B020BL Micro Component System
0
Why Yamaha MCR-B020BL?
If you don't have much room to work with in your apartment or house, but still want a well-rounded sound system, the Yamaha MCR-B020BL is the perfect stereo for you.
Design and Features
The Yamaha MCR-B020BL Micro-Component System has all the features and booming sound you'd want in a stereo, but it only measures 11 x 11.9 x 5.6 inches and weighs 6.9 pounds. This unit offers incredible flexibility for however you want to enjoy your music, with a CD player, AM/FM radio, Bluetooth connectivity and an AUX input. And there's even more flexibility, as the two speakers on the side of the console detach so you can position them elsewhere or create a surround-sound effect. Despite its compact size, it can still fill the room with sound and offers up deep bass, clear mids and splashy highs.
0
Klipsch ProMedia 2.1 THX Computer Speaker System
0
Why Klipsh ProMedia 2.1? Best Sound Quality for Computer Desk
The ProMedia 2.1 THX-Certified, three-piece computer audio system from Klipsch transforms your desktop into a high-performance audio entertainment center. Two 35-watt satellite speakers deliver full-bodied stereo sound, while a floor-thumping 130-watt subwoofer provides low-end slam from your favorite music, games, and movies, reaching down to an impressive 31 Hz.
The satellites' exclusive Klipsch MicroTractrix horn maximizes clarity and high-frequency dispersion from CDs, MP3s, streaming radio programs, and other audio. The high-output, digital-hybrid-amplifier-driven ProMedia 2.1 offers a convenient headphone jack and dual stereo analog inputs, one for a more or less hard-wired connection from your computer's line or headphone output jack, the second to accommodate a portable audio device such as an MP3 or minidisc player/recorder.
Klipsch operates with a philosophy that demands accuracy in every aspect of sound reproduction, which–in the case of the ProMedia 2.1–has resulted in THX Certification. THX is an exclusive set of standards established by the world-renowned film production company, Lucasfilm Ltd., and products undergo rigorous quality and performance tests in order to receive this certification.
0
Logitech Z623 400 Watt Home Speaker System
0
Why Logitech Z623? Best Value
This THX-certified 2.1 speaker system brings your music, movies and games to life in immersive studio-quality audio. 400Watts of Peak / 200Watts (RMS) gives you the power to listen as loud as you want to while the on-speaker controls lets you easily dial the volume and bass up or down. Moreover, RCA and 3.5mm inputs make it easy to plug in up to three audio devices – your computer, iPod, game console, DVD player and more. Two satellite speakers and a powerful subwoofer deliver sound big enough to fill even large entertainment rooms. Most important of all, it is comparatively affordable in price, but you can keep in trust with Logitech's nice manufacturing quality. Of course, you should expect moderate sound quality from this model.
0
Insignia 80W All-in-One Stereo
0
Why Insignia 80W All-in-One Stereo? Best Budget
Insignia is one budget brand, and for the most part, it focuses on entertainment systems. Specifically, Insignia TVs offer a great set of features for the price, without the hefty price tag and bells and whistles. This 80W shelf system seems to do the same for stereos.
Design and Features
The first thing that grabs you is the look: a stout rectangular construction with a vintage-style metallic front plate, held up by four short legs. Even the giant circular dial that controls volume on the front makes it look like a vintage vinyl stereo. With 80W of power — 20W of RMS per channel — it will be plenty for your standard living room setup, and it actually supplies a surprising level of bass. There's a built-in radio tuner for listening to FM/AM stations. It also has Bluetooth connectivity for syncing with your phone or computer, but if you'd prefer a wired connection, there are USB and aux line-in inputs as well. There's a headphone jack for private listening, and with the included remote it's really easy to control. It isn't the most modern option out there, but on looks and connectivity, it's great for the price.
0
Aiwa Exos-9 Outdoor Speaker
0
Why Aiwa Exos-9? Best Indoor / Outdoor
When it comes to outdoor sound, the Aiwa Exos-9 is an attractive option whether it's for a neighborhood get-together or a romantic evening for two.
Design and Features
Powered by 200 watts of sound, five drivers and a 6.5-inch dual-voice coil subwoofer help the Aiwa system deliver exceptional sound. While the Aiwa accepts AC power for endless playback, the inclusion of a lithium-ion removable battery pack allows it to play audio for up to nine hours sans power cord. Beyond battery life, the Aiwa excels at offering you the opportunity to personalize your music listening with an onboard graphic equalizer. It also offers Bluetooth and NFC connectivity technology, as well as a standard 3.5mm audio jack input for a direct connection to the unit.
0
Polk Audio Atrium 6 Outdoor Speakers
0
Why Atrium 6? Best for Indoor / Outdoor Installation
You can install your Atrium 6 Speakers in any large or open space—by a pool, in the patio, the sunroom, halls or office areas. They will deliver great sound for indoor and outdoor, no matter where you set them up.
Equipped with 5 1/4″ Dynamic Balance aerated polypropylene cone, 1″ anodized aluminum dome tweeter provide wider sound and deeper bass. It is at 100W, frequency response as low as 60KHz and PowerPort bass venting. These loudspeakers come with a steeply-angled baffle design which can fill expansive spaces with big full-range sound that is sure to impress. The design lets you mount speakers vertically or horizontally, to deliver the best sound in a variety of situations. Simply mount the swiveling C-bracket, adjust the angle and fasten the speaker with a click.
You can imagine its rugged durability, waterproof, high environmental endurance and superior quality has helped Polk Outdoor Speakers pocket the all-weather Certification.
0
Innovative Technology Retro Stereo
0
Why Innovative Technology Retro Stereo? Best Retro Style
The bedroom stereos of the early 2000s have gone a bit by the wayside, mostly due to the popularization of connected wireless and smart speakers. As such, many of the best options at the entry level price point on Amazon are decidedly cheap, and usually specifically designed to look like something they're not. This Innovative Technology system doesn't provide the best sound quality you can get, but it does offer a surprising number of features, even considering its slightly gimmicky design.
Design and Features
First, the look hearkens back to 80s-era units, supported by the fact that there's a built-in CD player ready to play any collections you've been holding onto for sentimentality's sake. Each of the included speakers is 50W, which should provide a good amount of oomph, and you can choose whether or not to use them with speaker grills. There are even backlit VU meters to show you your sound level and further solidify the retro vibe. There's Bluetooth connectivity, a 3.5mm aux input, an FM radio tuner with 20 presets available, and you can even opt for a turntable added to the unit for true all-in-one functionality. This all comes at a price that's under $70, which is pretty impressive when you consider the costs commanded by older Sony and Aiwa units.
0
Bose SoundLink Revolve+
Why Bose SoundLink Revolve+? Best Design
Somehow, Bose has become a go-to name not only for sound quality but for aesthetically pleasing design, as well. One of the most recent additions to the SoundLink line, the Revolve+ features a cylindrical, kettle-like design — available in Triple Black and Lux Gray — which looks sleek and at-home in your kitchen, bathroom, or bedroom. Plus, a flexible fabric handle on the top means that taking the three-pound speaker on the go is no issue.
Bose promises deep, striking sound, and because the speaker works a circular silhouette, it fires in all directions, giving you 360 degrees of coverage. The seamless aluminum body offers IPX4 water resistance, and the rechargeable battery offers up to 16 hours of straight play time. It works with a wireless range up to 30 feet, connects via Bluetooth, and even employs a built-in mic that allows it to sync up to Google Play and Siri. You can also control it using the Bose Connect app, and if you pair it with a second one, you can create stereo surround sound for larger settings. Having a limited budget? The original version of Bose SoundLink Revolve is now on nice sale.
0
Bose Wave SoundTouch Music System IV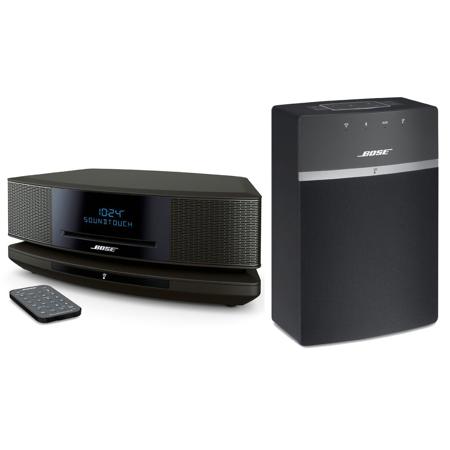 Why Bose Wave SoundTouch Music System IV? Best Quality
The Wave SoundTouch Music System IV pairs with your home Wi-Fi network and Bluetooth enabled devices allowing you to stream just about anything. You can send music from your smartphone or tablet through music applications like Pandora, your music library or YouTube. If you're old school and not familiar with Bluetooth, the system includes both a CD player and AM/FM radio. This is the system that plays it all.
Included with this stereo are six station presets that you can access via on the unit itself or through its included remote control. Virtually any application that allows for Bluetooth connectivity can be streamed to the stereo as well. Bose has its own independent application you can download to your smartphone or tablet so you can organize and control all your music. This makes it easier for you to access your favorite stations, playlists or albums on standby. Like a traditional clock radio, the stereo comes with two alarms.
Since it's a Bose, you can extend your audio channel outputs by pairing it wirelessly with one of the many other Bose Bluetooth speakers available. Included is an AC power cord, USB cable remote control, owner's guide and demonstration CD. It comes with a one-year warranty. If you want the sleeker style of BOSE, then Bose SoundTouch 30 wireless system is a good choice.
0
Jensen JMC-180 Wallmount Speaker
Why Jensen JMC-180? Best Wall Mounting
Jensen is a name that does command a certain amount of respect in the industry, even if it isn't known for splurge-worthy audio quality. Surprisingly, there aren't that many standalone speaker systems that are designed to be mounted to walls. Sure, bookshelf speakers can be hung, and you can even get built-in stereo receivers to put in your wall, but if you're looking for a truly mountable system, the JMC-180 is a pretty good buy for a surprisingly affordable price.
At its core, the JMC-180 is a vertical-loading CD player ideal for wall mounting. It incorporates an AM/FM tuner, alarm functions, programmable features, and a bright, interactive LCD screen. There's an aux input for playing music from an external media player, but we have to admit, we were disappointed not to see Bluetooth included. The accompanying remote runs on AA batteries, and the speakers, while basic and thin, do afford an all-in-one system, without the need to buy extra gear. Plus, this kit comes with all the necessary equipment needed to mount the stereo system right to the wall.
0
Marshall Woburn II Speaker
Why Marshall Woburn II? Best Splurge
Just a few years ago, Marshall started dabbling in the Bluetooth speaker and headphone space, and even though the brand is known for their guitar tech, they've made quite some strides. It's not really fair to call the Marshall Woburn a Bluetooth speaker; it's a full blown stereo cabinet with a great design and some solid features. There are two one-inch tweeters and two 5.25-inch woofers run by class D amps, producing really nice highs and substantial bass. It all amounts to 110 watts of power that come from the warm wooden cabinet. There's Bluetooth 5.0 connectivity for the most modern tech, and they've even included Qualcomm's aptX protocol, a compression algorithm that gives you superior sound quality even when transferred over Bluetooth. There's also an onboard EQ system, an aux input, and the option for RCA to set it up with your entertainment system. Fold that in with an iconic Marshall design and beautiful construction, and you have a great system for your living room.
0
Bose Companion 2 Series III Multimedia Speakers
0
Why BOSE Companion Two Series III? Best On Desk
Love playing music, games and videos on your computer? Wait until you try it with the Companion 2 Series III multimedia speaker system. There is high-quality audio performance, with clear sound at any volume. And the sound is wide, and lifelike. You'll enjoy performance that's significantly better than your original speakers—and it's our most affordable computer speaker system. You can access a world of entertainment on your computer. Bose engineering makes sure you hear it all with just two speakers. Unique digital signal processing produces consistently clear, full sound at any volume. So you'll enjoy your favourite music, videos and streaming content even more than before.
0
Sonos Play: 5

Speaker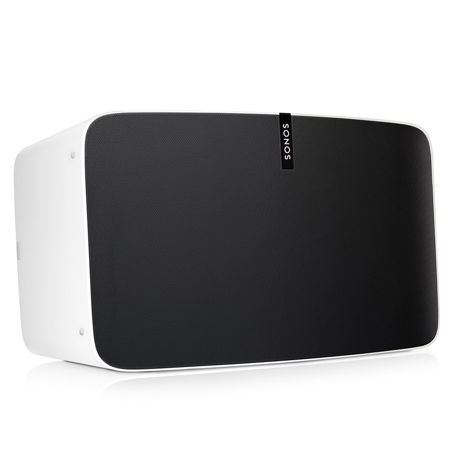 Why Sonos Play 5? Best Wireless
Many tech companies have their own smart speakers. Apple, Amazon, and Google all have entries in the voice-controlled space, and they do, themselves, technically constitute a speaker system. But, if you want superb sound quality and voice-control support, Sonos is the brand to turn to. The Play 5 is their flagship stereo speaker, and it does a lot really well. At its core, it's part of the Sonos Connect protocol, which means that if you have multiple Sonos speakers, you can control them all and play different music between them using the Sonos Connect app. If you have an Alexa, you can control the Sonos Play 5 seamlessly with your voice, too.
There are six dedicated speakers and six independent class D amps that run the system, so there's plenty of depth, body, and volume. Three of those speakers are bass-optimized woofers, allowing for a truly impressive bass response given the unit's small size. And, because it's an app-controlled system, you can access more than 30 streaming services, including Spotify, Pandora, Apple Music, and more. Beyond this, there's also an aux line in for more added control, and you can mount it on the wall should you choose. And the Sonos Entertainment Set Home Theater System, in a compact and sleek design, is another popular choice for small spaces.
0
Our Fav Bookshelf Speakers
0
Edifier R1280T Powered Bookshelf Speakers
Why Edifier R1280T Powered Bookshelf Speakers? Best Overall
These best-selling bookshelf speakers evoke a retro feel with their classic wood finish, but the sound quality is very modern. The combination of grained walnut brown wood and a smart grey speaker grill look great in any room, while the two sets of RCA inputs and easy aux setup make for a flexible option for any sound system.
Design and Features
The active speaker comes with built-in tone control that can adjust treble and bass from -6 to +6db. A remote gives control over volume from across the room, while 100-240v full range voltage input makes it easy to listen. Sound is amazing for the price, thanks to 42 watts RMS power 13mm silk dome tweeters and a four-inch full range woofer. Because you can use this incredible pair of speakers on their own or as part of a larger audio set-up, they are ideal for just about anyone but the most discerning audiophiles.
0
Klipsch R-14M Bookshelf Speakers
Why Klipsch R-14M Bookshelf Speakers? Best Overall
Klipsch, an iconic American audio manufacturer, has designed a remarkable pair of copper and black bookshelf speakers that are guaranteed to put a smile on your face every time you fire them up.
Design and Features
The small, versatile speakers are built with one-inch aluminum linear travel suspension horn-loaded tweeters and a four-inch copper high-output IMG woofer. A proprietary 90×90 Tractrix Horn pairs with the tweeter for crystal clear high-end response, resulting in a dynamic and natural sound. Meanwhile copper-spun Injection Molded Graphite woofer minimizes cone breakup and distortion, creating remarkable low frequency response. Together they produce speaker efficiency and clean sound unrivaled in its price range.
This is all packed in a black polymer veneer cabinet with a rear-firing port with five-way binding posts, so it's ideal for connection flexibility that will work with your setup.
0
Polk Audio T15 Bookshelf Speakers
Why Polk Audio T15? Best Entry Level
This pair of Polk bookshelf speakers has been a mainstay on the market for a few years now, but it is still the best entry-level option. The case is finished with minimalist black polymer veneer, matched by a black mesh speaker grill. Inside, you will find a polymer composite 5 ¼-inch woofer and a silk ¾-inch tweeter that can handle 100 watts at overall frequency of 60Hz-24kHz.
The wide dispersion drivers and tweeters are enhanced by Polk's exclusive Dynamic Balance function that deliver a cinematic wide response and low distortion. The pair of speakers have magnetically shielded enclosures for reduced distortion and improved clarity, while the engineering ensures the speakers work in a synergistic manner, performing complementary tasks for the best sound performance.
0
Klipsch R-41PM Bookshelf Speakers
Why Klipsch R-41PM Bookshelf Speakers? Best Splurge
Klipsch has carved out a reputation for its high-quality audio devices, and the R-41PM bookshelf speakers are no exception, fusing a classic, compact appearance with room-filling sounds.
Design and Features
Measuring just 10" tall and well-suited for integration into many décor schemes, the speakers boast a built-in, custom-engineered amplifier designed to fill your space and create your ideal ambiance. The dynamic volume control adapts based on the human ear's ability to hear different frequencies, providing a new standard of listening experiences, and Tractrix Horn technology aims high frequencies at listeners to minimize artificial reverberation. Thanks to Bluetooth wireless technology, an integrated phono preamplifier, and analog RCA and USB inputs, gone are the days of needing an A/V receiver, opening up the possibilities of connecting the speakers with any of your devices, from turntables to cell phones to televisions. The speakers come with Injection Molded Graphite (IMG) woofer cones that are both light and rigid, but another subwoofer can easily be added to boost low frequencies.
0
Edifier R1700BT Bookshelf Speakers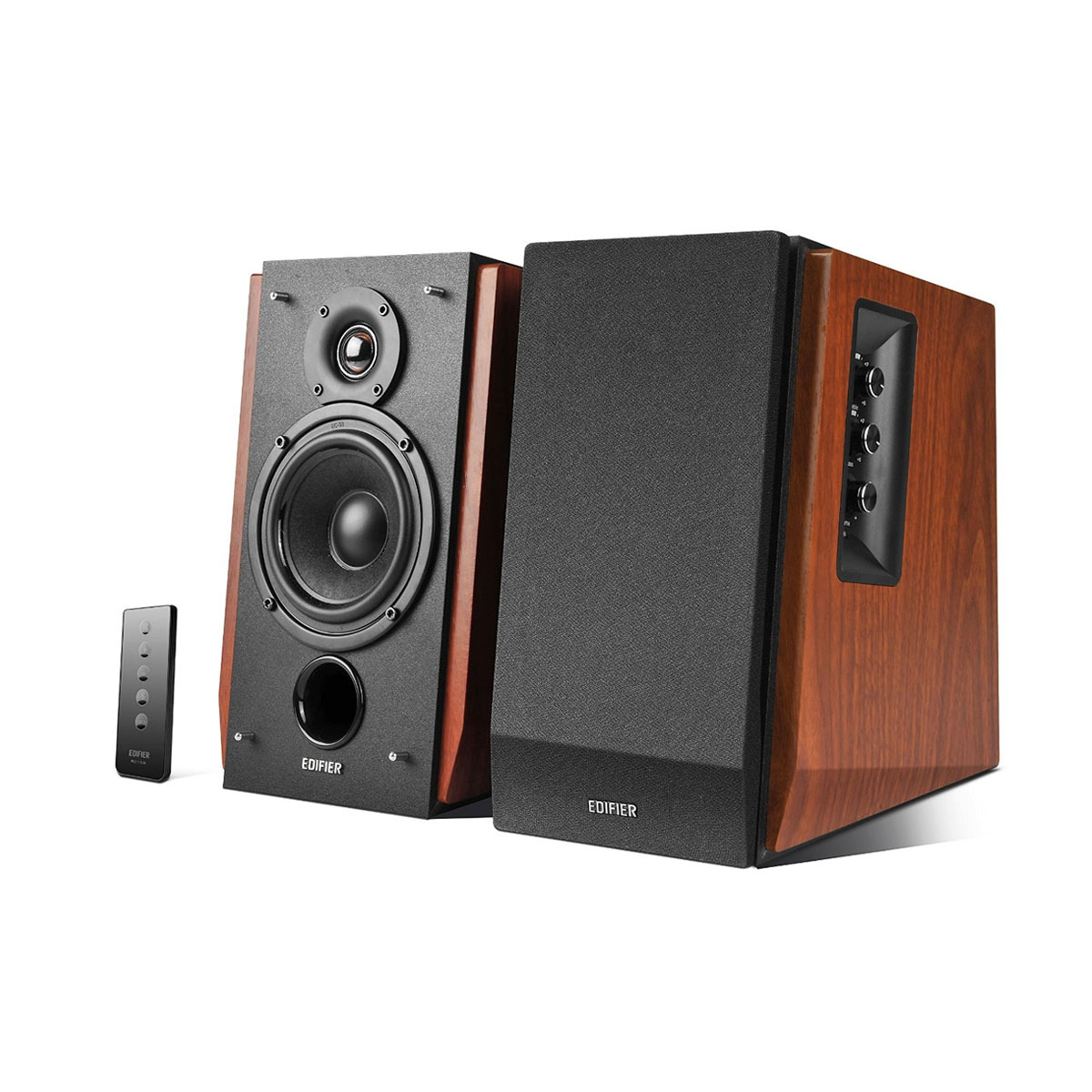 Why Edifier R1700BT? Best Bluetooth
These bluetooth-connected speakers offer a hassle-free wireless audio experience that pairs well with any Apple or Android device. They also have two aux inputs where you can simultaneously connect two devices, as well as a remote to control the action. Inside, clear sound comes from a 19mm dome tweeter and a four-inch bass driver that make for a well-rounded sound. Low frequencies are enhanced by a front-facing bass reflex port, which routes to give more bass power. You have further adjustment options with included digital volume control, including bass and treble adjustment between -6b and +6db.
The pair of speakers are constructed with a classic high quality MDF wood and have an attractive walnut finish. One speaker is active with a five-pin connector to the passive speaker and both include RCA input.
0
Sony SSCS5 Bookshelf Speakers
Why Sony SSCS5? Best Bass
Fill your room with an unprecedented and expansive audio experience with these Core Series speakers from Sony. They feature a three-way, three-speaker bass-reflex system that stays in harmony with your room, whatever its layout may be. The speakers are constructed with foamed mica woofer diaphragms that deliver supple sound and balance low weight with powerful and deep bass response from a 5-¼-inch foam woofer. The woofer is complemented with a one-inch polyester main tweeter and a ¾-inch Sony Super Tweeter. The super tweeter delivers ultra-responsive high-frequency audio up to 50kHz. The speakers have a 100-watt max input power that delivers clear and powerful audio.
0
Polk Audio Signature S10 Speakers
Why Polk Audio Signature S10? Best Compact
Polk Audio is known for being a reasonably affordable brand, but the Signature S10 line comes in at a slightly higher price point than normal. This pair of satellite speakers offers you a great look in a compact size, whether you're using them as a small pair of bookshelf speakers or as part of a larger surround system. There's a four-inch, mica-reinforced woofer that will pack a good amount of oomph and a one-inch high-definition tweet that adds presence and punch. Pair that with Polk's engineered audio power to bolster the chassis with directional sound support. and you have a really powerful system. It's easily mountable, too, with a threaded screw insert and keyhole slots so you can add this speaker to any system or living room setup — whether you have a shelf or not.
0
Micca MB42X Bookshelf Speaker
Why Micca MB42X? Best Passive Bookshelf Speaker
Passive speakers require an amplifier or stereo receiver, but if you are ready to build a complete audio center, these budget bookshelf speakers are a great option.
Design and Features
The speakers are built in a ported enclosure that balances a four-inch woven carbon fiber woofer with a .75-inch silk dome tweeter. They also contain a 12dB crossover and baffle step compensation, creating a balanced and dynamic sound that faithfully reproduces highs and lows.
The tweeters and woofers are housed in a classic back polymer casing with a mesh grill. The sophisticated design looks great in any room, while the frequency response of 60Hz-20kHz and impedance of 4-8 ohms sounds great.
0
Monoprice Retro Bookshelf Speakers
Why Monoprice Retro Bookshelf Speakers? Best Design
If you don't know about Monoprice, then you're missing out on an entire site's worth of amazing products for affordable prices. What's extra cool about Monoprice's speaker line is that they take their direct-from-manufacturer pricing and get creative with the products themselves.
Design and Features
The cross-hatching on the grill of these speakers harkens back to a time of records and console systems. But don't let the look fool you — these speakers have plenty of modern features. There's a four-inch polypropylene woofer to add richness to the central sound spectrum and there's a one-inch silk tweeter for sparkling highs. The system covers you from 65Hz to 20kHz, so you'll need a subwoofer to cover the bottom end, but otherwise, you're good. It operates via a quarter-inch balanced input and it ships with the mounting system ready to go on the back. Plus, that great design also offers rugged construction, which — paired with the one-year Monoprice warranty — will ensure these speakers are adorning your system for a long while.
0
What to Look for in Affordable Bookshelf Speakers
Powered vs. passive – Check to see whether the speakers you are purchasing are passive or powered. A set of powered speakers can be plugged into the wall and begin working immediately. However, a pair of passive speakers will require you to purchase an additional amplifier to get them to produce sound.
Size – With speakers, sometimes size does matter. While you might be inclined to search out the smallest and cutest pair you can find, know that a larger couple will generally offer fuller sound. Additionally, as bookshelf setups typically lack a subwoofer, you will be relying on your two speakers to produce sufficient bass.
Bluetooth – Do you want to stream music from your smartphone or computer? Check to see if the speakers you are seeking offer Bluetooth streaming built in. The wireless technology will allow you to send music from any modern device to your speakers with the push of a button.
0
What to Look for in a Stereo for a Small Space
Connectivity – When shopping for a stereo, think about how you'll be listening to music. Do you love showing off your CD collection or are all your tunes on your smartphone? If they are, what kind of connectivity options do you have on your phone? Take a look at your music library and purchase a stereo that will play all the music you want it to — in all the formats you have.
Footprint – Because space is a major consideration for this purchase, pay attention to how much room the stereo takes up. While all the systems on our list are small, those without built-in CD players or AM/FM radios are by far the smallest. Translation: if you don't need those features, you can likely buy a more compact stereo.
Sound quality – Sometimes, small speakers have incredibly poor sound quality. While that's not a problem with any of the speakers we've selected, audiophiles may be more choosy. If getting the best sound quality is a top priority, you may want to opt for a model with a built-in subwoofer.