The Best True Wireless Earbuds to Buy
Apple Airpods (Latest Version)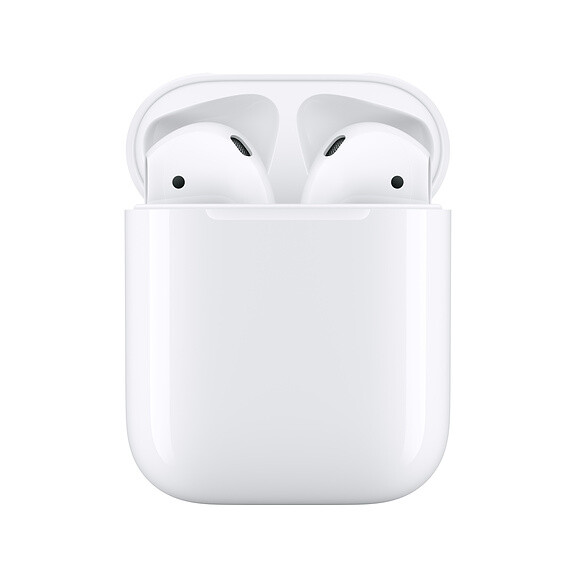 Why Apple Airpods? Most Popular for Applers
Love 'em or hate 'em, Apple's AirPods have stellar connectivity. Their controversial design has been the butt of many jokes, but there's no denying that they have become as iconic as the original wired Apple earbuds. The AirPods sit flush against the side of your face, which helps to keep them in place.
Design and Features
While the sound quality isn't on par with the offerings from high-end audio companies, Apple has hit the good-enough mark. And to be honest, those looking for superior sound quality aren't generally in the market for true wireless earphones. They don't isolate external sound and offer just four hours of playback on a single charge, but their pairing and connectivity are second to none. And no matter how good a pair of wireless headphones sound, if they can't maintain a connection, they're useless. That makes Apple's AirPods a worthy contender. There are wired and wireless versions of charging cases for you to choose, with 40 dollars change.
0
Jabra Elite / Active 65t True Wireless Earbuds & Charging Case

Why the Jabra Elite / Active 65t? Best Controls
While the new Elite / Active 65t drop some fancy features of the previous model, namely a built-in heart rate monitor, the paring down has allowed for a more streamlined design that is smaller and more comfortable.
Design and Features
They are noise-isolating, so while they don't have an active noise-cancellation feature like others, they do passively prevent ambient noise from leaking in. If you're running or biking with these, you can activate the HearThrough transparency feature via the Jabra Sound+ companion app and adjust the amount of sound you wish to let in. You can configure your earphones so that music automatically pauses when you remove the buds and resumes when you put them back in. You can configure your earphones so that music automatically pauses when you remove the buds and resumes when you put them back in. On top of that, controls are a breeze: You can skip and repeat tracks by holding down the volume buttons on the left earbud. It also integrates seamlessly with Siri and Alexa, although unlike on an Amazon Echo, the dual microphones are not always listening, so you have to press and hold a button on the right earbud before you can issue a command.
0
Samsung Gear IconX (2018 Edition)
Why the Gear IconX? Best Battery Life
The updated version of Samsung's Gear IconX makes many improvements over the first-generation model. This time, it nails the basics, like quality sound and a strong wireless connection. Where it blows us away, though, is in the battery life category. It boasts seven hours of continuous playback time when listening locally, though this is closer to five hours if you're streaming over Bluetooth. On top of that, you can get up to an hour of juice in as little as 10 minutes via the charging case.
Design and Features
Samsung also packs on a slew of neat features for athletes, including compatibility with the Samsung Health app. This lets you track your runs through stats like distance, speed and calories burned. There's also an audio coach that reads your current stats and even relays tips like "Lengthening your stride can increase your pace. Give it a try!" All in all, it strikes the sweet spot on features, making it one of our favorite pairs.
0
Jabra Elite Sport Earset
Why the Jabra Elite Sport? Best for Exercise
While the Jabra Elite 65t are a standout set of earbuds, when it comes to exercise, we're giving the edge to the brand's Elite Sport Earset — not just because they sport great quality, but also because they truly embrace the spirit of a wireless set of earphones.
Design and Features
The Elite Sport Earset puts athletes first with a handful of specialized features. First off, they're exceptionally durable and guarantee a waterproof design that protects them from sweat. Standing behind that promise is also a three-year warranty for added peace of mind. When it comes to performance, they offer solid sounds with nice oomph and enough frequency response to cover whatever music you're listening to. One of the coolest standout features — and again, one that embraces the on-the-go nature of true wireless — is their "Hear Through" technology. Once you activate this mode, it'll keep your music going, but will also use external-facing microphones to filter in outside sound and noise. This helps you to stay alert — an especially helpful feature when you're running, biking or walking in a busy area.
0
Anker Soundcore Liberty
Why Anker Soundcore Liberty? Best Budget
Anker has made quite the name for itself with a slew of industry-leading accessories from headphones to Bluetooth speakers and portable phone chargers. Now, the brand's Soundcore Liberty earbuds are one of the best values in the true wireless space.
Design and Features
By employing graphene-coated drivers, Anker affords users a more solid spectrum of sound. You'll get about long hours of play time on a single charge, but you can also get an extra nine hours from the charging case. Those numbers put the Soundcore Liberty earbuds right in the middle of the pack as far as battery life is concerned. The connectivity is also pretty standard, with an automatic stable connection straight out of the case. The earbuds are rated IPX5 for water resistance, which means you can bring them along on a sweaty run, and even use them in the rain. With a refreshingly compact battery case, these are also some of the sleekest earbuds on the market — no matter your budget.
0
Sennheiser Momentum True Wireless Earbuds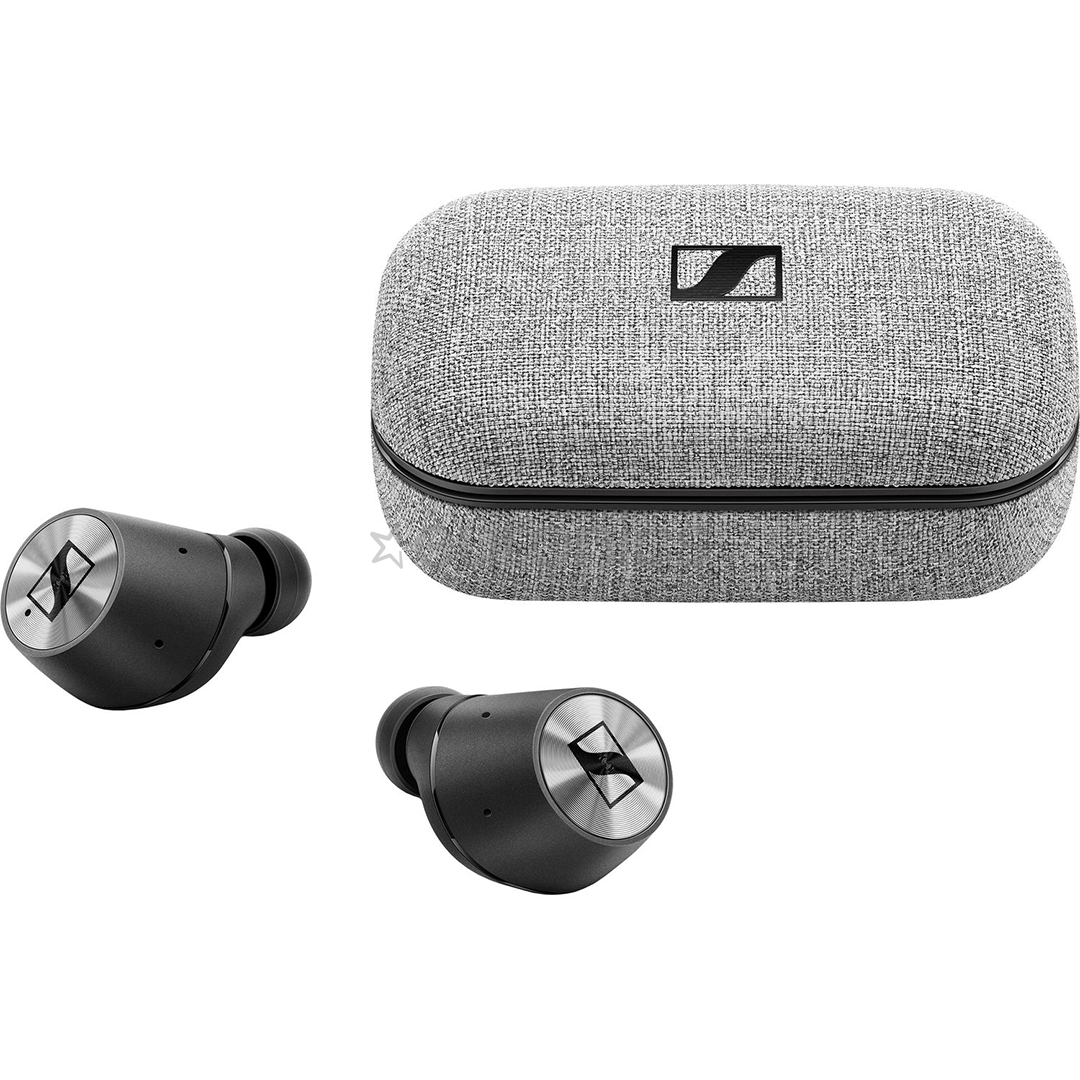 Why Sennheiser Momentum True Wireless Earbuds? Best Sound Quality
Sennheiser entered the true wireless headphone game in 2018, and even though they were late to the party, they introduced a stellar option for those most concerned about sound quality. The Momentum True Wireless Earbuds' 7mm driver is a good deal larger than those in competitor's models, allowing for a fuller, more well-rounded sound profile.
Design and Features
The Momentum True Wireless Earbuds' 7mm driver is a good deal larger than those in competitor's models, allowing for a fuller, more well-rounded sound profile.The capacitors that connect the headphones to the charging points in the battery case are gold-plated, so clearly construction quality was also a priority. With four hours of battery life and an additional eight hours available in the charging case, the battery life isn't the best we've seen, but the built-in controls are quite interesting. Sennheiser has employed a spinnable metal plate that lets you easily control your music or pull up your preferred voice assistant. There are four different sets of ear tips, so the customization of fit is pretty great, and with a nice light metallic gray color and a heathered case, the look of the set is pretty unique, too.
0
B&O PLAY by Bang & Olufsen Beoplay E8 2.0
Why B&O PLAY
Beoplay E8 2.0
? Best Design
The B&O Play true wireless earbuds have a premium design that doesn't come cheap. They feature B&O's signature design details, with no physical buttons but instead touch sensitive pads on each earbud. The leather clamshell carrying case is also a design feat, so beautiful and elegant sleek, offering plenty of protection and two full charges beyond the earphone's promised four hours.
Design and Features
Despite how small they are, they deliver crisp and clear sound with solid bass. We recommend fine-tuning the sound settings to your personal preference via the accompanying app and fiddling with the ear tips to make sure you have a proper seal, but once you've done so, you'll be impressed by the sound this wireless set produces.
Interested in reading more reviews? Take a look at our selection of the best stylish headphones.
0
GoNovate Airo True Wireless Earbuds
Why GoNovate Airo True Wireless? Best Noise-Cancellation
Because the true wireless space is still maturing, there aren't that many options out there that employ active noise reduction. While some Sony and Jabra models offer a bit of ambient noise tailoring, this option from GoNovate might is a refreshing take on the feature. The brand's earbuds offer CVC 6.0 noise cancellation — Qualcomm's call-centric noise-cancelation tech. It's important to note that this technology is meant for phone calls specifically — it isn't really designed to block noise on a flight or in an office.
Design and Features
GoNovate's true wireless earbuds deliver six hours of battery life and the charging case offers an additional 30 hours, making these some of the longest lasting Bluetooth earbuds we've seen. This is partly afforded by Bluetooth 5.0 protocol, which, in itself, is also a great addition. The earbuds' sound quality is middle-of-the-road compared to more expensive models, but GoNovate has also included IP waterproofing and employed an innovative shark fin design which meant to keep them firmly in your ears.
Check out our reviews of the best noise-canceling headphones available on the market today.
0
Jaybird RUN True Wireless Headphones
Why Jaybird RUN True Wireless? Best for Durability
For fitness fanatics, secure fit trumps most other features of true wireless headphones. After all, you don't want to be fiddling with your earbuds every few steps and there's no cord to prevent them from falling to the ground. The Jaybird RUN headphones solve this with a subtle fin design that hooks into the upper groove of your ear and rests so naturally that you'll forget you're wearing them. The sweat-resistant earphones also come with four sets of silicone tips as well as fin accessories, so you can find your perfect fit.
Design and Features
Beyond fit, runners will value the four-hour battery life, bolstered by an additional eight hours via the charging case. (In a hurry? You can get up to an hour's worth of juice in just five minutes.) It pairs easily with a smartphone via Bluetooth and you can skip tracks by double-clicking the earbud button – though some complain that this gesture uncomfortably jams the bud into your ear canal. Still, they sound great for both music and podcasts and the sound profile can be customized with Jaybird's mobile app.
Want even advanced waterproof feature? Check on the latest released Run XT version!
0
Bose SoundSport Free Truly Wireless Sport Headphones
Why Bose SoundSport Free Truly Wireless Sport? Best Fit
Bose is known for creating comfortable headphones and the SoundSport Free are no exception. They come with three sizes of StayHear+ Sport tips, so you can find your preferred fit, and while they are designed mainly with athletes in mind, they work equally as well for daily use. Some customers who bought this product found the earbuds to be a bit bulky, but others concede that they just take getting used to.
Design and Features
As far as sound goes, they produce terrific mid-range sound, punchy bass and bright highs. The open design of the wing tips means they don't create a noise-isolating seal, which can be annoying in a noisy environment but is helpful in staying aware of your surroundings. A single charge will score you an impressive five hours of battery life, and the charging case, albeit rather clunky, will extend that 10 additional hours. Perhaps best yet, you can track lost earbuds with the Bose Connect app's "Find My Buds" feature.
0
How We Look For True Wireless Earbuds
Battery life – True wireless earbuds don't have the battery life you're used to from wired headphones. Five hours is considered good performance for wireless earbuds, though most come with charging cases that can double, or even triple, that amount. If you'd like to maximize battery life, it's important to pay attention to that metric while looking.
Noise cancellation – Most wireless earbuds don't sport noise cancelation features. But if you're mainly using these earphones for traveling, then white noise and noise cancelation features may be important to you. Keep in mind that active noise cancelation can affect battery life, though.
Exercise – Are you going to be using your wireless earbuds to exercise? It makes sense; not being tethered to a smartphone is an ideal use case for true wireless earphones. However, these little buds are easy to lose, especially if you're on a rigorous run. If you plan to work out, make sure you get a water-resistant pair with a snug and secure fit.