These 8 Kettlebell Exercises Will Boost Your Leg and Lung Power
Strengthen your lower body and improve your endurance at the same time.
You would be hard pressed to find any gym or workout studio without a few kettlebells lying around. This functional and efficient piece of equipment can turn lower-body exercises into an intense, muscle-building workout. Kettlebell exercises are great for all parts of your body, but they really give your legs a serious challenge, which is key to building strength for runners.
Certified personal trainer and kettlebell instructor, Lynda Lippin, says that kettlebells offer a killer leg workout while still engaging your entire body, particularly the core muscles. Plus, one recent study shows that strengthening these lower-body powerhouse muscles can improve your running performance and protect against injuries.
That's why strength-focused resistance training should be cycled into your training, says Paul Kostas, a certified personal trainer and Director of Personal Training at Brooklyn Athletic Club. "This helps strengthen the muscles, tendons, and ligaments that surround the joints (ankles, knees, hips) that take a beating from logging miles on the road," he adds.
But it's not just injury prevention that should motivate you to swing a kettlebell. Power-boosting exercises like these below will increase the strength in your legs in a way that running doesn't, says Kostas. "Running increases your ability to run more; but when you add in strength training, you're able to complement the endurance training with resistance, not mimic more of the same stimulus," he explains. That will give you more oomph when you push off, strengthen your stride, and ultimately, make you a better fast runner.
Since running is a unilateral sport, Kostas says to focus some of your training on unilateral movements (i.e., lunges and step-ups). This allows you to recruit more of your core muscles, which adds to trunk stability. It also helps you stay upright, rather than collapse your torso forward when fatigue sets in.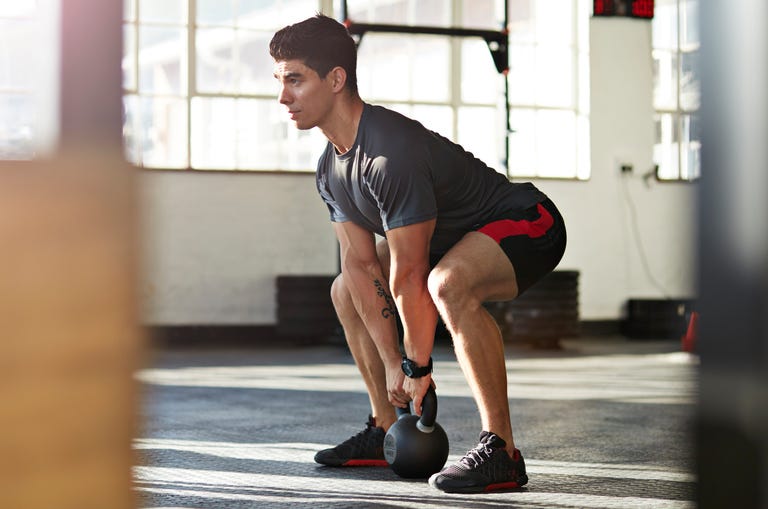 0
How to Choose the Right Kettlebell Weight:
Before you get started, you need to know how to pick the right weight for you. A good starting kettlebell weight for women is between 18 and 26 pounds or between 8 and 12 kilograms. Men can aim for a range of 35 to 44 pounds or 15 to 20 kilos. This is just an average, which means, you may start with a lower weight or jump up to the next size. As with any other workout routine, if any of the exercises feel uncomfortable or cause pain, stop doing them, and consult your doctor or an expert.
0

How to Use This List:
These kettlebell exercises, demonstrated by Lindsey Clayton, certified personal trainer and instructor at Barry's Bootcamp in New York City, target both both the quadriceps (thigh muscles) and hamstrings (muscles along the backs of your thighs). While certain movements will place a greater emphasis on one area of the leg, all of these exercises challenge your lower body.
The first four exercises target your quads and the next four target your hamstrings. One of the many benefits of using kettlebells for legs is that you can create many different circuits with these exercises.
To focus on quads one day and hamstrings the next, Kostas says to choose all four quad-dominant exercises then all four hamstring exercises and perform 10 to 15 reps of each in a circuit and repeat 3 times through. Alternatively, you can do AMRAP (as many reps as possible) for 30 seconds per exercise, then 30 seconds of rest, and cycle through the circuit.
For a total lower body workout, choose any three quad exercises and any three hamstring exercises, arrange them in a circuit alternating one with the other, and complete for reps or time (for example: Goblet Squat, Kettlebell Swing, Alternating Lateral Lunge, Single-Leg Romanian Deadlift. Step-Up, Deadlift). Perform 10 to 15 reps of each exercise in a circuit and repeat 3 times. Or do AMRAP for 30 seconds per exercise, rest for 30 seconds, and cycle through the circuit. This will take exactly 18 minutes.
If you're in season (training for a race), consider doing a kettlebell leg workout one to two days per week. Otherwise, feel free to do a leg workout two to three times a week.
---
Kettlebell Exercises for Quads
---
---
---
---
Kettlebell Exercises for Hamstrings
---
---
---
---
All images: Julia Hembree Smith